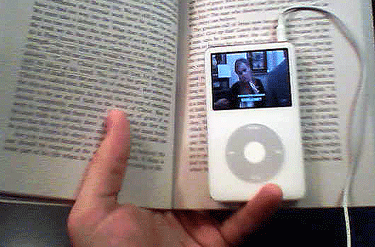 Most of us can still remember the day we got our first library card -- the effort we put into signing our name on the back (if we even knew cursive at the time), the realization of the opportunities we had with this flimsy little card, the excitement of finding the perfect book on the shelves.
But for many, the thrill wore off long ago. In this age of e-books and Google, some view libraries as unnecessary or even obsolete.
The New York City Public Library system wants to erase that perception. To encourage more people to use the libraries and make the collections more accessible, it has been updating its facilities in many ways.
"We want to make sure that the library continues to be useful and relevant resource for everyone. Part of that is adapting to changes and the way people use libraries," said Herb Scher, director of public relations. "This plan is creating a structure that we think will remain essential to all those who use it in their home, around the world online, and in the central library on 42nd street."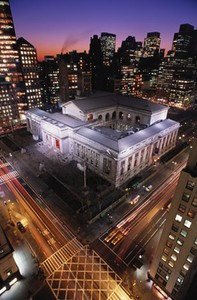 Photo: Hiroyuki Matsumoto, Getty Images, courtesy of NYPL
The plan focuses on expanding the library's online offerings and on the construction of six new hub libraries in the Bronx, Manhattan and Staten Island. It calls for the creation of programs to entice New Yorkers who might otherwise never pass through the library's doors and other efforts to attract far-away international visitors to the library's online resources.
(The New York Public library system covers Manhattan, the Bronx and Staten Island. Brooklyn and Queens each have their own library systems.)
Adapting to a Digital Age
Just as people shop and watch current movies without leaving their homes, they can visit the library as well. Currently, the library has two separate catalogues available to search online: One, called "LEO," is for circulating materials only; the other, CATNYP, is for non-circulating materials only. Soon, however, they will be integrated into one large database that will include the library's entire collection.
"It's not like there are two sets of people using them; the people using them are New Yorkers. So we're bringing it all together, which will make for a more efficient and more coherent process," said Joshua Greenberg, director of digital strategy and scholarship for the New York Public Library. He also mentioned plans to expand the Spanish-language version of the site, as well as potentially offering new languages.
The library recently launched its own page on iTunes U, a sector of iTunes that hosts educational media. All material available for download from the library is, of course, free.
The system also hopes to exploit the Internet's capacity for interactivity by creating online communities led by librarians and curators. Users will be able to ask people in these communities questions regarding the library and share information.
"We're trying to take a strategic approach," Greenberg said, noting that if, there are communities formed around topics where libraries have strength, such as literature, shouldn't that extend to the libraries themselves. As an example of how that might work, Greenberg cites a teacher who has downloaded an image from the library's Website. "With an online community, she can talk with other teachers that have used that image and see how well it worked. That's the sort of thing the library has a real role in supporting," Greenberg said.
One Center, Many Hubs
But the library has not completely forsaken buildings in favor of cyberspace. Its plans call for the renovation of existing library buildings and the construction of new ones. The system will expand the 42nd Street reference library (that's the one on Fifth Avenue with the lions) to add a new lending library. Books and other materials for the lending library's collection will come from the Mid-Manhattan library, which will be eventually shut down. In addition, the famed 42nd Street building will improve its exhibition spaces, offer hundreds of computers and have full wireless Internet access. There will be meeting rooms, program venues and even a café.
For those who do not want to come to midtown Manhattan but need more than their local lending library, the system will create new so-called "hub" libraries. They will be open for longer hours than the local branches and offer the public a far greater array of resources, including computers, literacy classes and spaces designed for children and young adults. In addition, they will serve as a venue for more events and programs.
The new hub libraries will be modeled after services provided in a pilot program at the Bronx Library Center on East Kingsbridge Road. Eventually there will be three hubs in the Bronx, two in Manhattan,and one in Staten Island. "The hub libraries are organizationally connected to a number of smaller libraries. The idea is that each hub will be no more than thirty minutes by public transportation from the other libraries it's connected to," said Scher.
A Place to Gather
Beyond being places to read -- whether from the printed page or online - libraries serve as a kind of community center. In this capacity, they offer plethora of programs, which are as diverse as the city's populations. Among the most popular are the free English classes, presented in cycles starting three times a year and with courses at beginner and intermediate levels. Other programs and events include story time for children, guided tutorials on using the Internet and lessons on the art of crocheting, to name just a few. Lectures sweep across a broad spectrum of topics, ranging from ancient Roman architecture to the principles of business.
In an bid to attract kids and teens who might not otherwise deem a library worthy of their time the library features ("Game on @ the Library," where teens can play Nintendo Wii with their friends to test their, as the nypl website calls it, "skillz." The program received a favorable reception when it was launched in late March and has become a recurring event.
But the library have not lost its literary focus. Every summer, it holds a summer reading initiative. encouraging New Yorkers of all ages to settle down with a few books over summer vacation. The Website offers book lists for four different age groups (birth to five, kids, teens, adults) in both English and Spanish.
Questions of Cost
Some of these programs might face cuts or elimination if City Council approves Mayor Michael Bloomberg's proposed reductions in library spending for the 2009 fiscal year. In his executive budget, released earlier this spring, the mayor suggested budget cuts that, according to City Councilmember Vincent Gentile, who chairs the subcommittee on libraries, would result in loss of 60 percent of the funding designed to keep all libraries open six days a week.
The 2009 Executive Budget for Libraries proposes $303.1 million for all three (Brooklyn Library, New York Public Library, and Queens Library) libraries. Adjusting for the fact that the city prepaid some of the expenses for the libraries, there still will be $11.7 million less than the 2008 forecast of $314.8 million. Although City Council may be able to restore the money that the mayor has cut, library funding remains precarious.
Gentile said libraries should remain open to serve their neighborhood. "It's a high priority," he said. "I don't see any reduction in the degree of importance for having six-day service, from library staff or other council members. Circulation is up in every system. They've been able to add programs, and it really is a great anchor for the community."
Â