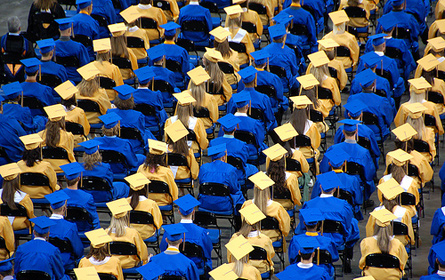 New York City's on-time high school graduation rate reached 59 percent for the class of 2009, and according to the New York Times, as Mayor Michael Bloomberg announced the newslast week he said it should get all New Yorkers smiling.
It's certainly a better statistic than the 46.5 percent on-time graduation rate in 2005. The latest figures show that groups with traditionally low rates have also improved: Students with disabilities have gone from a 17.1 percent rate in 2005 to 24.7 percent, and English language learners have increased from 26.5 percent to 39.7 percent.
But can the rates continue to go up -- or even stay where they are now? Graduation requirements are in the process of getting tougher, and this could reverse the trend toward higher graduation rates, particularly for English language learners, called ELLs by the Department of Education.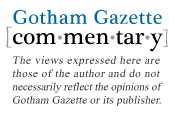 Many educators, including Schools Chancellor Joel Klein, welcome the change. Noting the high percentage of New York high school graduates who need remedial classes in college, they say more-demanding graduation standards should make students better prepared for further education. But New York State United Teachers, the union for teachers throughout the state, worries that tougher requirements will increase dropout rates.
Both sides make a valid point.
A Single Diploma
For many years, New York City's public high schools awarded two basic kinds of diplomas. Students with scores of at least 65 percent on five Regents exams have received a Regents diploma; those who score at least 55 percent on all five tests have received a local diploma.
The state Board of Regents is now phasing out the local diploma on the grounds that it is insufficiently rigorous. In the class of 2009, students needed scores of 65 or higher on at least two of five Regents exams; by June 2012 they will need scores of at least 65 on all five tests.
The stricter requirements may have a particularly hard impact on English language learners, as they must take the same English Language Arts Exam that native speakers do. English language learners are allowed to take their other Regents exams in their native language, so reaching the score of 65 on the other four exams may not be such an onerous task.
I teach English as a Second Language at Bronx Community College, and many of my students are graduates of the New York City public schools. Often these students lack basic reading and writing skills in English even when they have been in New York schools since ninth grade. This makes me sympathetic to those who want higher standards. At the same time, I wonder how the public high schools will keep older immigrant students in school and get them through the Regents exams.
This concern is shared by the New York Coalition for Educational Justice, which last year issued a report on the implications of the new graduation requirements, titled Looming Crisis or Historic Opportunity? The report claims, "Unless the New York City Department of Education seizes this moment of opportunity to strengthen teaching and learning … additional thousands of the school system's high school students will be threatened with the failure to graduate."
The report also notes that in the class of 2007, only 11 percent of all English language earners graduated on time with a Regents diploma. (The numbers just released for the class of 2009 do not show how many English language learners graduated with Regents diplomas.)
One member of the class of 2007 was Wilton Guerrero, an English language learner who received a local diploma after just eight months in the United States. His story illustrates the local diploma's inadequacies. Yet it also raises serious questions about how schools will help immigrant students with limited English meet the new graduation requirements.
A Rush to Graduate
In November 2006, Wilton enrolled at John F. Kennedy High School in the Bronx. He was 18 years old, had just immigrated from the Dominican Republic and knew almost no English. Although high school credits transferred from his native country qualified him for 12th grade, he would still need to pass five Regents exams by June 2007 if he was to graduate at the end of the school year. And while he could take four of the exams in Spanish, he would have to take the English Language Arts Exam designed for native English speakers.
The math Regents was no problem. Wilton passed the Spanish version of the test shortly after he enrolled in Kennedy. As a result, school administrators told him he wouldn't need any math instruction. This freed up time for the many other classes he needed.
Wilton threw himself into an academic whirlwind so he could get his diploma with his 12th grade class. He took 14 classes a day, beginning at 8:20 a.m. and finishing at 7:30 p.m. The evening classes were with students in a special program for older students; the day classes were at his high school.
In June 2007, Wilton fulfilled his goal. He earned all the credits he needed and passed all five Regents exams, including English Language Arts. His English Regents score, however, was just 56 percent, one point over the minimum needed to pass.
When he received his diploma, Wilton could conduct basic conversations and transactions in English. But his English was far from fluent. He could not write an essay without numerous grammatical errors or read college-level texts. And since he had never studied math in English, he didn't know any English math vocabulary.
Wilton worked extraordinarily hard during his short time at Kennedy. But should he have graduated when he did? Under the tougher standards that will be fully in place by 2012, Wilton's 56 on the English Regents would have prevented him from graduating.
Now a student at CUNY's Bronx Community College, Wilton believes he should have stayed in high school until his English improved. He points out that in fall 2007, he failed all three CUNY basic skills tests in reading, writing and math.
"I knew how to do most of the math but I didn't understand the words in the problems," he remembers. "Also it had been more than a year since I'd taken math, so some things I forgot. On the reading test, I knew some of the words but not enough to understand the passages. On the writing, I was completely lost about what I was supposed to do."
After getting his test results, Wilton enrolled in the CUNY Language Immersion Program, an intensive non-credit English program that provides college-bound immigrant students with 25 hours of instruction per week. At the same time, he took a Saturday class to prepare for the CUNY math test. One year later he had passed the CUNY tests and was ready for credit-bearing classes at Bronx Community.
If the local diploma had not been an option, Wilton would have been able to stay in high school longer. As a result, his reading and writing skills might have improved to the point where he wouldn't have needed to pay for non-credit classes to prepare for college. In fact Wilton's brother Pablo, who is a year younger, did stay in high school one year longer than Wilton, and was able to go straight from Kennedy into credit-bearing classes at City College.
Racing the Calendar
For the Department of Education's purposes, though, it was probably better that Wilton graduated when he did. In reporting graduation rates, the city emphasizes the percent of students who graduate on time and makes no allowances for 12th graders who begin the school year with no English.
Schools with low on-time graduation rates face penalties. Last month the Department of Education finalized plans to shutter 19 schools, mostly high schools where fewer than half the students graduate on time with any type of diploma.
These closures may make other schools reluctant to admit older immigrant students, who are unlikely to qualify for Regents diplomas fast enough to land in the "on-time" graduate category. While schools cannot legally turn away students who are under 21, school administrators can encourage them to enroll in high school equivalency GED programs instead. School administrators could feel pressured to do this if they know that low on-time graduation rates will target their schools for elimination. GED programs are often less academically rigorous than regular high schools.
Needed: A More Comprehensive Approach
A high school diploma does not signify much if it's given to students who lack basic skills. But educational administrators won't improve the situation for future Wiltons merely by mandating higher Regents scores. They need to re-assess their whole approach to older immigrant students, particularly those with college aspirations.
Wilton says his English classes at Kennedy focused mostly on basic communication, not on developing the reading and writing skills he would need in college. According to David Loo, who teaches English as a Second Language at Manhattan Comprehensive Night and Day High School, the education department "has failed to provide adequate training and curriculum for ESL teachers preparing students for the English Regents." At his public school, Loo says, the assistant principal for English and ESL found funds to pay him and a colleague to design a new curriculum to prepare English language learners for the tougher graduation requirements.
This type of effort needs to take place on a citywide basis. Math skills need attention as well. English language learners should continue taking math classes even if they pass the math Regents, as unused math skills quickly atrophy. And even English language learners with strong math skills need to be taught English math vocabulary.
The Department of Education should also recognize that non-English speaking students who arrive in 11th or 12th grade will need more time than native speakers to reach academic proficiency. For this reason, it should redefine what constitutes "on-time" graduation for these students. Interestingly, State Education Commissioner David Steiner seems to agree. When the new graduation figures came out, he told the Times, "We need to encourage kids to stay in school a fifth year if they need it."
The end of the local diploma could help immigrant students reach higher standards. But the jury is still out on whether the new state policies will help or hinder these students once the stricter graduation rules go into effect.
Ellen Balleisen teaches English as a Second Language in the CUNY Language Immersion Program at Bronx Community College,