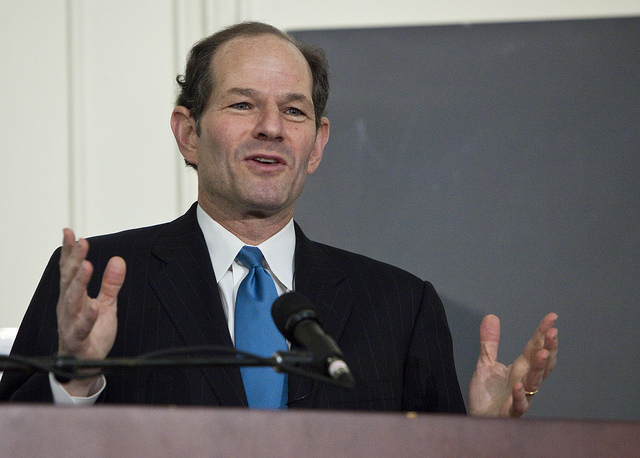 NEW YORK — Eliot Spitzer wants to get back into the political game. The former governor made the surprise announcement yesterday that he is running to be the city's chief financial officer.
Standing in his way and his ambitions: A few thousand signatures he needs to get on the ballot in less than a week, a frontrunner with little name recognition and a reputation marred by a pesky prostitution scandal that derailed his political career back in 2008.
Spitzer's bold attempt to return to the public sphere was immediately compared to disgraced former Congressman Anthony Weiner's bid for mayor. But, as top political reporters have pointed out, that comparison is rickety: Where Weiner's accomplishments as a legislator have been dubious, Spitzer got results — even if his aggressive tactics earned him the moniker of "steamroller" over the years.
The scandals that led to their departures from political life were also decidedly different.
"While Weiner's crotch-picture scandal has a creepy factor, Spitzer's involved the world's oldest profession, and he did not exacerbate the personal damage by clinging to his office," Politico's Maggie Haberman wrote. "And unlike Weiner, Spitzer has a long list of accomplishments in office to point to."
Spitzer made his announcement to the The New York Times. He told the paper he hoped that "there will be forgiveness."
"I love public service," he told the Daily News in a separate interview. "I believe in it and hope I will be given a second chance."
Spitzer has only until Thursday to get 3,750 signatures from registered voters to get on the ballot.
He told the Times about 100 people to begin gathering signatures today. He also claimed that he would fund his own campaign out of his fortune rather than turn to the city's public financing system.
Spitzer's decision upends a sleepy race for the office of comptroller. Manhattan Borough President Scott Stringer, facing no competition for the Democratic primary until now, was expected to take the race handily. The current comptroller, John Liu, is running for mayor.
Politicker posted this statement from Stringer's campaign manager:
"Scott Stringer has a proven record of results and integrity and entered this race to help New York's middle class regain its footing … By contrast, Eliot Spitzer is going to spurn the campaign finance program to try and buy personal redemption with his family fortune. The voters will decide."
Stringer's supporters took to social media to praise the candidate and bash Spitzer.
In his interview with the Times, Spitzer said he wants to transform the comptroller's office "into a robust agency that would not merely monitor and account for city spending, as it does now, but conduct regular inquiries into the effectiveness of government policies, in areas like education." That, said the Times, could put Spitzer "into conflict with the city's next mayor."
To be fair, Liu has used the office to take on a broader array of subjects and to challenge Mayor Michael Bloomberg's administration in a number of public policy areas. But Spitzer would likely bring his experience serving as state attorney general to bear in making over the comptroller's office into a more aggressive watchdog.
The city's official primary election debate for comptroller is Aug. 12. The comptroller earns a salary of $185,000 a year, according to the city's Campaign Finance Board.