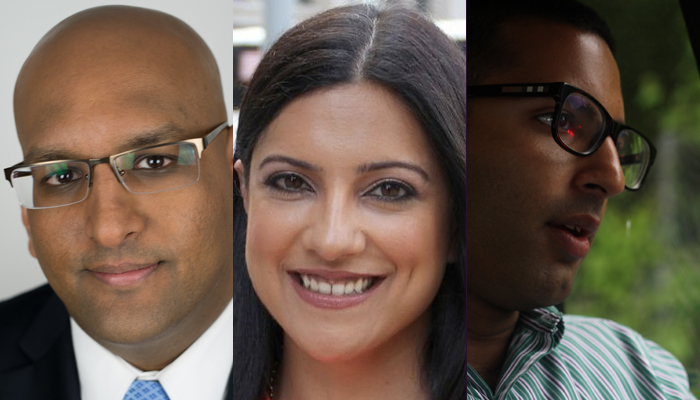 NEW YORK — In the early 1970s, Amol Sinha's parents moved to the United States from the state of Bihar, India. Sinha's father came to pursue an education and later work as a statistician. His mother stayed home to raise their three U.S.-born sons.
When Sinha's parents came to the U.S., the South Asian community was disparate and far-flung. South Asians lived in small, isolated areas, and rarely saw other people who looked liked them in their daily lives. Over the next 40 years, the Sinhas saw their fellow South Asians grow in number, form enclaves and flourish in fields such as science, technology, law and business. At 28, Sinha is a lawyer with the New York Civil Liberties Union. His two older brothers are doctors.
But while South Asians have succeeded in a wide variety of industries in the city, Sinha said he longs to be able to call a city elected official one of his own. There is currently no South Asian on the City Council or in citywide office. That could change this year, with a number of South Asian candidates running for Council and — perhaps most notably — Reshma Saujani in a tough race for the citywide office of public advocate.
"To see somebody take a risk and actually do things to serve communities in public interest, or public service, is certainly inspiring and motivational," Sinha said. "And the more that becomes the norm, the better it will be."
But while some South Asian candidates say this year could be a "tipping point," and the 2010 Census puts the population of South Asians in New York City at a robust 300,000 or more, there is no guarantee of victory at the polls.
Activist groups say that this is in large part due to the way district lines have been redrawn, splitting up South Asian communities of interest. There is also the fact that the South Asian community in itself is not a monolithic mass.
The community encompasses a number of diverse cultures, languages and religions: Someone of South Asian descent could be from a whole host of different countries, including India, Pakistan, Bangladesh, Nepal, Sri Lanka and Bhutan, as well as countries with large diaspora populations, like Trinidad and Tobago, Guyana, Suriname and Uganda.
So how can a South Asian candidate win in this election season?
Saujani, an Indian-American who previously launched the nonprofit tech organization Girls Who Code and served as deputy public advocate, said it was critical to campaign for more than just the South Asian community if she is to have a chance at getting elected.
"So it's not like, 'You're Asian so I'll vote for you, or you're black so I'll vote for you,'" Saujani said. "It's, 'Will you fight for my issues?'" And Saujani, whose family came to New York from Uganda as refugees, said she inherently understands these issues due to her background.
"I think the powerful thing you're seeing with this next generation of leadership is many of us are first-generation Americans," she said. "We're so tied to the American dream, so tied to creating the American dream."
Saujani's opponents include politically influential Councilwoman Letitia James and state Sen. Daniel Squadron. Saujani is very much the outsider candidate, with not as much name recognition as her two opponents. That said, when the deadline came for candidates to file their petition to get on the ballot, Saujani's campaign said they filed over 45,000 signatures — 12 times the required 3,750. Of course, not to be outdone in the slightest, James' campaign said they filed around 70,000.
But Saujani's campaign manager, Michael Blake, a former aide to both Obama campaigns, is not worried. He said she will "absolutely" win.
"She is not just coming at it in a policy perspective, she's coming at it in a personal way," Blake said. "And people understand that, they relate to that." Saujani's background and immigrant status is key to the way her campaign is engaging with voters. This is perhaps an effort to use her outsider status as an advantage, by saying that this is a candidate not entrenched in the political system.
"This is a citywide grassroots organization in the same way we built the Obama model, which clearly worked," Blake said. "We're going to do that here."
John Albert, an organizer with Taking Our Seat, which seeks to empower South Asian voters, said finding unifying themes in the American political context could mean all the difference for candidates between winning and losing. Forming coalitions of voters has long been considered the road to elected office in such an ethnically diverse city as New York.
"I think the South Asian community poses some unique challenges," Albert said. "We're fractured in so many more pieces. There may be different types of Latinos, but Spanish brings them together. We don't have that particular connection."
Some South Asian candidates argue, though, that the lines of division within the South Asian community in the city are much more blurred than the borders between those of its home countries.
One prominent South Asian candidate who recently bowed out of the election is Abe George, who was running to be the next Brooklyn district attorney against longtime incumbent Charles Hynes.
"You come to Brooklyn and, on Coney Island Avenue, the Pakistanis and the Hindus are getting along," George told the Gotham Gazette before deciding to drop out of the race last week and endorsing his opponent, Kenneth Thompson. "But you go to India, and the Pakistanis and the Indians are fighting. I think it's different here in America because we're so outnumbered that you come together."
Regardless, Albert said, overcoming potential differences within the community is hugely important because of the power in numbers.
"Much of our work early on was to go to communities and say, 'Yes, you can be Bangladeshi, you can be Pakistani, you can be Punjabi,'" he said. "But it's more politically empowering to say we're South Asian."
Candidates are also running on platforms that they hope will attract the minority vote in general. Albert says that, strategically, it is important for them to focus on Hispanic and black communities.
"We have to have an understanding that the South Asian community lives very close to the Latino community," Albert said. "You're more likely to have a Latino neighbor than anything."
George, for example, was running a campaign that was strongly against the aggressive stop-and-frisk tactics of the New York Police Department, which have long been seen as targeted at blacks and Latinos. He had said that marijuana cases were a waste of time, and had he been elected, he wouldn't have prosecuted anyone carrying only a small amount.
"I'm not going to wait for the state Legislature," George had said, referring to efforts on the state level to pass a law that would decrease penalties for the possession of small amounts of marijuana. "I'm going to decide right now that I'm not going to prosecute those cases as a crime. Just as a violation. I've got bigger fish to fry."
But Hynes said his office already didn't prosecute for possession of small amounts of marijuana, during the first debate of the race. George called Hynes "a liar" when he said this. Regardless, not long after the debate, the pro-legalization National Organization for the Reform of Marijuana Laws endorsed George over Hynes.
Helal Sheikh, a Bangladeshi former public school teacher from East New York who is running to represent the 37th City Council District, said he was very keen on capturing Latino and black votes. He said that if he were to just focus on the South Asian vote that the numbers in his district wouldn't be there to get him elected, despite the large number of Bangladeshis who reside in East New York.
He also emphasized the importance of the South Asian community finally seeing political representation, but added that electing the most qualified candidate was still more important.
"I'm not running as a Muslim," Sheikh said. "I don't want anyone's vote as a Muslim."
First generation American candidates will also need to target the first-time voter base. South Asian candidates said they need to not simply campaign on the issues, but also spend some of their time and resources on get-out-the-vote strategies.
Adding to the challenges is the language barrier at the ballot box. While the city Board of Elections is mandated under the Voting Rights Act to provide ballots in Bengali to some of Queens, there is no requirement for Hindi or other major South Asian languages. Some candidates are doing voter outreach, alongside campaigning, to try and engage people in an effort to overcome the difficulties the South Asian community might face on Election Day.
"I'm going door-to-door, and asking who's registered and who's not," Sheikh said, adding that he is working hard to get people registered to vote in his neighborhood. Sheikh said he believes his race will be decided in the primary, and that therefore a strategy that focuses on getting as many people registered as possible could tip the scales for him.
Natraj Bhushan, a lawyer with the Community Resource Legal Network who is running for the 48th City Council District, agreed that registering voters was critical for a win on Election Day. But he said that as a younger candidate — he is 28 years old — getting help from older and more experienced candidates had been very helpful when focusing on these types of strategies.
"To pick their brains, to know that anything can be accomplished in numbers is invaluable," Bhushan said. He went on to add that he had even been discussing potentially sharing election lawyers with others.
Above all, South Asian community members and candidates stressed the significance of the symbolism of electing one of their own to office.
"I just think it's important for someone to represent me for a change as well, somebody who looks like me," said Neha Dewan, a lawyer who works at the city's Department of Education. "I'd also like to see someone who looks like me pave the path for other people."
Bhushan agreed, and said that this election is a "tipping point" for the South Asian community.
"If you would have spoke to me maybe four years ago I would have said, 'Yeah, it may be a little raw. We're testing the waters,'" he said. But he said he feels that the time is ripe now, and that someone from the South Asian community will hold city office by the end of this election cycle.
"Whether it's myself or whether it's another individual, I think the word trailblazer comes to mind," Bhushan said. "We're talking about opening doors to future generations of candidates."
Sinha said seeing someone from his community elected to office would also mean a lot for how South Asian voters — or South Asians who have yet to register to vote — would view politics going into the future.
"Being politically engaged or being engaged in the democratic process has in a way been seen as a white thing," he said. "Over the years it's been seen as something that isn't necessarily for us."
Sinha added, "It's incumbent upon those candidates to cut away at the apathy that might exist."
Minty Grover is a freelance broadcast and print journalist living in New York. Her work has appeared in both local and international news outlets.