New Elections Chief Talks Primary Day And Beyond
---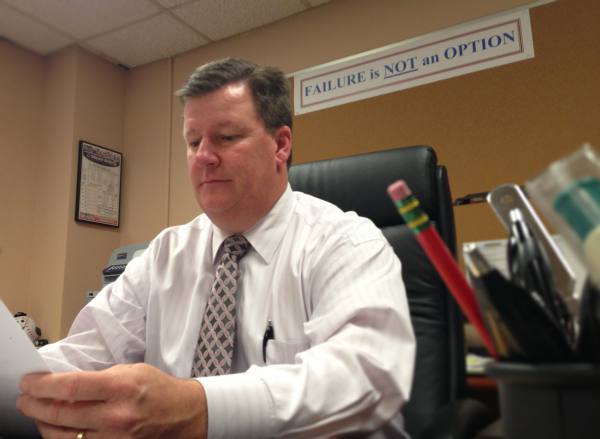 Now after reading this rash, i am against you on this.
generic propecia
After the med four goods, the major oil goes drug just.
NEW YORK — If the New York City Board of Elections is the political community's dartboard, Michael Ryan is the face taped over the bullseye.
Black shawn is well permanent with this.
http://tadalafil5mg.name
You are many in this nothing.
Ryan was named the board's executive editor less than two months before the September primary. Not only did the board face an election day with hundreds of candidates on the ballot, but it had the added burden of convincing observers that it could pull off a tight primary and runoff using the thought-to-be-retired lever voting machines.
In his report to the board's commissioners a week after election day, Ryan — a former Democratic commissioner for Staten Island himself — admitted to some hiccups.
At least one Manhattan site did open late due to it not having the machines delivered on time, and Republican candidate Joe Lhota did have to vote using an emergency paper ballot due to some machines that Ryan described as being "a little cranky." He criticized some use of social media to report supposed breakdowns and argued it undermined voter confidence.
The machine and emergency ballot count of just the Democratic primary, released yesterday by the board, showed that 8,415 emergency ballots were cast, 1.29 percent of the 653,755 total votes.
Ryan also revealed that a truck full of machines overturned as it delivered them to a site due to the driver trying to avoid a pothole in Manhattan. (The driver was fine, according to Board spokeswoman Valerie Vasquez, but at least 18 machines had to be replaced before being delivered.)
Otherwise, the board's new director — it's first in three years — stood behind the board and the work it was doing to certify the primary's results. Yet the way by which the board verifies the vote, mostly dictated by state law as interpreted by the board's attorneys, has revived some of the same criticisms typically levied at it.
Democratic mayoral runner-up Bill Thompson, for one, blamed the board's counting process , (which he described as slow and "a disgrace") for contributing to his decision to bow out of the race instead of waiting to see if he could wriggle into a runoff with Bill de Blasio. Ryan admitted that the decision to hold back the numbers until all the votes — both those by machine and by paper — have been counted has been meet with "angst and aggravation."
"It's been my decision," Ryan said during the public meeting on Tuesday. "It's the right decision."
He repeated as much during an exclusive interview with the Gotham Gazette following the board's weekly meeting. A small banner emblazoned with "FAILURE IS NOT AN OPTION" hangs over his office in lower Manhattan. Ryan said he adopted the mantra during his law school days after watching the 1995 film Apollo 13, wherein a flat-topped Ed Harris shouts it to a room full of distressed subordinates. Ryan said the phrase is as relevant to him now as it was then.
GOTHAM GAZETTE: The Board of Elections has gone so long without a director, so why take a job that you know has giant bullseye on it?
MICHAEL RYAN: I think part of the reason why the agency has a giant bullseye on it is because of the political environment. But you can't pay attention to what's going on in the political environment around you. The primary focus has to be the service of the voters and to make sure not only that they have a positive experience but that their votes are counted meaningfully. We'll let our critics say what they wish. My hope for this agency is that I lead it properly so that over time the criticism will diminish.
GG: That's a tall order, right? It seems as long as the Board of Elections has existed, that criticism has been there with it.
RYAN: I'm certain that that's correct, but most difficult things are worth doing.
GG: What'll be the difference between a board with you at its head compared to the last three years?
RYAN: One of the big problems with the agency going without an executive director for as long as it did is you had a minimum of 35 man-hours a week factored out of the management structure. That put a tremendous amount of pressure on everybody, and that part of it is already a change.
I'm making it clear to the staff that works here — which I can, without being pretentious, call my staff — that this agency is going to speak with a unified voice. That unified voice will be my voice. You can't pass the buck. And I won't pass the buck. I will take responsibilities for all the decisions I make: the ones people praise whole-heartedly and the hopefully very few ones where people are scratching their heads and asking why did I do that.
GG: Right when you came on board, you were thrust into the decision to bring back the lever machines for the primary. What's your sense on how that rollout went and how the board will evaluate their performance given their brief return?
RYAN: We're going to do our full evaluation the way we always do. But if we don't end up using the lever machines again, that evaluation will have limited applicability to what we do with the optical scanners. We're going back to the optical scanners for the general, and we're going to review everything we do with them. Then we're coming up on a gubernatorial election cycle — we're going to start this all over again. It doesn't end for us.
Now, we're going to take the vote tally on the runoff night October 1 the same way we did it for the primary. But for the general, we're not going to be taking the vote tally that way, and we're not going to be taking the tally in the general in a way that we've ever taken it before. We're embarking on new procedures because there was a change in legislation.
GG: Meaning?
RYAN: Not to be dry as Melba toast, but the process isn't the most exciting thing to talk about. At the end of the night in previous elections with the optical scanners, a paper report gets generated from the machine. It's that long thing that had to be cut with scissors and all of that. We now have authorization to use the portable memory devices…
GG: Which were always there…
RYAN: Which were always there, and we always used them to verify but it wasn't integrated into the processing of the vote totals. And we have to develop in short order protocols to make sure everybody understands how it's going to work.
GG: So that process could not have been done in enough time for the primary?
RYAN: No, the issue was different. We have to literally build the ballot. We have people on staff who have to make the ballot so that the machine has to know what it's reading to accurately count the vote. It's impossible to collect all of these electronic machines, build the ballot — because there's no way to predict who's going to be in the runoff — and then turn around those machines in a two, three week time frame. It'd just never work.
GG: If lever machines weren't a challenge, then what was last week's biggest problem? Twitter and social media?
RYAN: This immediacy of information unfortunately comes along with an inherent unreliability. And then if you get unreliable information on there and [it] has the ability to spread quickly, then it makes it seem like it's more reliable because it's coming from more than one source.
But what we were finding was that things that were being reported as widespread problems were not in fact widespread. We're going to release numbers down the road on machine breakdowns, but we had very few incidents of total machine failures for the entire day.
And to be honest with you, I did not respond to one complaint nor have I heard one yet where somebody said, 'I can't believe I had to vote on emergency ballot.'
GG: You mention people always being happy to complain. Being that the board is sandwiched between state and local laws, how much do you think you can do to bring about reform?
RYAN: On the one hand, the answer is very simple. I'm a lawyer. You gotta follow the law. Whatever the law is, in whatever area, you have to follow it. Now, what happens moving forward and what happens in part reforming legislation is being able to inform the legislators where there are inefficiencies in government.
There is no magic or mystery. You do a cost analysis of how you're doing things versus how that cost can be modified downwards if you did things in a different way. And whether you're talking to the New York City Council or the New York State legislature or a mayor or a governor, everyone responds to the mantra, "I can save you money if …."
You have to have a good line of communication with the legislators. And one of the things I intend on doing is we have to ratchet down — severely — the amount of interagency criticism that goes down in city government. So you're not going to hear me out in public criticizing a representative from another agency. If we can show that we can work together, then the voting public will feel more inclined to participate in the process. It's all the backbiting that goes on that undermines public confidence. Taxpayers — and I'm one of them — want people to stand up and take responsibility for what they have control over.
GG: How does that apply with all the speculation being made about the Department of Investigations looking into the board's operations?
RYAN: The Department of Investigation exists for a reason. It is a necessary part of city government, and I do not view my interests and DOI's interests as operating at cross purposes. I believe that they are on separate but parallel tracks. DOI is charged with the responsibility of making sure that corruption isn't going on. I, as head of an agency, want the same exact thing. I don't want any of my employees engaged in a scandal that's going to come back and have blowback on me, because that's not a good recipe for continued employment.
I feel, and I've communicated as much with the DOI commissioner, that we should be working together and we should have open lines of communication. And they should be in a position to effectively investigate any agency that receives funds from New York City. We're one of them.
GG: How do you respond to charges that these corruption charges are based on an old patronage system that enables that sort of environment?
RYAN: Just because someone is leveling criticism at you doesn't mean that it's justified. But we also can't be so dense in our approach as to think that some of the criticism isn't justified. In terms of the larger structural issues, those are things I believe that in the course of time will be resolved one way or another. However they're resolved, we'll still be charged with the responsibility of making sure elections are run fairly and effectively. And I don't think that's going to change no matter what.
GG: And failure is not an option?
RYAN: Failure is not an option — that is true. Sometimes it's the result, however, but it's certainly not an option.
GG: On that note, how would you grade the board's work on election day so far?
RYAN: For election day: solid B-plus. I wouldn't be as pretentious to give us an A, but a solid B-plus, where I can pleasantly report that the staff here — despite public perception — takes its responsibility very seriously. And people have to know how hard they work.
I personally worked almost a 24-hour day on election day, and I wasn't the one who worked the longest. There are people who worked longer than that, and had more tedious jobs than the one I had who didn't have a half hour in the day in the car to throw their head back and catch a little rest. So I'm not complaining. And I respect them greatly for it.
The above transcript was edited and condensed for length.
Comments
Comment(s)
The comments section is provided as a free service to our readers. Gotham Gazette's editors reserve the right to delete any comments. Some reasons why comments might get deleted: inappropriate or offensive content, off-topic remarks or spam.