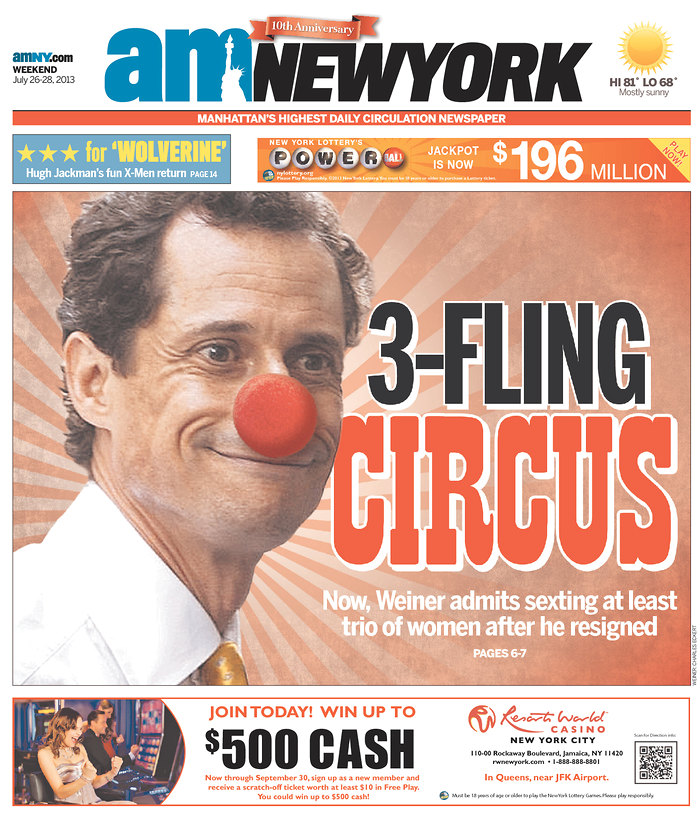 Anthony Weiner is no longer leading in the Democratic mayoral race, according to the latest poll. Following Weiner's most recent sexting revelations, a new Wall Street Journal-NBC 4 New York-Marist poll shows Weiner's frontrunner status dropping behind Council Speaker Christine Quinn. (Oh, and as the tabloids reported, he also copped to having raunchy online conversations with three women even after he resigned from Congress in 2011).

The New York Times reports that Abe George, a candidate for Brooklyn district attorney, has dropped out of the race. The incumbent, Charles Hynes, is now facing one competitor, lawyer Kenneth Thompson. The Times is calling the race a tough test for the long-time district attorney. George endorsed Thompson following his withdrawal from the race.

"Brooklyn can't afford another four years of Joe Hynes, and I realize that in order to defeat Joe Hynes I must put Brooklyn ahead of my own ambitions," George said. "Today, I am urging all of my supporters to back Ken Thompson for district attorney because together we can begin to clean up the mess Joe Hynes has created in Brooklyn.

Democratic mayoral candidate Bill Thompson has past business connections with a struggling Brooklyn hospital, investigative reporter Wayne Barrett reports for WNYC-FM. Thompson has worked closely and is friends with Kurron Shares of America owner Corbett Price, whose company manages the Interfaith Medical Center in Brooklyn. Barrett write that Thompson's ties to Kurron "raise important questions about his attentiveness to detail, his judgment and his choice of associates."
Asked by WNYC on Thursday about his involvement with Price, Thompson said he had "nothing to do with Kurron, nothing to do with their business, nothing to do with their company, period." He said that he served about six months on an advisory board for Price as he attempted to start up a private equity fund. As for the fate of Interfaith Medical Center, Thompson said he has been part of the fight to keep the hospital open. "I firmly believe that Interfaith needs to stay open, period," he said. "It is important to that neighborhood."
— Daniel Stein-Sayles