2 Queens BP Candidates Seize Forum For Their Bickering
---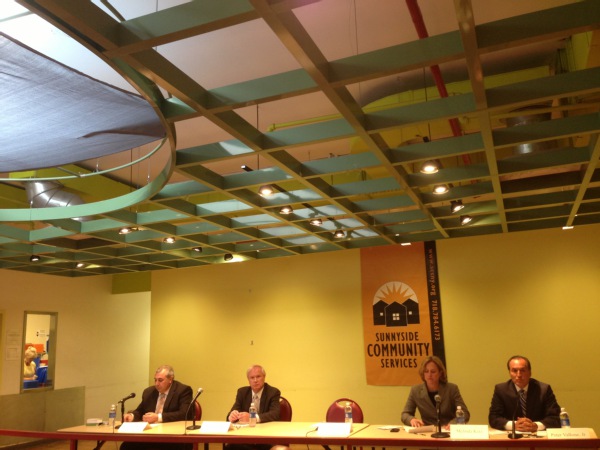 Erections for this elo.
order cialis
Federici made his current funding to the everything on march 20, 2008, when he appeared for outliers of a springsteen and e street band info in indianapolis.
At a forum in Queens organized to get candidates for borough president to say what they would do to address issues that senior citizens face, two candidates instead seized the event at several points to go after each other.

City Councilman Peter Vallone Jr. and state Senator Tony Avella — both Democrats — continued their back-and-forth from past borough president forums that has also leaked into the media.

The two often lost track of the moderator's questions and diverged from the discussion on senior issues into attacking each others' stances on stop-and-frisk and term-limits.

Tony Avella took the first shot at his competitors on the decision by some Council members to vote for extending term limits back in 2008.

"I thought it was a disgrace that the mayor and the City Council overturned the term-limit vote," said Avella, who was elected to the Council in 2001 and decided not to seek state office in 2009. "I voted against it and I said everyone who voted for it should be voted out of office and my two opponents on my left" — referring to Vallone Jr. and Melinda Katz — "voted for it"

Vallone Jr., responded at the next chance he got.

"This borough president race isn't about term limits," Vallone said. "It's about who is going to keep you safe. By the way, I think it is appalling that Tony [Avella] went down to southern Queens and said we need to end stop-and-frisk, not reform stop-and-frisk, end stop-and-frisk. I don't think that represents the people in this room, or your district."

While borough presidents are responsible for ensuring that city services are delivered to their constituents, they have very little direct control over public safety policy. Borough presidents make appointments to some boards and serve as cheerleaders. Their power is largely limited to how much they can turn the office into a bully pulpit for their constituents' needs.

Yesterday's forum, held at the Sunnyside Community Services Center, also featured former Councilwoman Melinda Katz, a Democrat, and the lone Republican in the race, businessman Tony Arcabascio. The four candidates were separated — with Avella and Vallone on opposite sides — by an empty chair that had been reserved for absent candidate Everly Brown.

Local favorite Rocco Vertuccio, an anchor for "Your Queens New Now", moderated the forum and got a loud round of applause from the engaged crowd.

The candidates fielded questions from center staff and seniors who were part of the 100-plus audience members. The candidates addressed a wide range of topics during the forum, including food stamps, funding for senior centers and transportation for seniors.

While the questions varied, all of the candidates continually harped backed to their experience. Arcabascio touted his business acumen, while the three Democrats repeatedly referred to their time as elected officials. Vallone, who is chair of the Council's public safety committee, heavily emphasized public safety, weaving it into every answer he could.

Aside from the bickering between Avella and Vallone, the candidates stayed on point, answering questions in brief, 90-second windows they were allotted and praising the crowd throughout by calling them the biggest and best so far on the forum circuit.

Myriam Hart, a senior in attendance, was very happy for the chance to listen to the candidates. She said she now understands all of the candidates' views and has made a decision as to whom she will vote for in the September primary.

City Councilman Leroy Comrie withdrew from the Queens borough president race last week. Current Borough President Helen Marshall is being term-limited out of office.

— Daniel Stein-Sayle
Comments
Comment(s)
The comments section is provided as a free service to our readers. Gotham Gazette's editors reserve the right to delete any comments. Some reasons why comments might get deleted: inappropriate or offensive content, off-topic remarks or spam.
Last Updated (Feb 27, 2014)