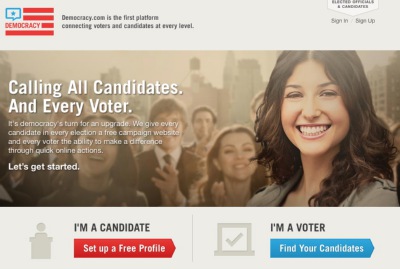 NEW YORK — An Internet presence is pretty much essential for any modern-day political campaign, whether it's as simple as posting updates to Twitter or a full-blown website with tools for collecting donations.
But at the local level, where races for City Council and other smaller races are fought and budgets are tight, it can be daunting for candidates to consider spending hundreds or even thousands of dollars on their digital brands. Many local candidates also don't have the necessary digital skills or manpower.
The challenge of taking advantage of digital technology has become significant enough that Google, Twitter and Facebook were holding a workshop yesterday afternoon to address questions from candidates .
A handful of companies have also begun to offer free and low-cost websites for budget-minded candidates to advertise their campaigns. Companies such as NationBuilder, NGP VAN and the recently launched Democracy.com say their goal is to nurture democracy in the digital age by connecting candidates and voters. Altogether they have thousands of candidates using their services.
"Our bigger mission is to get more people involved in politics, get more people in elections, get more people to run that wouldn't have run otherwise, making it really easy for them to run," Democracy.com CEO Talmage Cooley said in a recent interview. "We think there is a real opportunity to both change the world, get more people involved and making civic engagement as important, if not more important than big money donors in elections."
The importance of political campaign websites was spotlighted during the 2008 campaign for the Democratic presidential nomination, which Cooley and others say Barack Obama never would have won without a smart digital strategy. Obama's opponent at the time, Hilary Clinton, "was playing an old school game, when [Obama] was playing a new school game and he ended up winning pretty easily," Cooley said.
But while campaign websites on the national political stage are all but given, they can't be taken for granted at the local level.
While there are no solid numbers, it's unlikely that a majority of political candidates in the United States — most of them running in local races — have campaign websites. And there are a lot of candidates.
In New York state alone, the number of candidates for elected offices could fill a small book: There are 293 elected offices including state Senate, Assembly, City Council and the U.S. Congress. That is in addition to local judges, district leaders and larger or smaller city and statewide offices.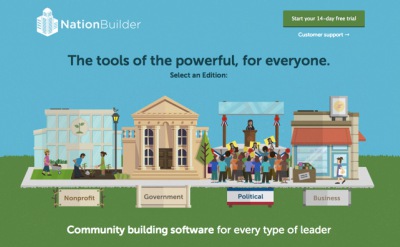 NGP VAN and NationBuilder, which launched in 2010 and 2011, respectively, are two of the most prominent campaign website providers, though there are dozens of others working for the same market.
Championing themselves as community organizing software, NationBuilder doesn't exclusively cater to political candidates. They also provide stand alone websites for businesses, nonprofits and other groups. Joe Conte, a NationBuilder senior organizer, said their site currently has 2,500 paying customers and over 50 campaigns in New York.
NGP VAN is solely used by political candidates and is only available to members of the Democratic Party.
John Brougher, vice president of marketing and nonprofit community at NGP VAN, said his company serves about 3,500 customers nationwide and around 140 in New York alone.
Democracy.com, on the other hand, doesn't provide a candidate with a stand-alone website, instead offering a simpler profile page that is free to claim. Their platform focuses on creating a two-sided social platform that directly connects candidates and constituents by also creating profiles for potential voters.
"We solved the two big pain points for lower state and local candidates, which is low tech skills and low budgets," Cooley said, describing his site as a "LinkedIn" for politics. "Other sites are basically selling the Space Shuttle to people that are licensed to drive a Volkswagen. We're basically selling a Volkswagen."
While Democracy.com hopes to reach statewide and national candidates, the company is intently focused on local candidates. The company claims that 98 percent of campaigns across the country are for local elections, where campaigns tend to have lower budgets.
All three sites provide easy access for donations and mobilizing volunteers and also supply information on a candidate's stance on various issues and their biography. Perhaps most importantly, they provide comprehensive integration into social and other digital media.
Diana Owen, an associate professor of political science and director of American studies at Georgetown University, said that integration with other tools is their key feature.
"The real effect is generating publicity by getting their message out through as many channels as possible," she said in a phone interview. "[Campaigns] use them to get as much a spread with the message as possible and really try to control the campaign and media agenda as much as possible to keep reiterating their message."
Conte agreed with this point, emphasizing how his site uses social media.
"The way we interact with social media is second to none," he said in a phone interview.
"We track all your interactions across Twitter, across Facebook, and then you're able to pull those people into your [candidate] database and merge that with the voter files, you have an updated view of who the people are, who are connected to your campaign."
Pew Research Center has quantified the growing importance of social media in politics.
"In 2012, 17 percent of all adults posted links to political stories or articles on social networking sites, and 19 percent posted other types of political content," the center said. "That is a six-fold increase from the 3 percent of adults who posted political stories or links on these sites in 2008."
Besides integration with other media, ease-of-use is also a selling point for the companies.
NationBuilder and NGP VAN both claim they have had candidates or their campaigns put together websites in a day.
However, the process may not always be as easy as they make it seem.
Sondra Peeden, a candidate for the 27th City Council District in Queens, has invested $653 into her NationBuilder website since December 2012 and has only set up her bio and donation pages. She pointed to the difficulty she and her team had setting up the site while busy campaigning.
"We were all just frustrated because it wasn't working the way it should," she said in a phone interview. "They told me easy-breezy, you can watch the tutorial videos and be able to get this done. In my experience it never was that easy."
While Peeden is frustrated, she said she understands the importance of these sites in helping low-budget campaigns and hopes they can be improved. "I just hope through this election cycle they learn a lot," she said.
NationBuilder couldn't respond to specific cases like Peeden's.
Dennis Saffran, a candidate in the 19th City Council District in Queens, opted not to use one of the off-the-shelf campaign software packages and instead combined a hosting service and an online template to create his site. It cost over $1,100.
Saffran said he was unhappy with the amount of time it took to create.
"It's not been a fun experience [setting up the website]," said Saffran, who had not heard of political campaign website software like NationBuilder. "It's taken a good two-and-a-half months to get a functioning website."
It still remains to be seen how far companies such as NationBuilder, NGP Van and Democracy.com can progress in their goal of increasing participation in the democratic process. Conte said he foresees a positive future.
"I don't believe in five years you will be able to run for even the smallest of elections without having a website," he said. "Even if they are running for their local water board."