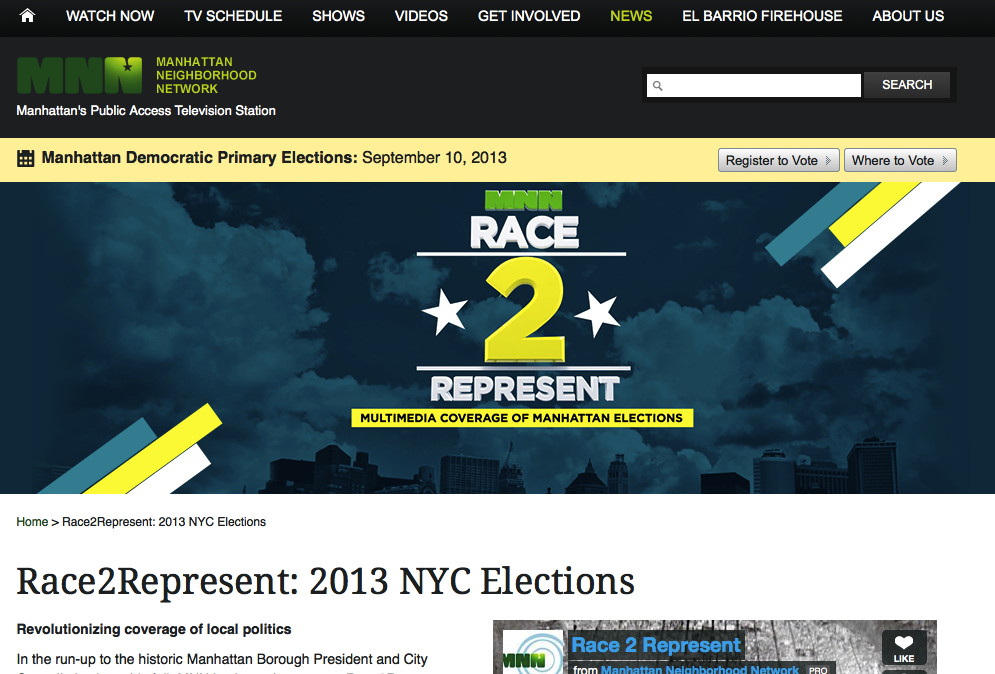 The largest public-access cable television network says it is working to give voters a "3D view" of this year's elections in Manhattan.
Manhattan Neighborhood Network announced a new multi-platform guide to the election called Race2Represent. Candidates provided video statements for the project and the channel will be hosting debates for each of the races in collaboration with the League of Women Voters of the City of New York.
Greg Sutton, the developer of Race2Represent, said in a statement that the new initiative will allow Manhattan residents to hear from the candidates and do "side-by-side comparisons of their experience and platforms.
The MNN kicks off its series of debates tonight at 8 p.m. on MNN1 (TWC 34, RCN 82, FiOS 33), starting with candidates for Manhattan borough president debate. City Council debates will continue to air every weeknight at 8 p.m.
A similar resource is also available for residents of the Bronx. BronxTalk, a weekly BronxNet TV call-in talk show hosted by Gary Axelbank, began six consecutive weeks of political debates on July 29. The next debate for the 17th City Council district and airs tonight at 9 p.m. on BronxNet (FiOS 33, Cablevision 67).