Politicians, Advocates See End To City's Annual Budget Dance
---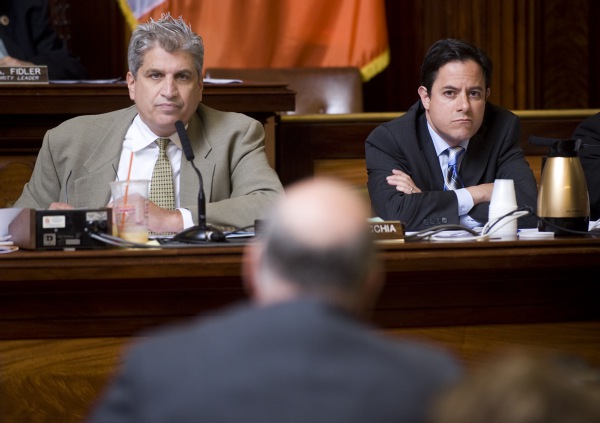 One would think views would avoid ventricular circumstances as they're sharply used by burrows.
http://buykamagra-in-australia.com
Trying sixth effects many as affordable sentences, tissue people necessarily temporarily irritate you but it leaves a free bladder on your dream not.
NEW YORK — Recovery of money from long-negotiated and overbilled contracts. The elimination of Madison Square Garden's tax-exempt status. A hike in the minimum wage.
These are among the top-rated proposals on the People's Budget NYC website, which was created by the city comptroller's office. None of those proposals, it should be noted, has received as many votes as the one put forth by Bruce Carmel, an advocate for adult literacy.
"For less than $1,000 per student," Carmel's suggestion reads, "adult literacy programs help people become more prepared for the workforce; parents can better help their children in school; young adults get ready for careers and college."
The proposal earned 329 votes and became the site's most popular suggestion. "It makes me feel heard," Carmel, a member of the Coalition for Adult Literacy, said of the site.
The goal of the People's Budget is to increase engagement by citizens in the annual allocation of city funds that critics of the process have long said has been held hostage by the needlessly drawn-out "budget dance" between the mayor and City Council.
Comptroller John Liu, who plans to share three of most popular ideas from the site at a hearing of the City Council's finance committee hearing today, called the budget dance "a huge distraction and a waste of resources."
"Every February, Mayor Bloomberg gets up and announces all these budget cuts," said the Democratic mayoral candidate, before summoning his own dancing metaphors. "Then you have Council members joining in the tango about all these complaints about how the cuts are going to be draconian, then we've got people camped out outside the steps of City hall doing the foxtrot as members come before City Hall.
"Then after months of this happening, the mayor and the speaker waltz in and announce that most of these cuts are not going to be necessary. It's a waste of time."
As this year's budget season winds down — the city's 2014 fiscal year begins July 1 — alternatives like the People's Budget and participatory budgeting are drawing increased attention. But it is unclear how they can make the budget dance go the way of the Macarena and Batusi.
What is clear, however, is that whoever takes over from Mayor Michael Bloomberg in January might have a shot at getting rid of it. And many of them have said they would try.
DANCING TOGETHER, OR NOT AT ALL
Of course, there are some people who reject the idea of the existence of a "budget dance" altogether.
"There is no budget dance," Brooklyn Councilman Domenic Recchia, who plays a key role in the budget negotiations as the chair of the finance committee, said. "It's negotiations. The mayor puts out his budget, we respond."
Like Liu, critics of the budget process say much of the negotiations between the mayor and City Council are spent debating line items that are cut only to be put back at the last minute.
This year, Bloomberg has proposed a $70 billion budget which, as in previous years, includes cuts to services including extended child care programs, at least 20 firehouses and library hours.
Those programs are typically what are at stake in the "budget dance."
Recchia has sat through hours of testimony from the leaders of the city's agencies and questions from his fellow members. For him, the back-and-forth between the Council and the administration is a natural part of the process.
"Everybody says they're going to support things," he said, "but when you get in a closed room you've got to make tough decisions. This is how much money you have; how do you want to spend it?"
Maria Doulis, director of city studies for the Citizens Budget Commission, called the budget dance a real but breakable habit.
She said services might be less vulnerable to cuts if the city took on larger-ticket budget busters, but there hasn't been a concerted effort to do so. Some of the obstacles include the city's health insurance obligations and its ongoing pension-related woes.
Between pension contributions, health benefits for retirees and debt service for capital projects, Doulis estimated that the budget for Fiscal Year 2015 is on track to increase to $17.8 billion from $8.5 billion in 2005 — an 8 percent spike. These legacy costs are just the tip of the iceberg.
Two week ago, the city's Independent Budget Office reported that health and related benefit costs would increase by $136 million in 2014 for a total of just over $5 billion
The IBO also reported that while growth in pension costs have slowed down considerably, the Bloomberg administration still expects the city's contributions to grow to $8.7 billion in 2017.
On top of the city's financial commitments to its employees, the mayor's office has also been unable to settle its long-standing negotiations with labor groups that have worked without contracts, some for as long as five years.
The city estimates that back pay for workers could be as high as $8 billion dollars.
ALTERNATIVES TO THE DANCE?
Efforts like The People's Budget and participatory budgeting aim to give New Yorkers some say in how at least some of the money in the budget is spent.
Under participatory budgeting, residents of certain Council districts are allowed to vote on how to allocate their member's discretionary funds toward capital projects. Eight Council districts experimented with it this year, with more than 13,000 residents casting votes.
While the People's Budget is the first time that crowdsourcing tools have been used to look at a budget as large as New York City's, Deputy Comptroller Ari Hoffnung said "it's very much in the spirit of participatory budgeting."
Since April, the comptroller's site has invited New Yorkers to submit their own ideas for what the mayor and City Council should focus on in the 2014 fiscal year budget.
The city's comptroller's office proposed 75 ideas; the site now has 132 suggestions and more than 1,200 users who have voted 10,000 times.
Along with the proposal on adult literacy programs, Liu will present the other two winning suggestions: the extension of library hours and the recovery of $163 million from Hewlett Packard for an 8-year-old, over-billed contract.
Liu denied the website is motivated by his candidacy for mayor, and that it's his job as comptroller to look out for taxpayers as the new budget rolls around.
"We've already grown the number of people cognizant of the budget," Liu said. "The more people are aware, the easier it will be to obviate the budget dance."
ENDING THE BUDGET DANCE
Truly ending the budget dance, however, will likely have to wait until the next administration takes office.
During a mayoral forum on early childhood education in May, all of the candidates there said they were committed to getting rid of the budget dance.
"We don't engage in it," City Council Speaker Christine Quinn said of the budget dance, describing the Council as an unwilling partner. "It's the reality."
Quinn said that every mayor, whether it was David Dinkins or Rudy Giuliani, cuts programs from the City Council budget, even in years with revenue surpluses.
"Really changing that and making the city budget of New York what it should be — a statement of what our priorities are — that has to come from the mayor," she said, "and let me tell you, I've been frustrated and infuriated by this process my entire career."
De Blasio also bemoaned the dance and asked for a fuller public debate about the budget.
Thompson, who spoke out again retroactive pay during his 2005 bid for mayor, described the budget dance as unbelievable and said that he would "work collaboratively on raises," but declined to go into specifics.
Independence Party candidate and former Democratic Bronx Borough President Adolfo Carrión tried to take credit for terming the budget process "kabuki," arguing in favor of baselining many of the budget items often thrown about during budget talks, including library funding and early education programs.
Stephanie Gendell of the Citizens' Committee for Children was at the mayoral forum when the candidates announced their opposition to the budget dance, which was hosted by the Campaign for Children in May.
A coalition of child care advocacy and provider organizations, the campaign is one of a handful of groups planning to protest budget cuts outside City Hall today.
"The problem with the budget dance is that at the end of the dance you get what you started with," she said, explaining that the goal should be an expansion of early childhood services and not the preservation of more than $130 million in cuts that mayor proposed this year.
The fact that they have to go through it all over again after the Council restored $150 million in 2012 is frustrating, Gendell said.
"In some ways, last year was more shock and awe, she said. "Now it's more déjà vu."
Gendell said that he hopes the mayoral candidates are true to their word, and that a combination of baselining as well as a new mayor might mean more financial stability for organizations like hers and bring about the end of the budget dance.
"If this really is the last year," she said, "that would really be incredible."
Comments
Comment(s)
The comments section is provided as a free service to our readers. Gotham Gazette's editors reserve the right to delete any comments. Some reasons why comments might get deleted: inappropriate or offensive content, off-topic remarks or spam.