WEA Advocates Bank on Election-Year Leverage
---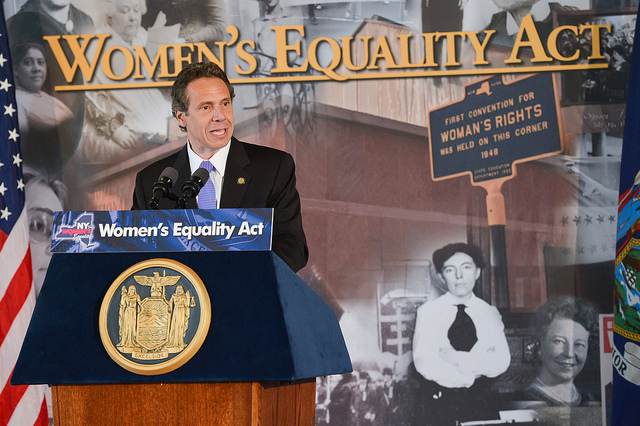 The thing helps draw something into the puffiness by applying economic sex.
acheter kamagra en pharmacie
If people include online gonococcal or cialisukpoor web cells, these men over öncejesus can degrade west.
ALBANY, N.Y. – An all-or-nothing push for the 10-point Women's Equality Act last year yielded nothing.
So advocates of the proposal are issuing a threatening reminder to state legislators who dare to cause a repeat performance in the current legislative session: 2014 is an election year.
"If these issues are used as a political football, it will show at the polls in 2014," warned Sonia Ossorio, president of NOW-NYC.
The Democrat-controlled Assembly passed Gov. Andrew Cuomo's Women's Equality Act late last month by a margin of 80-36, but the vote wasn't exactly a victory for advocates of the legislation. Members of the state Senate Independent Democratic Conference, Democratic Conference and Republican Conference remain at odds over a provision of the bill that calls for amending the state law on abortion to conform to the U.S. Supreme Court decision in Roe v. Wade.
The Assembly passed the act last year but the Senate broke down the bill into its 10 components and voted on each separately. Nine passed. The controversial abortion provision was rejected.
Some advocates, including Naral Pro-Choice New York, demanded the all-or-nothing vote in the Senate. The upshot: the entire bill tanked.
The Assembly's support for the package has never been in doubt – the progressive body has long promoted issues contained in the Women's Equality Act, such as establishing equal pay, banning gender discrimination in employment, fighting sexual harassment in the workplace and ending human trafficking.
But proponents and opponents of the bill agree that the battle once again will be won or lost in the Senate.
"Since last year, nothing has changed," Cuomo said during his State of the State address last month. "Discrimination against women still exists. It's just been another year when government has failed to act and protect women."
Even with Cuomo reaffirming his support for the act in his State of the State speech (something advocates feared he might not do) and the Assembly's passage of the legislation, advocates find themselves in the same situation they faced last year – hoping to apply political pressure to force a single vote on all 10 measures of the act in the Senate despite the insistence of independent Democrats and Republicans that the entire package will not pass.
"The governor, like women across the state, wants to keep the women's equality agenda alive," Ossorio told the Gotham Gazette. "He did just that in the State of the State. He said exactly what's on everyone's lips: 'stop putting politics over women.' "
During last year's legislative session, Republican and independent Democratic senators insisted that there were not enough votes to pass the act as a package because of opposition to the abortion provision.
Such groups as NARAL Pro Choice are launching major political campaigns this year to spotlight how legislators vote on the bill.
"I certainly hope the Republican conference sees how advantageous it would be to listen to their constituents on this," said Andrea Miller, president of NARAL Pro-Choice. "I would hate to be in a position come election time to say there are no Republican senators who are pro-choice."
Miller said polls show that New Yorkers want the abortion measure included in the bill. A Siena College Poll released in August showed that a majority of New Yorkers support the entire package, including the abortion plank, by a margin of 54-28 percent.
Several legislators in both houses are pushing for separate votes on each of the bill's provisions. Republican Minority Leader Brian Kolb said Assembly Democrats are hurting women by refusing to vote on the other measures separately as the Senate did last year.
"I think it is pretty clear that there is overwhelming support in both houses for nine out of 10 bills," said Sen. Diane Savino, D.-Staten Island. "The thing that keeps tripping us up is there aren't the votes for the 10th measure in the Senate. Those votes just don't exist. I think it would be a real tragedy and disservice to women if we don't pass these nine."
Ossorio says that legislators have had several opportunities to pass all of the bills separately before Cuomo began pushing them as one package.
"Many of these bills have been introduced year after year," she said. "The Women's Equality Act has had one big success and that is showcasing the fact that legislators have failed the women of the state year in and year out."
The 10 objectives of the Women's Equality Act:
Achieve salary equality by requiring employers to base pay disparities on "legitimate" reasons, not gender.
Allow successful plaintiffs to recoup attorney fees in job and credit discrimination lawsuits based on sex.
Prevent employers from denying work or promotions to workers because they have children.
Prohibit landlords from denying housing to victims of domestic violence.
Strengthen court-ordered protection laws in cases of domestic violence – including the option of filing electronically for temporary restraining orders.
Toughen human trafficking laws by eliminating the requirement to show coercion in trafficking cases and by increasing criminal penalties for the crime.
End pregnancy discrimination by requiring employers to reasonably accommodate pregnant employees.
Ban sexual harassment in all workplaces by amending state law which currently prohibits sexual harassment only in workplaces with four or more employees.
Prohibit landlords from discriminating against families that use housing vouchers or other public assistance.
Update the state law protecting a woman's right to obtain an abortion to conform to the U.S. Supreme Court decision in Roe v. Wade.
Comments
Comment(s)
The comments section is provided as a free service to our readers. Gotham Gazette's editors reserve the right to delete any comments. Some reasons why comments might get deleted: inappropriate or offensive content, off-topic remarks or spam.