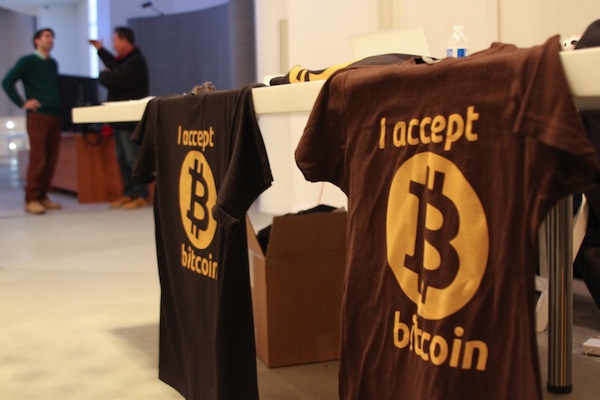 Bitcoin T-Shirts hang at the entrance of the Bitcoin Center in Manhattan's financial district. Photo credit: Laura Bult.
---
It's now possible in New York City to buy a beer, pay for a massage and rent an apartment in bitcoins, the digital currency that is creeping out of the dark corners of the Internet.
Bitcoin's emergence and infamy has caught the attention of state financial regulators. The New York State Department of Financial Services (NYSDFS) expects to decide this year how the use of Bitcoin and other virtual currencies can and should be controlled, not only to prevent cyber crime and protect consumers, but to provide a legal foundation to the burgeoning industry.
Action by the NYSDFS seems imperative in light of reports that the largest Bitcoin exchange faces possible bankruptcy. The exchange, Mt. Gox, was apparently the victim of a major theft of the virtual currency, accoding to news reports.
By becoming the first state to establish a regulatory framework for virtual currency, New York and its financial epicenter will welcome Bitcoin startups and serve as a model for the rest of the country.
"We have regulations from 150 years ago; they certainly didn't have a glimpse of digital currency," said Benjamin Lawsky, 43, superintendent of NYSDFS, who is leading an investigation into virtual currency regulation.
An unidentified programmer or group of programmers, known as Satoshi Nakamoto, started the Bitcoin technology in 2009. It's traveled a bumpy road to prominence. The open-source, decentralized technology allows users to trade currency pseudonymously and seamlessly. It appealed to a mixed group of early adapters: technophiles, curious speculators, Internet entrepreneurs and libertarians attracted to the peer-to-peer network without the meddling of governments and banks.
Bitcoin was also quickly embraced by vendors and consumers of illegal products and services. Unlike credit cards that are easily linked to user identities, Bitcoin can be used under a veil of pseudonymity to buy and sell drugs, weapons and pornography on deep Internet black markets such as the Silk Road.
From virtually thin air, roughly 12 million bitcoins (of the maximum 21 million that will ever exist, by design) now circulate in the ether, according to Blockchain, a website that hosts digital wallets. Bitcoin companies have popped up around the world and corporations such as Overstock.com are accepting bitcoins as payment.
"The mood in the industry is pretty incredible. It really feels like when the Internet was starting," said Lars Kluge, 30, chief technical officer for Humint.is, a Bitcoin consulting company. "Everyone's super excited and are waiting to see what will happen."
Along the way, though, Bitcoin has struggled with image and stability.
In addition to hacker attacks that have tested the network's infrastructure, the currency is inextricably linked to the Silk Road, which has resurrected since being dismantled in October by the FBI. Bitcoin has also fluctuated wildly in value. In 2011, the value of one bitcoin matched that of the dollar. By the end of 2013, its value spiked to $1,200. Nowadays, its value vacillates between $500 and $700 per bitcoin.
The drama of Bitcoin's rise has given the currency a seductive quality to Internet investors such as the Winklevoss twins, who became famous for waging a legal battle over Facebook, as well as speculators who are experimenting with a new concept of money.
Matt Herman, 29, a kitchen manager in Brooklyn, invested $100 into Bitcoin in the summer of 2011 and left it untouched as it mounted in value.
"It's always been more of technological curiosity for me than an actual investment," he said.
But the volatility of the Bitcoin market has also fueled the arguments of skeptics.
"It's an inflated bubble," said Mark T. Williams, professor of finance and economics at Boston University. "It's very dangerous for investors and there's no protection."
The federal government laid the legal groundwork for virtual currencies last year when the Financial Crimes Enforcement Network designated Bitcoin exchange companies as money transmitter services, like Western Union and PayPal. But it's now up to the states to determine how to license virtual currencies. Before that happens, some Bitcoin entrepreneurs are wary of the ambiguous regulatory footing on which they stand.
"It doesn't make sense to found a serious business when you don't know what's happening tomorrow," said Kluge.
Discussions about regulating virtual currency in New York began last month when the NYSDFS held public hearings in Manhattan. Investors, law-enforcement officials, digital currency entrepreneurs and academics testified about what a virtual currency transmitter license – coined a "Bitlicense" – might look like.
"Our goal is to diminish the potential for illicit activity and allow for innovation," Lawsky, NYSDFS's superintendent, told Gotham Gazette after the hearings.
The potential for innovation is on the minds of a lot of people in the Bitcoin community as they wait to see what state regulation will look like. Some fear that time-consuming and costly requirements for money transmitter licensing would push fledgling Bitcoin startups away from New York City.
"It could be a good thing, but it could be a terrible thing, too," said Marco Santori, the digital currency lawyer for Bitcoin Foundation. He has cautioned regulators to avoid implementing onerous regulations before they fully understand the technology behind Bitcoin.
Anti-money laundering regulations could mean requiring Bitcoin companies to flag suspicious user activity, according to the NYSDFS. While transactions are all visible online on a public ledger, crime-prevention regulations could also enforce more transparency by doing away with the pseudonymous nature of trader identities.
Furthermore, individual states might enforce a minimum net-worth requirement for Bitcoin companies to qualify for licenses in addition to costly legal fees, according to Stephanie Newberg, president of the Money Transmitter Regulators Association, a nonprofit that regulates money transmitter licensing.
"I think it's astonishing and fascinating. I learn something new about it every day," said Newberg. "I think that states are being methodical and they want to do it right, which is why I think this is taking longer than virtual currency companies wanted it to."