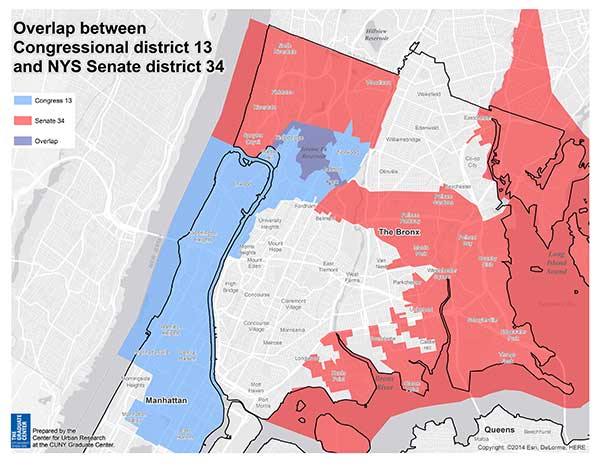 ---
A small group of voters in the northwest Bronx can vote in two of the most watched Democratic primaries in New York politics this year.
South of Van Cortlandt Park, in an oddly shaped tract around the Jerome Park Reservoir, Congressional District 13 and state Senate District 34 overlap. Almost 9,000 registered Democrats live in this little Bronx puzzle piece, though based on low turnout primaries in years past, only hundreds are likely to vote in both races. But those who do will have a say in whether state Sen. Adriano Espaillat — back again after losing a close contest two years ago — or Rev. Michael Walrond denies New York's most senior congressman, Rep. Charles Rangel, of a 23rd term.
And in the state Senate race, though it too is a Democratic primary, there is the potential to shake up the neverending power struggle between Republicans and Democrats in Albany as former assemblyman and councilman of the northwest Bronx, Oliver Koppell, takes on state Sen. Jeff Klein, current head of the Independent Democratic Conference (IDC) and co-majority leader of the state Senate.
The strangely shaped chunk of land — a byproduct of the most recent redistricting and recently voted "most artistically drawn legislative district" — is a mix of single family homes and five-story walk-ups, anchored by the historic Amalgamated Housing Cooperative. The area is diverse, with the total population of the overlap section at 54 percent Hispanic, 24 percent white, 13 percent black and 7 percent Asian. It's highly Democratic, with 75 percent of registered voters in the Democratic Party, and there are even more non-affiliated than Republicans, 15 to 7 percent.
For political junkies living in the overlap, which spans the neighborhoods of Kingsbridge, Kingsbridge Heights, Van Cortlandt Village and Bedford Park, it's a fun year to be a registered Democrat.
While these voters are not getting any special treatment or being targeted in any unusual way because they can vote in both races (the federal primary is June 24, the state primary is Sept. 9), their stances on issues and their allegiances show the oft-told storylines are not always as simple as they seem to be.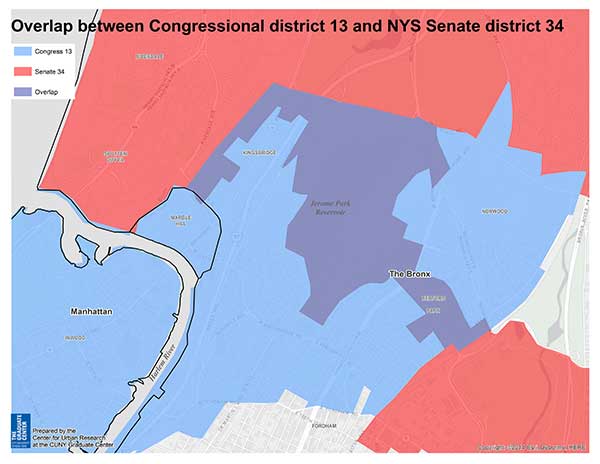 On primary day two years ago, when Espaillat first challenged Rangel for his seat, the Bronx was a graveyard. There were hardly any volunteers handing out leaflets or holding signs and election sites were empty. Voter turnout was miserable. Only 10 percent of eligible registered Democrats in the Bronx voted in the standalone primary, compared to 16.5 percent in Manhattan. Though he lost the race by about a 1,000 votes, Espaillat managed to win the Bronx by 233 votes.
Unlike the boundaries of both districts, the lines of support for these candidates are fairly straightforward. Most Bronx officeholders, including the Bronx Democratic Party, are backing the incumbent Klein and, in a rare move to support a challenger, Espaillat.
When it comes to voters, it's not as clear-cut. In interviews with registered Democrats in the area, voters told this reporter they support all different combinations of the main contenders: Rangel, Espaillat, Klein and Koppell. While some are backing both incumbents, others support one or both challengers.
The cliché "all politics is local," is no cliché here.
When asked about issues important to him when voting in these races, Gary Axelbank, host of the BronxTalk on BronxNet who has lived in Kingsbridge Heights his entire life, said it's the local stuff that matters most.
"The entire area used to be very nice and quiet and pastoral and now it's a complete construction zone," he said, referring to Department of Environmental Protection and Department of Parks and Recreation construction around the Jerome Park Reservoir, and construction at PS 95 and in Van Cortlandt Park. "Who is standing up for the community? These may not be big Senate or Congressional issues, but as a resident, that's what I care about."
For others, it's the bigger issues that will affect their vote.
Jack Marth helped start a petition to urge Koppell to run and is volunteering for his campaign. He said he's concerned with campaign finance reform, the DREAM Act and tenant's rights bills, and that he feels Klein betrayed Democrats by forming the IDC and a power-sharing coalition with Republicans in the Senate.
"I'm enthusiastically supporting [Koppell's] candidacy, primarily because I feel betrayed by what Klein did by creating the IDC. I believe strongly that there is a lot that can be achieved in New York State if we had a Democratic majority in the Senate," he said.
Though Bronx borough historian Lloyd Ultan, who lives in Kingsbridge Heights in the overlap area, said he understands why the political establishment has backed Klein. He said years ago Bronx Democrats didn't challenge Republican state Sen. Guy Velella because he held high-up positions in a Republican-controlled Senate and used that to bring attention — and resources — to his district.
"Looking at it through that Velella prism, you could make a case that Klein's breakaway Independent Democratic group working with the Republicans recreates the same conditions for the Bronx that existed when Velella [had power] in the Senate," Ultan said.
The Bronx neighborhoods south of Van Cortlandt Park are a mess of district lines. The voters there have, at least for the last three decades, been on the fringes of districts. And so every decade following redistricting, this area often looks like the aftermath of a kindergartener with construction paper and a pair of scissors.
In the 1990s, some voters in Kingsbridge and Kingsbridge Heights voted in state Senate races with Manhattanites as far south as Chelsea. In the 2000s, they voted with fellow Bronxites in University Heights and Belmont. Now, they vote in a district that stretches from Riverdale to Morris Park and Throggs Neck in the Bronx and Mount Vernon in Westchester.
On many of their Senate ballots in the last three decades? Franz Leichter; now-Attorney General Eric Schneiderman; convicted felons Efrain Gonzalez and Pedro Espada; and current state Sen. Gustavo Rivera. In September, Klein and Koppell.
"It's a diverse community that is hard to pin down. It's almost like the political flavor of the month, so that they say, 'Gee this time around let's carve it into this district,'" said Axelbank. "Right or wrong, that's the nature of redistricting."
Ironically, the current Senate District 34 is shaped the way it is now partly because of Koppell and his wife, Lorraine Coyle Koppell. Lorraine Koppell challenged Velella in 2000. She lost and as punishment, Velella allegedly had the Republicans redrawing the map to carve the Koppell home out of the district so she couldn't challenge him again. The Koppells were put into the long skinny district that stretched down the west side of Manhattan, about which one observer, quoted in The Riverdale Press, said "Velella gave the Koppells the finger."
The current District 34 has been so gerrymandered over the last three decades, it's been said it looks like all sorts of things: a lobster, a horseshoe, the cat in the hat.
In the 1990s, voters in Kingsbridge and Kingsbridge Heights voted in congressional races with much of the northern Bronx, Yonkers and Mount Vernon. Gerrymandering caused those lines to be redrawn so they would vote along with those across the Hudson in Rockland County. Now, they vote with members of a district that's based in Harlem.
"We're always kind of the appendage to round out other peoples' power bases," said Marth.
In the Senate, Marth added: "We're part of a land bridge connecting Riverdale and the white parts of the east Bronx."

Like any voter, residents in the area said they want whoever is elected to pay attention to their neighborhood. Though much of the focus in the congressional race is on Manhattan, one-quarter of eligible registered Democrats live in the Bronx and that could swing the vote. Espaillat flyers have been laid at the doors of many voters in the area over the past month. Some voters said they received anti-Espaillat mail, but also pro-Espaillat mail.
During his campaign two years ago, Rangel promised to open a district office in the Bronx. He never did. This time around, both Rangel and Espaillat said they will open an office in the Bronx and Espaillat even promised in a recent debate he would open it on the first day he takes office. Rangel didn't even show up to that debate, hosted by BronxNet, which some Bronx voters see as a sign that the elder congressman is not the right man to represent the Bronx.
"By ignoring [that debate], Rangel sent a message into the minds of people that he is ignoring the Bronx," said Ultan.
Sometimes residents in this neighborhood vote for candidates that aren't even on the ballot. Rafael Martínez Alequin, a longtime Amalgamated Housing resident, eccentric blogger and regular at City Hall press conferences, usually writes in his cat, Sebastian, for District 34, and two years ago ran a comical online campaign for the cat with the motto: "I will get rid of Albany's rats!"
But the feline won't be on his ballot this year.
"Sebastian's not running again because he decided it's a better chance for Oliver Koppell," he said.
***
by Adam Wisnieki for Gotham Gazette
Maps provided by Steve Romalewski, Director, CUNY Mapping Service, Center for Urban Research at The Graduate Center, CUNY