Â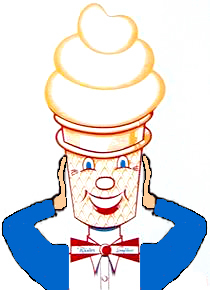 Mr. Softee doesn't want to hear it.
Also:
• Noise
by Chaleampon Ritthichai
In Community Gazettes
Sounding out on noise in a number of New York neighborhoods:
Mayor Michael Bloomberg has proposed sweeping changes to the city's noise code, cracking down on everything from fireworks to ice cream trucks to nightclubs. However, as a constituent recently told me, not all of these city-wide efforts will have a local impact.
"Noise from fireworks really isn't a problem on my block," the person said. "The kind of noise problems my neighbors and I have are more localized and often get ignored."
While I applaud Mayor Bloomberg's resourcefulness in setting up the city's 311 help line and analyzing the data to conclude that noise is New Yorkers' top quality-of-life complaint, the information from 311 is not being used as well as it could be to solve the problems plaguing New Yorkers.
The city's 311 system provides only city or borough-wide data, which hides evidence of where local noise problems originate. For example, the mayor can tell us that noise complaints in Manhattan have increased from 5,000 to 5,050 in one month, but he can't tell us if 50 of those calls are coming from the same raucous bar or even a specific block.
311 data is also not shared with local officials like City Council members, community boards, or the public. 311 rarely, if ever, refers calls to the community board - despite their roles as local ombudsmen and their established relationships with local police, agency heads and businesses - their members and staff may not learn about many of the problems in their communities.
That is why I have drafted a piece of legislation (Introduction 174) that would require the Department of Information Technology and Telecommunications to provide local information about 311 calls - including the locations, types, and numbers of complaints - to local officials. With my bill, council members, community boards and the public (through www.nyc.gov) would receive monthly reports on 311 complaints broken down into data that they could actually use.
As citizens use the 311 service to seek relief from problems, they are not turning to their local community boards as frequently, and thus the city is not benefiting from the expertise that boards provide in problem solving. A 311 call may lead to dispatching a police officer to fine a noisy local nightclub, only solving the problem for one evening.
Involving the community boards and council members who grant permits and oversee zoning, however, is the most effective way to address consistent problem-areas. It is the difference between treating a symptom and curing a disease.
Sharing 311 data with local officials can also solve other quality-of-life problems, and can be cost effective. Last week, I had 30 constituents who live on a quiet block call my office about a rat infestation. If we had the local 311 data sooner, we might have caught the infestation before it became rampant.
However, at a recent City Council hearing on the bill, the officials from the Department of Information Technology and Telecommunications said they were unwilling to support the bill, citing the difficulty in sorting the enormous centralized databank of complaint information and integrating data from older computer systems into local reports.
It certainly will cost something to create a larger database, but the ultimate savings in money and efficiency will be worth it.
Community boards were created in order to combat this kind of monolithic, centralized approach to government, which often leaves local concerns unidentified and neglected. We've seen a revolution in using local data to combat other citywide problems, such as in the New York Police Department's use of CompStat.
Noise control - along with many other issues - merits the same approach.
Mayor Bloomberg needs to use 311 to empower local officials to fulfill their charter-mandated jobs of planning for the future, or his next big noise complaint might be the combined cries of city residents whose quality of life is suffering from poorly identified local problems.
New York City Council Gale Brewer represents the Upper West Side and chairs the City Council committee on technology.