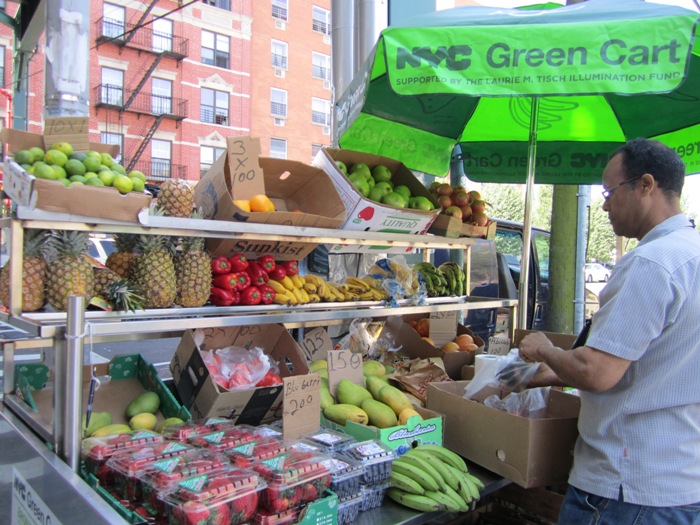 Domingo Jose, a vendor participant in WHEDco's Green Cart Training Program (WHEDco)
---
The Hunts Point Terminal Produce Market provides approximately 60 percent of the fresh produce that New Yorkers eat every day. Yet less than two miles from Hunts Point, in the neighborhood of Crotona Park East, it is nearly impossible to find a fresh tomato.
The New York City Green Cart Program started in 2008 as an experiment to plant mobile produce carts in food deserts like Crotona Park East, neighborhoods with low access to fresh food and high risk for diet-related diseases. The program was an opportunity to improve the health of residents across the city, including in the Bronx - once again ranked as the least healthy county in the state. But the Green Carts program also had potential as a viable model for small business creation in low-income communities. With the right support, people from low-income backgrounds can start successful businesses that support families and enable financial independence. We saw great potential in the Green Carts program to accomplish these goals.
But a recent report by Columbia University School of International and Public Affairs reveals that the program has not lived up to its full potential. Created by the Mayor's Office of Food Policy (under the Bloomberg administration), the NYC Department of Health and Mental Hygiene, and the Laurie M. Tisch Illumination Fund, with critical support from the Deutsche Bank Foundation and Karp Resources, Green Carts is an innovative program that succeeds in delivering fresh produce to its target low-income population. Yet over the five years of the program's operation, of the 1,000 Green Carts permits created, only 492 permits are active, and the Columbia team could identify only 166 Green Carts that are still operational day. Those carts that are still in business tend to cluster near shopping districts and transit stops with high foot traffic, often far from where low-income residents live, and especially far from public housing developments. Those numbers are no surprise to those who saw the program's problems in real time.
At WHEDco, we spent significant time working side-by-side to help vendors, from permit application to site selection to operation. We saw the program from the vendor's perspective, and found the permitting process to be unnecessarily complicated. A Bronx resident would need to make at least six trips to Manhattan to complete food safety courses and file permit applications. The timing of the application process was unclear to WHEDco and other community-based organizations providing technical assistance to vendors, making it difficult to advise our clients. When vendors couldn't find storage for their carts in our neighborhood, WHEDco built a storage facility in the parking lot of our Intervale Green building to safely store four Green Carts, a process that required filing new building plans and an additional grant from Deutsche Bank. We conducted micro-market studies to help Green Cart operators in our neighborhoods identify locations that lacked fresh food. But many other operators received little guidance on where to set up shop, leading to the "clusters" the Columbia team found.
We still believe in the potential of the Green Carts program as a means to promote health and small business creation at the hyperlocal level. If it continues, the program should leverage the support of community-based organizations that can connect potential vendors and local business leaders, though new funding sources must be identified to support CBOs in this work. The Health Department's District Public Health Offices should be able to process permit applications locally, saving low-income vendors valuable time. And the Green Carts program should stick to its original intention and incentivize vendors to locate close to where people live, making it as easy as possible for Bronx residents to eat healthy while supporting local entrepreneurs.
***
Nancy Biberman is the Founder and President of the Women's Housing and Economic Development Corporation (WHEDco)
@WHEDcoSpeaks
WHEDco on Facebook