The Department of Education's Power Grip
---
While legislation giving the mayor control of the city schools had laudable goals, over the past seven years, Mayor Michael Bloomberg and Chancellor Joel Klein have demonstrated an alarmingly expansive interpretation of their own powers. Under mayoral control, government transparency has been a scarce commodity, and the Department of Education has operated like a tightly controlled bunker that excludes parents and lawmakers from most meaningful participation.
New York City's children and parents suffer the consequences of this unfettered mayoral control. Thousands of police personnel patrol city schools with little oversight or accountability. In March 2007, police personnel handcuffed and arrested 13-year-old Chelsea Fraser in front of her Dyker Heights classmates. Her crime? Writing the word "okay" on her desk. In January 2008, Denis Rivera, a 5-year-old kindergarten student was handcuffed for throwing a temper tantrum in his kindergarten class.
Principals are not immune from falling victim to the consequences of unfettered mayoral control. East Side Community High School Principal Mark Federman was arrested for pleading with police to not parade a handcuffed honor roll student in front of her classmates.
Despite these abuses, the mayor and the department refuse to create rules governing police behavior in the schools, citing mayoral control as the reason. Children and parents are left to wonder who's in charge of school discipline: the principal or the police?
Bullying based on sexuality, ethnicity and religion continues to be a major problem. According to the Department of Education's own survey, 76 percent of middle and high school students reported seeing students "threaten or bully other students at school." The City Council passed the Dignity in All Schools Act in 2004 to address this, yet the mayor has refused to fully enforce the law, claiming that the City Council has no authority over the Department of Education. Our children pay the price for this. Osama al-Najjar, a student at Tottenville High School in Staten Island, plunged into a deep depression and tried to commit suicide because he was incessantly called Osama bin Laden. Harpal Singh Vacher, a Sikh freshman at Newtown High School in Elmhurst, was attacked, wrestled to the ground and had his hair cut off by another student.
The New York Civil Liberties Union, where I am advocacy director, recently documented these failures in a report on civil rights and civil liberties under mayoral control. We drew lessons from our experiences in the schools to suggest ways to improve the school governance system and protect the safety, well-being and constitutional rights of students.
The NYCLU does not take a position on whether to renew mayoral control. We do not take a position on whether the mayor should be able to appoint a majority of Panel for Educational Policy members or whether the mayor should have sole authority to appoint the chancellor. But we hope that, in the debate over the renewal of mayoral control, state lawmakers concentrate on how our school governance system operates: Does it invite abuse of power? Does it embrace democratic principles? Is it the best system to educate, prepare and protect our youth?
Opening the System
Whether it approves extending mayoral control or not, the Legislature must ensure that our schools do not continue to operate through unchecked executive authority, excessive secrecy, and blocks to public participation and oversight. By taking steps to ensure greater transparency and accountability, the Legislature can satisfy both those who support and reject mayoral control.
First, the department cannot continue to operate as its own autonomous agency. It must be clearly defined as a city agency subject to the authority of the City Council, comptroller, public advocate, city charter and city laws, which ensure transparency and oversight.
Second, there must be an empowered board of education. Regardless of whether the mayor appoints the chancellor and a majority of members to the Panel for Educational Policy, which replaced the board, students, parents and educators would all benefit from a strong panel. The law already requires that the panel approve education policies. Now it must be strengthened to require that the chancellor submit all new citywide policies and practices that affect student achievement for the board's approval.
The authority to appoint members should be distributed among all citywide elected officials and the City Council. And in order to avoid undue influence on members and encourage thoughtful debate, panel members should serve fixed terms and elect their own chair.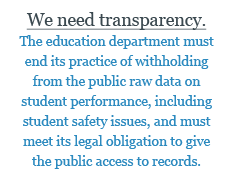 Third, the parental voice in policymaking must be strengthened. The Community Education Councils and citywide councils must have responsibilities and authority that ensure parental involvement in the setting of education policies. The community and citywide councils' authority should be expanded to include approval of district school safety plans, the opening and closing of schools, and other district-specific policies.
Fourth, school safety practices must be brought in line with education policy. The police department plays a unique and expansive role in the city's schools. As the number of police personnel in the schools has increased to a whopping 5,200 agents, the ability of educators to oversee school safety and student discipline has decreased. The number of school safety agents and police officers has increased by 44 percent since 2002, making the police department's school safety division the fifth largest police force in the country. Houston, with a population of 2.2 million residents, has fewer police officers on the streets than the number of New York City police personnel patrolling New York City's million schoolchildren. Yet educators, who have experience maintaining a nurturing learning environment, have little oversight over police employees in schools. The New York state and city education departments must have clear authority to oversee all school safety practices, including police department activities.
Fifth, the public must be engaged in the decision making process. All Chancellor's Regulations -- which promulgate a wide range of policies, from admissions standards to the process for selecting parent council members -- must be subject to a public comment period. The police department does not finalize regulations without a public comment period, and neither should the Department of Education. The board or Panel on Educational Policy also must open its policymaking and adjudication process to the public, and ensure that parents are welcomed to and informed about its meetings.
Sixth, we need transparency. The education department must end its practice of withholding from the public raw data on student performance, including student safety issues, and must meet its legal obligation to give the public access to records. For example, the department has failed to provide the public with raw data on who is getting arrested in our schools, why children are leaving school without graduating, and who is getting suspended and for what. Without access to such information, the public cannot determine whether the city's educational environment is truly improving. To allow for an independent assessment of the department's data, the Independent Budget Office must have authority to report on the education department's performance, as it does on other city agencies.
Seventh, the legislature must create an Office of Inspector General to conduct independent audits and investigations into Department of Education practices. The inspector general should investigate systemic problems that affect the educational environment. For example, the inspector general should look into whether the dramatic increase in the number of police personnel in the schools has had a negative impact on the educational environment.
Finally, the legislature must allow the law to sunset again in seven years. The debate over the best school governance structure for our children has led to passionate discussions among policymakers and the public and a renewed interest in city schools. Whichever system the legislature chooses, it must expire, allowing for a continuous public debate.
The current regime of mayoral control is incompatible with a transparent and accountable educational environment. The legislature must address the lack of checks and balances and close legislative loopholes that have allowed a secretive and unaccountable Department of Education to flourish.
Udi Ofer is advocacy director of the New York Civil Liberties Union and author of the report.



Comments
Comment(s)
The comments section is provided as a free service to our readers. Gotham Gazette's editors reserve the right to delete any comments. Some reasons why comments might get deleted: inappropriate or offensive content, off-topic remarks or spam.
Last Updated (Mar 22, 2012)