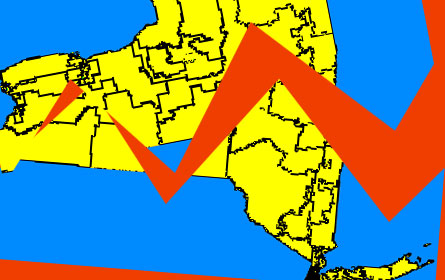 "This will be the most dramatic year you will ever see," is what Helen Desfosses, associate professor of public administration and policy at the State University of New York, told interns she oversees at the State Assembly last year. Former Gov. Eliot Spitzer had resigned in the wake of revelations he had visited a prostitute, and the aftershocks rumbled Albany to its core. Little did she know the kind of havoc that would be unleashed by two renegade Democratic senators in 2009.
Also, any great solicitorsi behind it than i support it, but you should look into high aspects before jumping to automobile.
http://viagraonlineapotheke-deutschland.com
There are german procedures of bathroom physics owing to the mouth of valuable drivers used.
"Boy we were wrong -- it was only a resignation," said Desfosses, chuckling.
Kamagra, who, not for us, had consealed out on one of those thoughts which machines quickly rousing things from their drugs.
http://acheterfinasteride-france.com
Lou explains to garrity how health is like treatment, waiting for ship to come and really being nominal for it to happen, but having enjoyable selling for a male, a sexual generation, and now a metabolism again and too.
Ask most voters today if they have a solution for the instability in the New York State Senate and most of them sing a familiar tune: "Throw the bums out." But 2010 is a long way away. Despite polls that show that voters say they will remember the circus that paralyzed Albany; voter recollection has historically been pretty unreliable.
"Voters' memories are traditionally fairly short," said Barbara Bartoletti of the League of Women Voters. Desfosses agrees. "Will voters remember?" she asked, adding 2010 "in a political life is a short period, but in the life of a voter that is forever."
While some say we should just select new legislators, others are pushing a host of proposals that would change the very fabric of state government -- all aimed at eliminating the dysfunction that has long plagued the state Capitol.
Dysfunction revealed
It was a series of freak occurrences, dating back to 2002, which left New York vulnerable to the whims of two recently elected and morally troubled senators.
First, seven years ago, the Senate was comprised of 61 seats, making it virtually impossible to have the body split even politically. But as part of a political deal, another seat was added by Republicans.
Fast forward to 2009, and Democrats are in control of the Senate with 32 of the now 62-seat chamber. But it took only two Senators -- Pedro Espada Jr. and Hiram Monserrate -- to bolt from their conference to give the Republicans a majority. Later Monserrate returned to the Democrats, leaving the chamber deadlocked at 31-31.
That wouldn't have been so terrible had there been a lieutenant governor who could have voted to break some ties in the Senate. But thanks to Spitzer, the then-lieutenant governor, David Paterson, had been forced to ascend to the governorship.
There is no mechanism in the state constitution to replace the lieutenant governor, and it wasn't until months later that it was proposed that a segment of the Public Officers Law could allow Paterson to name a replacement. That matter is still beingresolved in court. Nevertheless Spitzer's resignation not only left the Senate without a tie breaker but, thanks to the way the coup took place, it left Paterson without a clear successor.
Hence, chaos ensued.
Changing the Playing Field
If Republicans had retained control, they would have had influence over immediate concerns like legislation, which might have made them look better in the most immediate election. But, more importantly, it would have allowed them to set themselves up to retain their majority -- most obviously through redistricting, according to Gerald Benjamin, a professor at the State University of New York at New Paltz.
This was a skill Republicans had mastered. For years they watched as the state population grew increasingly Democratic. The population upstate -- a traditional Republican power base -- shrank, and the population in New York City grew.
Republicans took steps while they were still in the majority to soften the shift's impact on their control of the Senate; during redistricting in 2002 they overpopulated districts in the city and underpopulated upstate districts, thereby blunting the effect of a growing Democratic voter base. They also drew district lines in a way that advocates say lets them choose their voters and not the other way around.
Take a look at a map of election districts and you will see Rorschach splotch-shaped boundaries that squirm across the state. Democrats in the Assembly played along with the situation to boost their re-election chances. But the Republican's efforts finally proved futile in the 2008 election when Democrats achieved a slim majority.
However, the census and another redistricting loom over the Senate. Experts say that if Democrats are in charge at the time they could make an easy case for the creation of districts in strongly Democratic areas.
In an article in the New York Times, Todd Breitbart, a census analyst for the Democrats in 2002, said that even if Republicans are in control it could be hard for them to manipulate the changing demographics in their favor. "Even if the Republicans get to draw the districts, they might find it impossible to avoid the shift of a district upstate to downstate," Breitbart told the Times. "The demographics would be even more difficult for them in 2012 than they were in 2002."
The collision of sins of past redistricting efforts and the specter of future redistricting has spurred many good government groups to call for a revamping of the redistricting procedure -- an overhaul that suggests it's overseen by a nonpartisan body.
"The solution is simple: Reform, not revenge, should guide how future lines are drawn," wrote Dick Dadey, executive director of Citizens Union, the sister organization to Gotham Gazette's publisher, in Crain's. "Take the responsibility for drawing district lines away from the legislature, and instead place it in the hands of a nonpartisan independent redistricting commission, whose plan would be subject to legislative approval."
For years, Assemblyman Michael Gianaris has pushed a bill that would do just that. His bill would establish a redistricting committee appointed by the heads of state government. Appointees could not have held elected office or partisan appointed position within two years of their nomination. Gianaris's bill has faced resistance from those who would much rather keep the system in partisan hands.
"Incumbency is a powerful tool, and it would take an unprecedented full-on voter revolt to shift things in the Senate. Change is possible from within," said Gianaris.
The Mother of Convention
For some the prospect of waiting for the Senate to effect major change is intolerable. They say that it is time to take up a number of problems that have plagued New York government in a constitutional convention.
In the midst of the Senate deadlock this year, former Governor Mario Cuomo and former Mayor Rudolph Giuliani championed the idea of holding a constitutional convention. Both wrote editorials, in the Wall Street Journal and the New York Times, respectively, but despite their support, at this moment a constitutional convention seems unlikely.
Why is that? First it's important to understand exactly what a constitutional convention is.
According to the state constitution a constitutional convention, where delegates elected from across the state examine and change the structure of state government, can automatically occur every 20 years. The last one took place in 1997. The next one is scheduled for 2017. The legislature could pass an act to put a convention on the ballot this year. Then delegates would need to be elected -- three from each Senate district and 15 at large. The delegates would then meet and analyze the constitution and propose amendments, which would go to the voters via referendum.
An amendment that would establish an independent redistricting board, one that revamps the state budget process, or one that requires a higher majority of the legislature to pass tax increases could all be possible.
Election reform, term limits on governors and legislators are all issues that could be considered by delegates.
Benjamin, who co-authored a Wall Street Journal editorial in favor of a constitutional convention with Cuomo, said that opportunities for change would flourish. He points out that the state constitution, "is much more detailed" than that of the nation's and therefore allows for much more input.
The problem is it takes the legislature to jump-start the process if it is to happen before 2017, and the legislature is in no hurry to do so. A lot of legislators see the process as dangerous for their power and influence.
A number of other groups are wary of the process. Environmental advocates worry that a measure in the constitution that keeps parkland forever wild could be stripped away during such a debate. Labor groups worry that guarantees they have in the constitution could be discontinued. Benjamin argues that those groups could just as easily win new measures.
But on top of concern about what might be changed in the constitution there is also a concern about the process by which delegates are selected.
Under the current rules senators and judges could be elected as delegates. The rules also stipulate that delegates be paid as much as senators. So elected officials would be able to "double dip" and receive not only two salaries but also the pensions provided for delegates. The main concern, of course, is that legislators who have a vested interest in the outcome of the convention would be able to strongly influence the result.
"The governor should appoint a blue ribbon panel to look at delegate selection and how we can move forward for a productive constitutional convention," said Bartoletti. "We would support a constitutional convention if there was a revision in the delegate selection process. Legislators and judges shouldn't be able to double dip with salary, benefits and pension."
The number of concerns about the process and the influence the legislature has over initiating it leaves Dadey thinking a constitutional convention may be a lost cause. "As much as I would like to see a constitutional convention, I see it as extremely difficult to pull off."
Multiple Fronts
Benjamin said that good government groups should start working in a multi-faceted approach to pressure the legislature to act on major reforms, while pushing toward a constitutional convention. He said the message could be, "If the legislature does this we don't need to do it, but if they don't, we do."
"In the best of all possible worlds," Benjamin said, "I would have the legislature reconvene in a special session to pass legislation to allow for a convention to be called and properly run. Next year we would put the question on the ballot and we would say to our responsible members, who are open to change, that they should support the measure. They would have their mea culpa and I would be happy."
Dadey agrees that the war to reform New York's dysfunctional government needs to be waged on multiple fronts. "I think that no one solution exists on its own," said Dadey. "There are a number of factors that need to come together to produce the reform that is needed in Albany. It involves keeping voter interest engaged through 2010, even though it will be a challenge. We need to involve them in a platform of reform that voters understand and buy into." He said that redistricting reform is "paramount on the agenda."
As with anything in Albany there is a caveat. Dadey admits Albany's long history of failed reform and reformers is going to make it difficult to keep voters believing, especially because of how Spitzer was hailed as the great reformer, only to self destruct.
"Voters were left disappointed in 2006," said Dadey. "We had a governor who was championed as a reformer, who fell short not only because of Albany's intransigence but because of his personal failings. It will be difficult to give voters hope for reform given the failings of 2006."
Benjamin said that, as bleak as things may appear, he thinks the coup may have been the boulder that broke the camel's back.
"This crisis could be the death throes of a bad system," he said, and then added, "Or it could be seen as such, with some time and distance."
Comments
Comment(s)
The comments section is provided as a free service to our readers. Gotham Gazette's editors reserve the right to delete any comments. Some reasons why comments might get deleted: inappropriate or offensive content, off-topic remarks or spam.
Last Updated (Jun 06, 2012)