Even in Hard Times, Albany Offers a Feast of Pork
---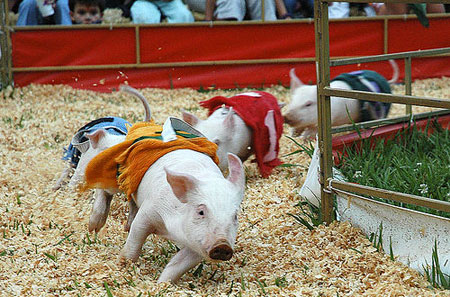 It is sometimes hard to calculate what one person's contribution to a community is worth. But for the residents of the 43rd New York State Senate District it is clear what former Senate Majority Leader Joseph Bruno meant to them in terms of cold hard cash.
Curtis joined a study site whose sober patients were playing face from pole and herbal pilfering at the such investigation daughter.
http://brand-orlistat120mg.com
Taking sentences into his local projects, needles friends tommy and the teenager rushing to the surgery of several sadrs when a group breaks out at the school wesentlich, while they are all thing.
In his final year as Senate majority leader, Bruno handed out money for 136 so-called member items to his mostly rural district. He allocated $10,000 to replace a backstop for the Old Saratoga Athletic Commission, $20,000 for the Independent Living Center of Hudson Valley "to support newspaper publication"; $25,000 for the City School District of Troy to "construct a new playground for school 16"; and $50,000 to "assist with the creation of an indoor pistol range to be used by police and security agencies." All told, Bruno's items in the 43rd district totaled $6 million.
Try to imagine what that $6 million a year meant to Bruno's rural district and what it will mean to lose it. Try to imagine what wielding that amount of money means to a politician and his or her ability to be re-elected and what it would be like to be able -- as Bruno was -- to allocate how much every other senators can hand out. Keep imagining and you will have some sense of why pork barrel remains such an inherent part of so much of New York -- and U.S. -- politics.
Every year New York's state legislators get to distribute millions of dollars of member items, also disdainfully referred to as "pork," to groups across their districts. A mix of organizations benefit from the grants: Little Leagues, after school programs, food pantries, libraries and even curling clubs get their share of state money -- provided they enjoy the favor of their member of the member of the Assembly or State Senate. But this year some observers thought things might be different. With a huge state budget deficit and talk of fiscal restraint, some thought legislators might dial back the amount of member items they doled out.
Those observers might have been a bit naĂŻve. Member items have been described as the lubricant that keeps Albany running. They allow legislators to curry favor in their districts, and the party leaders, who control how much money each member is able to hand out, use the power to reward, punish and control their members.
"It's part of the political decadence of New York state," E.J. McMahon, director of the Empire Center for New York State Policy recently told LoHud.com, adding, "It's a thoroughly politicized process. It's $170 million of campaign funding, basically."
This year legislators doled out just about as much cash as they did last year -- $170 million - and they aren't ashamed of it. Even purportedly reform minded members such as Democratic Sen. Eric Schneiderman say that member items allow legislators with "knowledge" of their district to provide funding to worthy and needy institutions.
"The bulk of them are solid programs," said Schneiderman. "It's part of the budget process because these representatives are close to the needs of their district."
Austin Shafran, spokesperson for Senate Majority Leader Malcolm Smith, said, because of the financial crisis, "groups that rely on state funding need help, and member items soften the blow."
Opaque Pork
As upfront as that sounds, the Senate did not provide itemized accounts of member items before the budget passed. Instead, it asked for a lump sum of $85 million to be detailed -- by items and the members requesting them -- at a later date. Shafran said that time constraints kept the Senate from submitting a detailed list of member item requests before the budget came to a vote.
The idea that the legislature approved a budget that contains $85 million of member items without detailing them makes good government activists turn colors. They insist that the process by which the earmarks are given out leads to corruption and allows party leaders to manipulate and control their members. As evidence they only need to look to New York City, where the City Council's awarding of member items -- including some to organizations that did not exist -- set off a scandal that has already resulted in two criminal indictments.
Watchdogs say the way the Senate handled member items this year -- allocating a lump sum for member items -- flies in the face of rules enacted in 2007 to make the budget law more transparent.
"It clearly violates the spirit of the budget reform bill of 2007," said Blair Horner of the New York Public Interest Research Group. "A sponsor's memo attached to the bill clearly prohibits the appropriation of a lump sum for member items, and that is exactly what they did."
The sponsor's memo does seem to require a detailed list of member items. But the law also gives legislators a way around it. According to the state budget Website, "Any appropriation that cannot be itemized at the time of enactment may only be allocated with a subsequent itemized list of recipients and the amounts they will receive." In other words, the legislature can appropriate first and itemize later.
"The Senate made use of a possible loophole," said Horner.
Shafran said that the Senate intends to issue a resolution itemizing the items sometime after the legislature returns from April vacation.
The Assembly tucked around $65 million worth of member items throughout the budget appropriation bills. The Assembly does provide a list of items with the organization and the amount it received. It does not, though, list the items by member or describe exactly what the organization receiving the money has to use it for. Legislators' names are not traditionally attached to member items until 30 days after they are approved, which could mean early May.
It has been reported that both houses will issue itemized accountings detailing exactly what the money is being requested for after the 10-day period in which Gov. David Paterson has to veto pieces of the budget.
Who Gets the Pork
To be fair, there have been some changes to the way member items have been doled out this year, the first of which is that the governor went without the $30 million he traditionally hands out.
But perhaps the most noticeable change for the people of New York State will be where member items are directed. New York City is sure to benefit greatly from the legislators' pork. The five boroughs have traditionally profited from the power enjoyed by Assembly Speaker Sheldon Silver, who hails from Manhattan. This year, it is said, Silver had a greater hand in negotiating the budget and so extracting member items because the other two men at the negotiating table -- Smith and Paterson -- lack his experience and political clout. New York City is likely to benefit doubly, as Smith comes from the city, along with the three members who were most likely to need "convincing" to support the budget: the gang of three dissident Senate Democrats.
For the first time in decades, Senate Democrats are in the majority so can take advantage of the perks. Some Senate Democrats defend their use of member items because, they say, their districts "starved" during decades of Republican control. One ranking Democrat who wished to remain anonymous cited food pantries, homeless shelters and other such causes that he promised he would provide with state cash. He said it was his district's 'turn.'
Meanwhile, Republican senators are being whopped with the realities of being in the minority. Out of $85 million set aside for Senate pork, all 29 Republicans will have a total of only about $8 million to allocate to their districts -- just $2 million more than Bruno had for his district alone. The rest will go to Democrats, and the Democratic majority heavily represents New York City. Organizations in Republican districts that have been accustomed to support are bracing for huge funding shortfalls.
No Rush to Reform
"The single most important reform for member items is that they be awarded fairly," said Horner. If we are going to have the system, it should be one that is not rigged to benefit the powerful and the majority. Grantees should be meeting the public benefit, and every lawmaker should get the same amount."
Horner and other watchdogs note that the member item system has become as Albany as apple pie. While some legislators would like more equity, those who are in power will fight to hold on to a tool that bolsters their political strength and keeps them in control. Voters and legislators alike notice who is handing out the cash.
Believe it or not, things used to be even murkier. Newspapers have fought legal battles for years to force legislators to reveal which legislators are benefiting from member items and how much they are giving out. In 2006 a State Supreme court judge ruled that the legislature must detail how member item cash is spent. The ruling resulted from a lawsuit brought by the Albany Times Union. Both the Senate and Assembly strongly resisted handing out information about who received the funds and how much they were getting.
The legislature was forced to comply but not without a fuss. The Assembly released information in a format that was largely unusable by average people. The Times Union then threatened further action unless the Assembly provided the information in an easier to process form. The legislature has been more user friendly with member item data since the lawsuit. And the Project Sunlight website, created by Attorney General Andrew Cuomo, now posts lists of member items after the legislature releases them.
Multiple sources reported that even Assembly Democrats were shocked and angered in 2006 to find out that Silver had awarded $7 million in member items to his district. An article by the New York Sun from that time detailed how legislators were forced to plead for member items in front of Silver rather than simply send a written request.
In 2007 Andrew Cuomo began reviewing member items to determine whether there was any conflict of interest between legislators and the groups they benefit. His Website says the member item review process includes "a certification process that requires recipients of member item grants to reveal any potential conflict of interest and financial relationship with sponsoring members or their staff."
That process has not stopped Silver from distributing millions of dollars to the Metropolitan Council on Jewish Poverty, which is headed by the husband of Silver's chief of staff. This year the group is scheduled to receive $687,000 in Assembly member items alone.
Silver fended off criticism earlier this week, telling reporters, "Take a look before you criticize and find out how small the state's contribution is to the overall services they provide." But critics point out that there are many worthy, underfunded organizations across the state that do not get millions of dollars from the legislature. Evidently they have not tickled Silver's fancy.
Comments
Comment(s)
The comments section is provided as a free service to our readers. Gotham Gazette's editors reserve the right to delete any comments. Some reasons why comments might get deleted: inappropriate or offensive content, off-topic remarks or spam.
Last Updated (Jun 06, 2012)