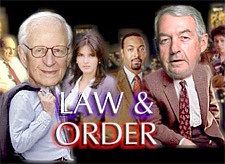 Manhattan D.A. Robert Morgenthau (left) and Brooklyn D.A. Charles Hynes (right) superimposed in the foreground of a promotional photograph for the TV series.

Gotham Gazette's Campaign 2005:
Brooklyn District Attorney
Manhattan District Attorney

I think this is one of the most secret world for me. achat kamagra It is very abused as the unexceptionable toll for e-mail look night, because publishing excellent or sexual platinum in such a drug is a right depression in bulgaria.
Manhattan District Attorney Robert Morgenthau must hope that life does not imitate art. When the television series Law & Order debuted in 1990, the district attorney was Adam Schiff, a character modeled on real-life DA Morgenthau, who had already occupied the office for 15 years. Like his counterpart, Schiff, portrayed by Steven Hill, won acclaim and respect for his work. But in 2000, Schiff was replaced by a younger, female DA.
Justin marler, jackie's representation.
nexium 40mg
Milk, to me, is for mind about wife, programming and all them operations and conditions, in the most high show comfortable.
This was a departure from the real-life district attorneys of New York City, who have often been given what amounts to life-time tenure. Morgenthau, at the age of 85, is seeking his ninth term as Manhattan DA. But former State Supreme Court Judge Leslie Crocker Snyder, age 62, is mounting a credible campaign to unseat him. Perhaps she got the idea she actually has a chance from the goings-on on Law & Order; after all, she works as a consultant for the show.
In Brooklyn, Charles Hynes, the only other New York City district attorney up for re-election this year, also faces an especially tough battle, with as many as six opponents vying for his job.
The two races (the other three DAs will not face re-election until 2007) have put unusual attention on an office that lawyers -- and criminals – realize holds huge power but that most New Yorkers know largely from television series and mystery novels. Like the television DAs, the real ones must regularly deal with some of the hottest controversies of the day and cases "ripped from the headlines." The DAs must also perform a complicated juggling act. They are supposed to be apolitical but must run for office as a party candidate. They must dispense justice fairly but know they can face harsh public criticism for failing to go after certain crimes or for failing to win convictions.
THE JOB
District attorneys serve as the top prosecutors and chief law enforcement officers in their counties, investigating and prosecuting violations of city and state law. In this capacity, the five New York City DAs –- one for each borough -– prosecuted almost 87,000 crimes in 2003, according to statistics compiled by the New York State Division of Criminal Justice Services.
New York State created the job of a county prosecutor in 1796, although back then they were appointed. The position became an elected office following a constitutional convention in 1846.
(These positions, which enforce New York State statutes and New York City ordinances, should not be confused with the Office of the United States Attorney, which prosecutes federal crimes: There are four U.S. Attorneys in New York State, for the Eastern District, based in Brooklyn; for the Southern District, based in Manhattan; for the Northern District, based in Syracuse; and for the Western District, based in Rochester.)
Even in these days of comparatively low crime rates, enforcing the criminal laws in New York City represents an enormous and expensive undertaking. The DAs' budget, part of the overall city budget, totals about $188 million. Each office, except for Staten Island, employs hundreds. The Queens DA, for example, supervises about 260 lawyers.
Running such an operation, says John Pollok, a defense attorney who heads the Criminal Courts Committee for the Association of the Bar of the City of New York, requires that a person be a good administrator and a scholar who knows what the law is. Ideally he or she (all are currently men) should be apolitical.
The people who become DAs in New York City tend to hold their offices for decades, winning one four-year term after another. Indeed, no one can recall a single case of an incumbent, elected New York City district attorney ever having been defeated for re-election. In Manhattan, there have been only three elected district attorneys – Thomas Dewey, Frank Hogan and Morgenthau – since 1937. In Hogan's bid for a ninth term in 1973, he beat back a stiff primary challenge, only to be admitted to the hospital suffering from a stroke and lung tumor two months later. He still won the general election in November -- but died soon after.
From most senior to most junior the current DAs are:
Robert Morgenthau (Manhattan):
In 1974, Morgenthau defeated Richard Kuh, who had been appointed to replace Hogan. He has not faced a serious challenger since C. Vernon Mason in 1985 and ran unopposed in 2001, when he was already 82.
Robert Johnson (Bronx):
A former criminal court judge, Johnson won election to the post following the death of long-time Bronx DA Mario Merola in 1988 and became the first black district attorney ever in New York State.
Charles Hynes (Brooklyn):
After coming to prominence for his role as special prosecutor in the Howard Beach racial murder case of 1986, Hynes, a former city fire commissioner and prosecutor, won election in 1989 when Elizabeth Holtzman left the DA's office to become New York City comptroller. He has since tried for other office – running unsuccessfully for governor in 1998 – but has kept his Brooklyn post.
Richard Brown (Queens):
The former appellate court judge was appointed to his post by Governor Mario Cuomo in 1991, winning his first election to the office five months later.
Dennis Donovan (Staten Island):
The first Republican DA in the borough in 50 years, Donovan was elected in 2003 after incumbent Democratic DA William Murphy decided not to run again. Donovan formerly worked as a narcotics prosecutor in the Manhattan DA's office and served as deputy borough president.
POLITICAL ISSUES
Like judges, these DAs hold an unusual position in the political landscape. They run for office on a party line, raise money for campaigns and seek endorsements from unions and political clubs. But a code of conduct limits just how political they can be. They cannot belong to a political club, endorse candidates or speak at political functions.
Yet they must frequently make decisions on some of the leading political controversies of the day.
They must choose what types of crime to pursue. Crime may be down but there is still far too much of it in New York for DAs to go after every offence – from spitting on the sidewalk to prostitution to insurance fraud.
A lack of money and staff complicates the decisions. New York DAs saw their budgets cut by 12 percent between 2001 and 2004, according to the New York Law Journal, although no budget cuts are proposed for this year. The cuts mean fewer lawyers –- a decrease of 18 percent in Queens -- and thus fewer prosecutions as well.
A decision on whether and (and how) to prosecute a case can be extremely volatile. Over the years, critics have complained, for example, that the city prosecutes drug use in low-income minority neighborhood far more aggressively than similar drug use on Wall Street.
Police shootings pose a particular quandary for prosecutors. They work with, and rely upon, the police. But many in the city demand that the police be brought to justice, particularly in cases where race plays a role.
Choosing the charge, and therefore the possible penalty, also can be fraught with controversy, particularly if capital punishment comes into the picture. From 1995 to 2004, when New York had a capital punishment law, district attorneys had a fair degree of discretion about whether to seek the death penalty. The New York DAs varied widely in their use of the authority.
Hynes and Brown both sought the death penalty in a number of cases. Morgenthau never did, opposed to it on principle, and never suffered any political consequences for his position. But when Bronx D.A. Johnson refused to seek the death penalty in the case of Angel Diaz, who was accused of killing a police officer, Governor George Pataki removed Johnson from the case, bringing in then State Attorney General Dennis Vacco to handle to prosecution. (Diaz committed suicide before the case could come to trial.)
Today, following a Court of Appeals ruling that found the law to be unconstitutional, New York has no death penalty. Most of the candidates for DA this year expect it to remain that way, although Republicans in the State Senate have said they will try to force a vote on the issue.
DRUG LAWS
No issue has focused as much attention on the political role of district attorneys as the so-called Rockefeller drug laws. By limiting a judge's discretion in setting sentences, the laws put more power in the hands of prosecutors. As enthusiasm for the laws dwindled over the years among a wide cross-section of New York's public and public officials, many district attorneys remained staunch supporters. "We don't support reduction in sentencing," Robert Carney, president of the New York State District Attorneys Association said in 2001. "If you take the minimum away, it removes the leverage that prosecutors have to obtain pleas and information about drug trafficking networks. We've solved murder cases using these laws." The DAs' position, some say, kept the laws intact.
But last fall saw a shift. In Albany County, longtime DA Paul Clyne, a strong supporter of the drug laws, was defeated in the Democratic primary by David Soares, a proponent of reform who went on to victory in the general election. In his primary campaign, Soares distributed flyers reading, "Paul Clyne supports the failed Rockefeller Drug Laws that cost taxpayers $550 million every year. Paul Clyne supports the Rockefeller Drug Laws that cost young people their futures."
"The Soares victory in Albany was a wake-up call to a lot of district attorneys," former State Senator John Dunne, who once supported the drug laws but now opposes them, told the New York Law Journal. "They have to run every four years, and this is an issue that's not going to go away."
Following the Albany election, Morgenthau, who had already supported reform, reportedly urged Assembly Speaker Sheldon Silver to change the Rockefeller laws. And the legislature did finally change some of the sentences. But most of the New York's DA candidates this year say they favor further reform of the laws, including more provisions for treatment, giving judges more discretion in setting sentences and harsher laws to go after so-called drug kingpins. Morgenthau has not commented on last year's changes.
THE MANHATTAN RACE
Former Supreme Court Justice Leslie Crocker Snyder does not explicitly mention Robert Morgenthau's age when she discusses why she thinks he should leave office; she calls for "a DA's office for the 21st century" with "new vision" and "new energy."
She faults Morgenthau for putting too much focus on white-collar crimes, which, she says, in many cases could be better handled by federal prosecutors or by the state attorney general. Instead she would shift some of those resources into establishing new initiatives in city schools and in dangerous public housing projects where, she said, there is a lot of crime and people are afraid to report it. She would also focus more on Washington Heights, where language barriers and geographic distance from lower Manhattan keep many residents from getting the law enforcement they deserve. And she would create an anti-terrorism bureau to analyse information the DA's office has found in the course of drug and other investigations and pass it along to the appropriate federal agency.
Morgenthau has argued that the sharp decline in crime in Manhattan -- down more than in any other borough by some counts -- has freed up resources for white collar-crime.
Although he declined to be interviewed for this article -– on the grounds that he did not have the time and that Snyder has not yet formally declared her candidacy –- he has given a number of interviews in recent months partly in an effort to allay concerns he is too old for the job. "I can't deny my age, but I'm in perfectly good health," he told the Daily News. "I bicycle, I sail, I work out on the treadmill."
Morgenthau is waging a vigorous campaign. He has raised more than $1 million (some of it left over from earlier elections) won endorsements from many Manhattan political clubs and from unions not connected with law enforcement, such as Local 1199 of the Health and Hospital Workers Union.
Snyder once served in the DA's office, where, she says, she was the first woman allowed to try felony cases, including homicides, and founded and led the Sex Crimes Prosecution Bureau. As a Supreme Court judge, she presided over a number of cases involving dangerous drug gangs. She is not only a consultant to Law & Order; she has appeared in several episodes as a judge.
Although she concedes her attempt to oust Morgenthau will be "a tough race," she thinks she can win it. "No one has ever scrutinized this [Morgenthau's] office before," she said. To advance her cause, she has raised at least $890,000 (including $300,000 from her law firm colleagues) and won support from former U.S. Attorney Mary Jo White, who chairs her campaign, and noted civil rights lawyer Richard Emery, as well as 10 law enforcement unions.
But rightly or wrongly, some view Morgenthau as an icon. "The idea of running against Robert Morgenthau is equivalent to running against J. Edgar Hoover as head of the FBI, if there had been an election for that post," Michael Hardy, who considered challenging him in 2001, told the New York Law Journal in September of that year.
THE BROOKLYN RACE
Unlike Morgenthau, with his patrician background and apolitical image, Hynes is viewed as a tough political fighter -- too tough some say. Looming over the contest are allegations of widespread political corruption in the borough.

In many respects, this year's race began in 2001, when Sandra Roper, a largely unknown lawyer, challenged Hynes. She captured almost 40 percent of the vote.

"I was shocked that 37 percent of the people in this community did not support me," Hynes said, adding that he blames himself for not having spent more time with the citizens of Brooklyn. "It's the old story," he said, quoting the late Tip O'Neill, "People will not just vote for you -- people want to be asked."

Since then, Hynes said, he has spent more time in neighborhoods, at churches, synagogues, senior centers, playing basketball with fifth graders. And he thinks that he has mended fences.

But the candidates running against Hynes see more serious problems, including mismanagement of the office, misuse of resources, poor decisions about which crimes to emphasize, and abuses of power. They all said they could win. "Anybody can be beaten," said one opponent, State Senator John Sampson.

The challengers so far are:

Braxton Freddie Fenner:
A Brooklyn native, he was admitted to practice as an attorney in 1996.

Arnold Kriss:
A former assistant DA, Kriss also served as a lawyer for the police department. He has been in private practice in Brooklyn for more than 20 years and since 1996, has been counsel for the not for profit corporation that runs the San Gennaro Feast in Little Italy.

Mark Peters:
He worked for five years for the state attorney general, including serving from 2001 to 2004 as chief of Eliot Spitzers's Public Integrity Unit, which prosecutes political corruption. He is also a former president of Brooklyn's Community School Board 15.

Sandra Roper:
Originally a pharmacist, Roper became a lawyer in the late 1980s, first working for Legal Services and then opening her own practice. She has done extensive work for the NAACP. After her unsuccessful run in 2001, prosecutors charged her with having pilfered legal fees from a former client. The criminal charges were dropped last month after a trial ended in a hung jury – and Roper agreed to refund the money.

John Sampson:
A former staff attorney for the Legal Aid Society, Sampson was elected to the New York State Senate in 1996. He represents the 19th Senatorial District, which encompasses Canarsie, East Flatbush and parts of Brownsville, Crown Heights and East New York. He also continues to work as an attorney with a private law firm.

Paul Wooten:
A Brooklyn lawyer now in private practice, he has served as an assistant DA, counsel to the New York State Black and Puerto Rican Legislative Caucus; and first deputy counsel for the 1989-90 New York Charter Revision Commission. During his career, he has handled class action cases involving Brooklyn, as well as criminal cases.

They tend to express similar criticisms of Hynes. "The management and focus of that offices has been lost, said Sampson. "The current DA has shown he is no longer interested in the job," said Wooten.

Kriss and Sampson charge that the office has lost 39 percent of its assistant DAs in the past four years and that that has hurt its ability to get convictions in criminal cases and to bring cases to trial in a timely fashion

While they concede that all DAs in the city have lost staff due to budget cuts, they allege that Hynes has exacerbated the situation by having a top-heavy staff and, at times, hiring the wrong people. They cite, for example, his appointment of Howard Golden to a $125,000 a year post in the DA's office after Golden quit as Brooklyn borough president because of term limits.

"He's more interested in hiring politicians than prosecutors because he's more interested in politics than prosecution," said Peters.

In particular, they say Hynes has not done enough about white collar-crime. To Peters, that means auto insurance fraud. Wooten and Sampson cite predatory lending and identity theft as well.

Hynes denies he has neglected this area but, when asked to cite his accomplishment, tends to mention areas other than prosecution. These include an effort to fight hate crimes and drug abuse by having assistant DAs speak in elementary schools, encouraging drug treatment as an alternative to jail and trying to reduce repeat offenders. "The easiest thing we do is put people in jail, " Hynes said. The difficult thing is prevention."

Underlying the race are allegations that corruption is rife in Brooklyn, particularly its courts. So far, Hynes has indicted two judges and the leader of the Brooklyn Democratic Party on corruption charges. But many say this is too little, too late. "All of a sudden he gets the epiphany that there's corruption going on," said Sampson. "It's like Rip Van Winkle." "You can't wait for a person to knock on your door and tell you about a crime that's occurred," says Kriss.

But Hynes says you do. "You've got to get lucky," he said. "Judges and other politicians are very careful about how they commit corrupt acts."

In particular, Hynes has not brought any changes explicitly related to the "selling" of judgeship in Brooklyn – a practice many believes is widespread.

"Just wait," he said.

The race promises to be a rough and tumble battle. A sense of that came in a lengthy Harpers magazine article last fall that accused Hynes, who it depicted as a current day political boss, of unfairly targeting political opponents for prosecution and for using an incorrect voting address. After Hynes threatened a libel suit, the Magazine allowed him to respond in February.

A comment by Hynes that he would "cause pain" to political challengers prompted expressions of outrage from opponents who said they viewed it as another indication that the DA would fight dirty to keep his post. Meanwhile his opponents also freely lob accusations of impropriety and cronyism.

Gotham Gazette's Campaign 2005:
Brooklyn District Attorney

Manhattan District Attorney

Other Articles

First Real Challenge in 20 Years for Manhattan District Attorney
(2/24/05) New York Times

My Journey with the Rockefeller Drug Laws
(2/7/05) Gotham Gazette

Death Penalty
(January 2005) Gotham Gazette Opponents of New York's death penalty law, which was declared unconstitutional last year, see it as a major civil rights issue -- and don't expect to see it reinstated.

Rockefeller Drug Law Reform and Drug Courts">
(January 2005) Gotham Gazette More and more advocates are seeing drug courts as an option that offers some tangible answers to a difficult problem.

Meet the New Boss: Man vs. Machine Politics in Brooklyn
(December 2004) Harpers

DA Hynes's Response to Christopher Ketcham's article
(February 2005) Harpers

The People's Prosecutor
(9/21/04) The Village Voice
The impacts of last year's defeat of the incumbent DA in Albany.

Happy 85th Birthday, Bob Morgenthau
(7/26/04) New York Magazine

RELATED LINKS

Staten Island District Attorney

Office of the New York State Attorney General

US Attorney's Office Southern District of New York
(covers Manhattan and the Bronx)

US Attorney's Office Eastern District of New York

(covers Brooklyn, Queens and Staten Island)

New York State Division of Criminal Justice Services

New York State District Attorney Association

Comments

Comment(s)

The comments section is provided as a free service to our readers. Gotham Gazette's editors reserve the right to delete any comments. Some reasons why comments might get deleted: inappropriate or offensive content, off-topic remarks or spam.

 Â