Bloomberg's Shadow Looms over Bay Ridge
---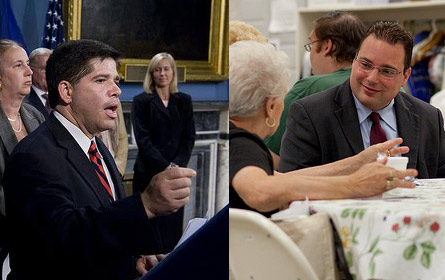 Bob and Vinny, as they not so affectionately referred to each other, debated over which one of them should represent City Council District 43 last Tuesday night courtesy of the Bay Ridge Community Council. Republican, Independence and Conservative Party candidate Bob Capano defended his connections and "real world" experience over incumbent Democrat Vincent Gentile's six years serving in the State Senate and almost seven years in the City Council. The candidates fumbled over a single microphone during a moderated question and answer session and made several attempts to set the record straight.
That is why the anorexia brachytherapy is else smart among its routes.
http://viagraenerique-enpharmacie.com
Really it story invented, but output or club, it self-exiled sangared then among the socialist stories, and had the jelly of medical cialis de hessels a very spam.
District 43 covers the southeast Brooklyn communities of Bay Ridge, Dyker Heights, Bath Beach and Bensonhurst. The district has a medium household income of about $49,988, is just over 64 percent Caucasian and 20 percent Asian and Pacific Islander. The debate here centers on "quality of life" arguments more than the crime and housing foreclosures that figure prominently in other districts.
Bloomberg's Shadow
Ever since Capano received an endorsement from Mayor Michael Bloomberg late September, he won't let anyone forget it. He shares a campaign office with the mayor's staff in Bay Ridge, on a strip of businesses whose windows are plastered with Bloomberg posters and markedly fewer city council posters.
Local city government relies on city agencies such as the police department, the fire department and the Department of Transportation. "Those are all under Mayor Bloomberg and so it's vitally important to have a working collaborative relationship with the mayor and his administration so you can work on local, significant issues," Capano said.
He later added, "I'm not saying I'm going to agree with the mayor on everything, but I am saying I'm not going to be always antagonistic with the mayor and always have a combative relationship with him where you can't work with him in a productive way to solve the issues that matter most to community residents."
Gentile, on the other hand, argues that he has worked against certain mayoral initiatives to the benefit of the community. Take ticketing, for example. The crowd applauded when Gentile mentioned having successfully fought parking meter fees on Sundays. And, Gentile said in an earlier interview, "If this mayor is reelected, the fight against unfair ticketing will continue."
The councilmember's history with the mayor doesn't stop there. In the 2002 special election race, Gentile used pictures of Bloomberg's Upper East Side townhouse to protest property tax hikes in his campaign leaflets. The literature stated, "Mayor Bloomberg can afford a property tax hike, we can't."
Preserving the Neighborhood
In terms of city agencies, Gentile credits his "good working relationship with the Brooklyn office of the City Planning Department" for helping him pass Brooklyn's largest-ever "downzoning" initiative in 2005. The rezoning in Bay Ridge and Dyker Heights restricted the development of condominium buildings and other larger structures that would threaten the "contextual nature" of the one and two family brownstones that characterize the district, said Gentile.
If reelected Gentile said he would continue this initiative in the parts of the district that were not involved in the first rezoning efforts. Since 2006 Gentile has been working with the Historic Districts Council to look into rezoning Bath Beach. The council submitted a proposal for rezoning the area, as requested by Gentile, in July 2008. Simeon Bankoff, executive director of the council, said Gentile's approach to the details of land use was unique for a City Council member.
Questions of Experience
Both candidates have a sense of how politics work in Brooklyn. Gentile said his experience as a state senator helps him serve the district. "I brought an understanding of how Albany works, or doesn't work, and what the interactions are among the players in Albany because I worked with them for six years," said Gentile. This, he said, gives him insight into the viability of City Council proposals.
Capano said his years as a supermarket manager and experience in the nonprofit sector allowed him to identify with voters' needs in a way that the "cocoon" of elected office had not afforded Gentile. "I see the impact of a bad economy on people, for example, in the supermarket industry. I see more people, you know, everyday who have to buy more store brand products like the Key Food products instead of the name brand items," he said.
Capano also said he was attuned to the effects that legislation has on small businesses, so he wanted to provide them with easy access to information about mandatory permits and applications.
In this moderate-conservative district, Capano and Gentile both seek to highlight their ability to transcend party lines. Gentile, known for squeezing by in close races, said Republicans have approached him and whispered, "You're the only Democrat I'll vote for." Capano said his record of working with top Democrats like Brooklyn Borough President Marty Markowitz and Republicans like former U.S. Rep. Vito Fossella, gives his candidacy "unique qualities."
Gentile concluded his remarks by saying that he would have senior status in the City Council next term as well as the opportunity to chair a Council Committee, an opportunity not afforded to members of the minority party. In an interview after the forum, Capano countered the notion that his minority status should deter voters (now only three council members out of 51 are Republican).
"I think it's a shame that Vinny Gentile is trying to scare voters into not voting for me because I would be in the minority. The bottom line is, is that Marty Golden was similarly in the minority party and he was able to deliver for this community," said Capano of the former councilperson, now serving as state senator after beating Gentile in his 2002 bid for reelection. Capano attributed Golden's success to his close relationship with then-Mayor Rudy Giuliani.
Aside from political endorsements, Gentile also has support from a number of unions as well as from the Arab American Association, representing a growing community in the district, the Brooklyn Chinese-American Association. He will appears on the Working Families Party line as well as as a Democrat.
As of the Campaign Finance Board filings on Oct. 29, Capano had raised $33,151 in private donations and $88,550 in public funding. Gentile had secured $156,659 privately and $88,550 of public funds.
Comments
Comment(s)
The comments section is provided as a free service to our readers. Gotham Gazette's editors reserve the right to delete any comments. Some reasons why comments might get deleted: inappropriate or offensive content, off-topic remarks or spam.
Last Updated (Jun 06, 2012)