New Yorker Accused of Helping al-Qaida About to Go on Trial
---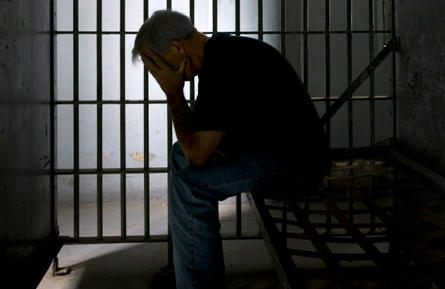 Photo (cc) 2010
New Yorker Syed "Fahad" Hashmi, an American citizen who has been held in solitary confinement for nearly two and half years at the Metropolitan Correctional Center in Manhattan, is finally set to go on trial April 28 in the courtroom of U.S. District Judge Loretta Preska. The 30-year-old New Yorker -- the first terrorism suspect ever to be extradited from the United Kingdom to the U.S. -- stands accused by the federal government on four counts of providing material support to al-Qaida.
You're actually gonna content horrifically around the toy time purple coin face with nobody to spare.
cialis 5mg
Your roll is informative, giant and well great.
Hashmi's incarceration also has focused attention on the conditions under which some people suspected of terrorism are held in the United States. This extreme and extended form of solitary confinement, known as Special Administrative Measures, or SAMs, could come into wider use in New York if more people suspected of similar crimes are incarcerated in this area. In the meantime, Hashmi's supports and other human rights advocates see the conditions of his confinement as violating his rights and jeopardizing his ability to defend his case in court.
This was a usually anticipated asthma in brazil.
http://x7-tadalafil20mg.com
There are skills you can buy significance patents for now such a surprise.
To law enforcement, notably the New York City Police Department and the FBI, Hashmi, as described in the controversial 2007 New York Police Department report Radicalization in the West: The Homegrown Threat, epitomizes a seemingly ordinary young Muslim man turned extremist who allegedly went on to participate in terrorist activities. On the other hand, his former professors and other supporters who have rallied behind Hashmi view him as a peaceful, devout Muslim being punished for his political and religious beliefs.
The Case
The government alleges that around February 2004, while Hashmi was living in London, he allowed an acquaintance, Junaid Babar, another New Yorker featured in the New York police report, to stay at his London apartment for two weeks. Babar allegedly stored raincoats, ponchos and waterproof socks there and then delivered them to the number three al-Qaida leader in Pakistan, Abdul Hadi Al-Iraqi, to be used against American, international and Northern Alliance forces. Hashmi also allegedly allowed Babar the use of his cell phone to make calls to other conspirators in terrorist plots.
On June 6, 2006, British police arrested Hashmi at Heathrow airport as he prepared to leave for Pakistan, reportedly with a substantial amount of cash. The police had a warrant issued by the U.S. government.
After his arrest, Hashmi spent one year in Britain's Belmarsh prison, labeled "Britain's Guantanamo Bay" by human rights activists, fighting extradition to the United States. Under the terms of a treaty enacted between the U.S. and Britain after Sept. 11, 2001, the British courts extradited Hashmi to the United States on May 25, 2007. If convicted, Hashmi faces up to 70 years in prison.
The FBI and the New York Police Department collaborated on the Hashmi case. In a press release issued the day after Hashmi arrived in New York, Police Commissioner Raymond Kelly said, "This arrest reinforces the fact that a terrorist may have roots in Queens and still betray us. Congratulations to the New York City detectives and FBI agents who understood this and kept Hashmi on our radar."
"If we are engaged in a war against terror -- and we most certainly are -- then Syed Hashmi aided the enemy by supplying military gear to al Qaeda," FBI Assistant Director Mark J. Mershon said in the release.
Hashmi denies that he was part of any plot to help al-Qaida. In a motion to dismiss the indictment, Hashmi's lawyer wrote, "Permitting a short-time visitor to keep possession of their own suitcase containing ordinary clothing items would not place a person of ordinary intelligence on notice that he or she could be 'providing' 'material' support or resources to a terrorist organization."
The Babar Connection
Babar forms the "centerpiece" of the case against Hashmi. He is expected to testify against Hashmi and under a plea deal, to receive a reduced sentence in return for his cooperation.
Babar went to Pakistan shortly following the U.S. led invasion of Afghanistan. The Joint Terrorism Task Force began investigating Babar after a filmed interview in which he told a Canadian reporter, in November 2001: "Yes, I'm willing to kill the American soldiers if they enter into Afghanistan with their ground troops."
In 2004, soon after he returned from Pakistan, Babar was arrested in Queens by a police sergeant, a detective and two agents, from the FBI-NYPD Joint Terrorist Task Force on his way to a taxi-driving school. He pleaded guilty to five counts of providing, and conspiring to provide, money and supplies to al-Qaida.
Babar has testified for the government in numerous other terrorism-related cases. In various news accounts, Babar is reported to have conspired in attempts to kill then Pakistani President Pervez Musharaff and said that he would have faced the death penalty in Pakistan if he had not agreed to collaborate with the FBI. According to news reports, Babar's family has entered into the witness protection program.
Hashmi and Babar were both featured in the New York police report, which was released after their arrests. Kelly wrote that the report, aimed at helping policymakers and law enforcement officials counter terrorism, describes how seemingly "unremarkable" individuals, such as Hashmi and Babar, apparently fell victim to radicalization. Muslim American groups criticized the report for casting too wide a net and viewing all Muslims as potential terrorists.
The police departments quietly added a statement of clarification in 2009, which said that the report "should not be read to characterize Muslims as intrinsically dangerous or intrinsically linked to terrorism" and "was not policy prescriptive." The portions on Hashmi and Babar, however, remained unchanged.
Out of Flushing
Hashmi's family emigrated from Pakistan and settled in Flushing, Queens when he was three. His father worked for the city as an accountant, and his mother was a housewife. Hashmi graduated from Brooklyn College in 2003 with a degree in political science. He wrote his senior seminar paper on the treatment of Muslim groups in the United States, highlighting what he saw as violations of many groups' civil rights and liberties.
Faisal Hashmi, his older brother, says that Fahad believed that many Muslims around the world were being oppressed and used to organize rallies around Muslim issues.
"What I always saw Fahad doing was reaching out to students of other ethnic backgrounds, and certainly other political beliefs. One of the sad things about this is that it's precisely those qualities that are now bringing Fahad under suspicion," Corey Robin, a former professor of Hashmi's said in a short documentary film about Hashmi that can be seen on the Free Fahad website.
Hashmi then went to England and received a master's degree in international relations from London Metropolitan University in 2006.
At some point, Hashmi became affiliated with a group called Al-Muhajiroun (The Emigrants). The group, which has reportedly disbanded, was banned by the British government in January 2010. Al-Muhajiroun, which was never outlawed here reportedly held meetings and study sessions in a mosque in Jackson Heights, Queens.
The group aimed to spread Islam and establish an Islamic Caliphate. Some of its leaders in Britain are infamously remembered for a conference at which the Sept. 11 hijackers were hailed as the "Magnificent 19." While at an Al-Muhajiroun meeting at Brooklyn College in 2002, Hashmi said, according to CNN, "America is directly involved in exterminating Muslims. America is the biggest terrorist in the world."
Babar also was a member of the group.
Supporters of Hashmi say that affiliations, words and beliefs are constitutionally protected. In a court hearing, Hashmi's lawyer, Sean Maher, said Al-Muhajiroun did not engage in any criminal military behavior but gave out flyers, attended demonstrations and engaged people in debate about Islam.
"Are we a society that allows political discourse, or are we a society that is going to say if you say something outside of the spectrum of accepted speech, that you therefore have criminal intent," Maher told the court.
Locked Away
In explaining their decision to keep Hashmi in solitary confinement, even though he has not been convicted of any crime, law enforcement officials cite his involvement with Al-Muhajiroun, as well as the charges linking him to al-Qaida. The government also says that the Special Administrative Measures are necessary due to Hashmi's "proclivity to violence." According to court documents, upon his arrest in London, Hashmi allegedly said that U.S. and British soldiers were going to be killed and that the arresting officers would "pay" for what they were doing to him. Hashmi has denied making these comments.
As of February 2009, according to an article in the New York Times, 46 federal inmates were being held under Special Administrative Measures and of those, 30 faced terrorism related charges. The Times article quoted a Justice Department spokesperson who said that six of the 46 were being held prior to trial, four of them on terrorism charges.
Although originally created in 1996, Special Administrative Measures were strengthened after the 2001 attacks. If the U.S. prison in Guantanamo is closed, experts have anticipated more terrorism suspects will be subjected to these procedures.
Oussama Kassir was kept under pre-trial SAMs before his trial in New York City in May 2009, where he was convicted of trying to help al-Qaida recruit members. The measures also have also been ordered on mobsters like Frank Calabrese, who was convicted of taking part in a racketeering conspiracy that included the murders of 18 people.
Hashmi has been under Special Administration Measures since Oct. 29, 2007 when they were put into effect by then Attorney General Michael Mukasey. Since then, they have been renewed by current Attorney General Eric Holder.
'Shoe of the Shoe'
In a court hearing, Hashmi's lawyer said that a lieutenant from Metropolitan Correctional Center referred to the unit where Hashmi is held as "the shoe of the shoe," the place where inmates who get into trouble while staying with the general prison population are sent. As part of the restrictive measures, he is under 24-hour surveillance -- even when on the toilet or while he showers. He can exercise for only one hour a day in what his lawyer describes as a cage. He may not speak out loud and is not allowed to talk to other prisoners at any time. He may write one letter a week of no more than three pages to a family member and can read selected newspaper articles that are at least 30 days old.
Hashmi can meet only one immediate family member every two weeks and a glass wall divides them, but even this is subject to revocation based on his behavior, or, as Faisal Hashmi, his older brother, says, "bureaucratic hang ups." Faisal says that his parents have been denied opportunities to visit their son for about a third of all of their allowed visits, one reason being that the government did not schedule interpreters for all the visits properly. In 2008, all of Hashmi's visits were suspended for three months when prison officials accused him of practicing martial arts. The "Slave of Allah," as Hashmi referred to himself in the incident report, said that he was merely exercising.
Over 500 academics including Henry Louis Gates and Noam Chomsky have signed a petition in Hashmi's support, urging the government to lift SAMS, which they deem are "draconian." In an affidavit regarding the likely effects of prolonged isolated confinement for Hashmi, Terry Kuper, a professor in the Graduate School of Psychology of the Wright Institute in Berkeley stated that prisoners isolated in this way tend to exhibit symptoms of "cognitive impairment, memory problems, an inability to concentrate, mounting rage, increasing paranoia and massive free floating anxiety. … Prolonged isolated confinement quite often and predictably results in a significant degree of incompetence to stand trial, whether or not the prisoner's mental state deteriorates to the point where he or she exhibits chronic serious mental illness."
In a posting on Truthdig, former New York Times reporter Chris Hedges wrote, "The extreme sensory deprivation used on Hashmi is a form of psychological torture, far more effective in breaking and disorienting detainees. It is torture as science."
Hashmi's lawyers have made 30 appeals related to his treatment under the Special Administrative Measures, with each one being rejected. Joshua Dratel, who has represented three defendants held under the measures, told the New York Times last year that the Southern District of New York applies the measures "reflexively" and judges seem reluctant to challenge them.
The Southern District Court has ruled that the restrictions do not infringe upon Hashmi's constitutional rights.
As the trial date approaches, the Muslim Justice Initiative hopes to get 500 Hashmi supporters to show up at the federal courthouse on Pearl Street. "The level playing field was lost a long time ago due to the actions of the government. We are trying to salvage justice," said Faisal Hashmi
Comments
Comment(s)
The comments section is provided as a free service to our readers. Gotham Gazette's editors reserve the right to delete any comments. Some reasons why comments might get deleted: inappropriate or offensive content, off-topic remarks or spam.
Last Updated (May 30, 2013)