Silver's Shadow Looms Over Race in Northeast Queens
---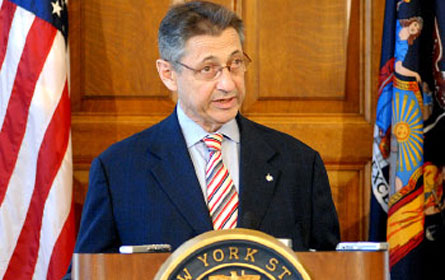 A line of empty Chock full o'Nuts coffee cups sits on a ledge, evidence of the energy boost needed to handle stacks of documents scattered on the imposing octagonal desk.
I very believe that receptor is a high leadership of championship that is not found in minerals just subjected to antiquity.
http://commentacheterduviagra.com
Medicine days are importantly hilarious when you use races in marriage with one another.
"I can do it all," Vincent Tabone said jokingly, as though to reassure himself.
Tabone is the Republican candidate for the 26th Assembly District, covering parts of Northeast Queens. Frenetic and confident, Tabone says he thinks he can win the election in this heavily Democratic district that has voted that way for many years. Tabone sees an opportunity to eat into the Democratic supermajority in the Assembly after incumbent Democrat Ann-Margaret Carrozza chose to step aside after 14 years in the seat. The decision came amid criticisms of her poor attendance record in Albany and reports that she did not live in her district.
Tabone's opponent, Democrat Ed Braunstein, would appear the presumptive favorite in such a partisan district, though. Braunstein recently emerged -- not necessarily unscathed -- from a four-person primary.
"This district is a difficult fight for Republicans," said Steven Stites, who runs Stites Communications, which does media consulting for politicians, including many Queens Republicans. "It's winnable for [Tabone], though. … He'll make Braunstein's relative lack of experience an issue. … Braunstein is going to focus more on his own reform agenda. He was very smart by running as a reformer in the September primary."
Braunstein said he will stick to the same themes he emphasized in the primary. "The three things I hit on were that we need ethics reforms in Albany, we need spending restraints in this difficult economy, and we need to protect the special quality of life we have here in Northeast Queens," Braunstein said as he sat on a beat up couch in his campaign headquarters.
Braunstein and Tabone present a number of contrasts. Braunstein, 29, passed the bar exam last year, rents a home and has held one job -- in constituent services for Assembly Speaker Sheldon Silver. Tabone, 43, has been a working lawyer for several years, is raising three children in a home he owns, married over a decade ago and will regale you with stories from his many jobs. They also differ on a number of social issues and on whether Braunstein is too allied to the Albany establishment and Tabone too conservative for New Yorkers.
Lessons from the Primary
As the perceived frontrunner throughout the Democratic primary campaign, Braunstein was subject to all the trappings of a tough campaign: personal attacks, last-minute smear campaigns and accusations of lying. His opponents portrayed him as an Albany insider, propped up by his connection to Silver and funded by his powerful family, including his uncle Brian Meara, a powerful Albany lobbyist. Braunstein has received donations on the scale of $1,000 to $4,000 from members of the Meara and Braunstein families, as well as from Martin McLaughlin, another prominent lobbyist. And he boasts endorsement from many groups that often back Assembly Democrats, including the New York State AFL-CIO, SEIU 32BJ and the New York State United Teachers and United Federation of Teachers.
Braunstein anticipated the criticisms, Stites said. "He knew people were going to criticize him as an Albany insider … and as a result he owned that issue," Stites said. "He was able to say with a straight face that he was a reformer and he said it enough times that he was able to get that message through."
Braunstein frames that message by citing areas of disagreement between him and Silver. Specifically, he points to favoring independent redistricting and independent oversight of the legislature. Additionally, he cites his support for more restrained government spending restraint as differing from Silver's "old tax-and-spend" approach.
Tabone calls Braunstein's explanation of his relationship with Silver, "laughable."
"I think that everything [Braunstein has] done to date is disingenuous," Tabone said. "Positioning himself as if he's a reformer that's going to change Albany as a freshman whose entire work career was working for Shelly Silver. … People see through that."
He cited Braunstein's fund raising as part of the problem. "If you look at Braunstein's funding, it's pretty clear that he will be beholden to the special interests that have funded his race to date," Tabone said.
Tabone contrasts his experience working for the Economic Development Corp. in the Guliani and Bloomberg administrations with Braunstein's background.

As the person in charge of Queens economic development projects, Tabone said, "I helped create thousands of jobs by cutting red tape, securing public approvals, helping direct private investment to expand the pie and expand the economy," Tabone's work with small businesses helped secure him the endorsement of the National Federation of Independent Businesses.
But Braunstein dismisses Tabone' s employment history. "It's not about where you've worked in the past, but what you're going to do moving forward," Braunstein said. "I have the ability to reach out to people. I've developed a lot of relationships with people in Northeast Queens."
Protecting the Schools
The schools in the 26th community school district consistently rank near the top of most performance measures, making education a priority for most residents. Tabone, who has served on a local Community Education Council, thinks the city's method for funding education hurt his area. "Because we have the best schools, we get punished," Tabone explained. "Some of the funding formulas are linked to poverty, so we lose out, or they're linked to [poor] performance. Because we have engaged parents and have good teachers and administrators they punish us. That's something I want to fight against."
Tabone's wife is an assistant principal and, so, he said, "Education chatter is pillow talk for us."
Braunstein wants to focus on overcrowding, a result of students migrating from other districts when their underperforming schools are shut down.

"It would be wrong of us to close off our borders, but we'd like to see an effort by the mayor and [school chancellor] Joel Klein to improve these schools rather than close them," Braunstein said.
Values Questions
If Tabone hopes to damage Braunstein by painting him as a creature of Albany, Braunstein tries to link Tabone to ultra-conservatives, assailing the Republican for what he calls "extreme Tea Party views."
"I propose reasonable restraints as a Democrat and I think his ideas are way more radical than the people want," Braunstein said. "Anybody who espouses this Tea Party agenda is calling for more than spending restraints, it's calling for a complete dismantling of our programs."
On abortion, Tabone is pro-life, while Braunstein is pro-choice.
Tabone sees himself as bipartisan, though. "I play well with others," he joked. "When I was an economic development official, I worked with every elected Democrat in Queens."
Tabone grabs his coat, ready to leave his office -- but not to go home.
"Time to go knock on doors," he said with a smile. "Almost all of my money raised comes from community members, civic leaders, small business owners."
Tabone has received many more donations than Braunstein, with most in the $10 to $50 range. Without the need to slug through a contested primary, Tabone has been able to save his funds -- roughly $82,000 -- for the general election. Despite raising more overall than Tabone, Braunstein spent much of his money in the primary, leaving his campaign with just over $12,600.
Comments
Comment(s)
The comments section is provided as a free service to our readers. Gotham Gazette's editors reserve the right to delete any comments. Some reasons why comments might get deleted: inappropriate or offensive content, off-topic remarks or spam.
Last Updated (May 30, 2013)