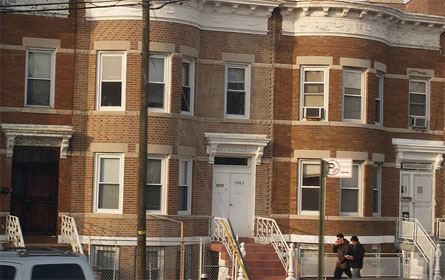 Much of State Senate District 15 -- stretching across south Queens from Howard Beach through Middle Village to Maspeth -- is a serene landscape with three- and four-story brick buildings intermingled among trees. The parks that dot the district are filled with animated conversation in a variety of languages. And throughout the district one sees buildings and signs bearing the Addabbo name.
For 34 of the past 49 years, an Addabbo family member has served District 15 either in the City Council or at the state or national level. Democrat Joseph Addabbo Jr., son of former U.S. Rep. Joseph Addabbo Sr., is currently seeking reelection to the State Senate after winning the seat from 20-year incumbent Serphin Maltese in 2008.
His opponent, Republican Anthony Como, also has deep roots in the district. He has been a south Queens resident his entire life, worked at the Queens district attorney's office, served briefly on the City Council and was on Maltese's staff for several years.
"Como has great name recognition," said Steven Stites, whose media consulting firm does work for many Queens Republicans. "He was the only Republican who would really have a chance to pick this seat up."
And while there is inherent difficulty in taking down a well-known -- and generally well-liked -- incumbent, the Republicans and special interest groups have targeted this as a winnable election. Both the powerful Real Estate Board and the Senate GOP have put their financial weight behind the election in hopes of swinging the Senate back to the Republicans. Currently the Democrats hold a 32-30 margin in the chamber, and Republicans think District 15, which has a history of voting conservatively despite a 3-to-2 ratio of registered Democrats to Republicans, could help give them control.
Como has focused on connecting Addabbo to spending and tax and fee increases in Albany, even running a TV spot that charges, "124. That's how many times State Sen. Joe Addabbo raised taxes in just two years in office."
Addabbo is running on his record as a senator who is available "24/7" -- he likes to call his constituents "my people."
The Gay Marriage Vote
A small wave of surprise washed over the room after Addabbo simply said "no."
Many expected that, as a Democrat, Addabbo would say "yes" when it came time to vote last December on a bill that would have legalized same-sex marriage. As the first of only eight Democrats who voted against the bill, Addabbo was seen as setting the tone for the rest of the roll call.
Citing his philosophy of "listening to my people," Addabbo later said he decided to go against the party to be in line with his socially conservative district. While the vote lost Addabbo the financial support of the gay community -- which had backed his 2008 campaign -- it may help him on Nov. 2.
"[The vote] made it difficult for Republicans to make this a values campaign," Stites said. "It cost him a little bit of skin, but you have to govern from the center in this district. Most people on paper are Democrats, but they're definitely conservative."
Instead, Como has attacked Addabbo on his record on fees and taxes, painting him as unfriendly to businesses. In response, Addabbo proposed ways to curb government spending and lower costs for individuals and businesses.
Boosting Business
In many ways, district 15 is a patchwork of different ethnicities and characters. But, Addabbo said, "I can go into any part of the district and talk about jobs. Job security and job stability."
As in much of Queens, most of the jobs come from small businesses. Como, though cites reports that say the tax climate in New York for these mom and pop stores is the worst in the nation.
"This is a time where we've had a record number of closings of in the neighborhood," Como said.
Como has criticized Addabbo's record of working with small businesses, pointing to the Business Council of New York State's rating him toward the bottom on its list of "Business Friendly" state senators. The Business Council, however, almost exclusively endorses GOP candidates.
"I always say that my record speaks for itself," Addabbo said. "We're not always going to agree, meaning myself and maybe the Business Council. But the idea here is that my door is always open. They have not really reached out to me to say, 'hey let's work together.' I work with the people that want to work with me. I walk along Jamaica Avenue, Metropolitan Avenue, Myrtle Avenue talking to small businesses and asking, 'What's going to help you?'"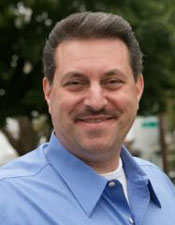 Addabbo has keyed in on trying to reduce business costs. Offering free energy audits is one example.
"We've seen some of our local businesses save anywhere from 17 to 30 percent on their energy costs by opting into these programs," Addabbo said. He also promoted two job fairs -- with a third on Nov. 12 -- that, he said, have brought over 100 recruiters to the area each time. Local unions, such as SEIU 32BJ, support Addabbo.
Como, who is backed by the National Federation of Independent Business, said the taxes Addabbo has supported overshadow all his other efforts.
"My opponent walks around on the avenue talking about we're going to do this and then he bashes them over the head with these new taxes," Como said.
Aside from lower taxes, Como proposes an increase in microloans to new and existing businesses, citing successful repayment rates of over 90 percent from both start-up and existing businesses.
"I'm not saying we're going to throw the government's money away," he said, "but we have to encourage businesses."
Both candidates agree that the government should provide tax incentives to employers that hire in order to create jobs and boost business.
The Aqueduct Report
Addabbo has turned to Aqueduct -- a thoroughbred racetrack in Ozone Park -- both for his job fairs and as a possible source on employment in the district. But now his involvement with the project could backfire.
Last week the state inspector general issued a report charging that the bidding to build a casino at Aqueduct was riddled with improprieties. In particular, the report found one bidder marshaled funds for the state Democratic Senate Campaign committee and cited two of Addabbo's fellow senators -- John Sampson and Malcolm Smith, both members of the Senate Democratic leadership -- for possible violations of law.
Addabbo maintains his innocence and said he did not have influence over who got the contract.

Como questions Addabbo's claims that he did not know about the flawed and possibly illegal process. "He never came clean about it," Como said. He had a chance. I hate to say it, but there's only one of two ways. Either he was in on it or he didn't know what was going on. Either way, it's disgusting and appalling. Sleep at the wheel and you're in on it."
Addabbo estimated that the track's facelift could bring in 1,000 construction jobs and 800 post-construction jobs.
"I wanted to save Aqueduct as a race track," Addabbo said. "So I encouraged my leadership to get a decision made. We fought through a flawed process. We corrected the process and in just two years, we got this project started. People understand that I know the need for jobs."
Losing Hospitals
A common refrain for Como when discussing Addabbo is "too little too late." It's a phrase that he uses when the issue of hospital closings and health care comes up. District 15 has seen two hospitals close in the past two years. Como said he has personally experienced times when emergency medical workers do not know where to take patients.
"We have residents who now don't have hospitals in their area and have to be rushed and wait a long time to be seen in the emergency room," Como said.
Addabbo is quick to point out that the problem "didn't happen overnight. For years, those who were in power prior to me were letting this go," he said.
Addabbo rattles off a list of things he has done to fill the gaps in health care: health fairs for residents to get free check ups, free mammography vans, eye and blood tests at senior centers. Going forward, he believes that the state has finally gotten serious about cutting Medicaid fraud and he hopes it wants to continue this.
Still, Como insists that Addabbo voted against legislation to curtail Medicaid fraud and had mistaken priorities, spending too much on Medicaid and health care for prison inmates, while leaving others uncovered.
Out and In
For a long time, Como wavered about whether to challenge Addabbo. The Queens GOP made it clear they wanted him to run, pledging large amounts of money. Despite the courtship, Como said no. Many believed he would seek to be executive director of the Board of Elections instead.
Within 30 hours of deciding against the campaign, though, Como reneged and decided to run. He has hit other bumps along the way, though. His effort to get on the Independence Party line failed, and a move to create a Tax Cuts Now ballot line came to naught when he made a mistake in the paperwork.
This does not appear to have hurt his fundraising, though. As of the 32-day filing deadline before the election, Como had $113,700 on hand, closing a $66,000 gap in a matter of months. Addabbo had $45,100 as of the last filing deadline. Como grew his monetary lead last week as well when the Senate GOP donated $100,000 to his campaign.