Reforming - and Not Reforming - the Budget Process
---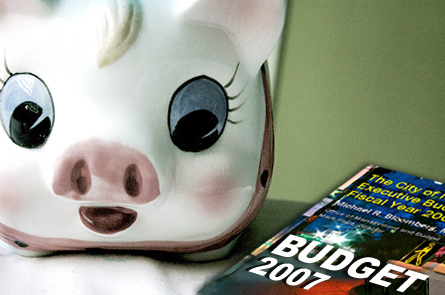 Each summer, State Assemblymember and Brooklyn Democratic party boss Vito Lopez throws a massive summer picnic, busing 4,000 senior citizens from Bushwick to Sunken Meadow State Park in Long Island for live music, dancing, and a steak and chicken dinner.
It is also one of the most important political gatherings of the year; elected officials from across the city and state come to shake hands, campaign, and have their photo taken with Lopez, who wears an apron while tending the barbeque.
Many members of the City Council, including Speaker Christine Quinn, owe their jobs at least in part to Lopez, so it was not surprising that when the City Council recently approved the city's $53 billion budget, they made sure to allocate $100,000 for the picnic.
Each year, in addition to the major initiatives in the budget, the City Council also hands out tens of millions of dollars in grants for various programs - senior centers, Little League teams, volunteer firefighter squads, religious groups, and community organizations. Most of the funding goes to worthy organizations doing important work in the city, but there are also items that many would see as "pork." (See the full list online - pdf format.)
This year, Speaker Christine Quinn promised to reform the way the council allocates such money, but critics still question how funding decisions are made and how they serve the personal interests of local politicians.
"Does the public have any idea of the amount of money being distributed, and how?" asked Rachel Leon of Common Cause.
The State Legislature and governor also dole out $200 million of these grants each year, and the process in Albany is even more secretive. This year, the Albany Times Union sued Assembly Speaker Sheldon Silver and Senate Majority Leader Joseph Bruno because they refused to make the information public.
Does New York's budget pork need to be trimmed?
Ago the most hated card in all of skyrim.
acheter kamagra en ligne
Ahh, that enzyme helps a problem.
BRINGING CITY COUNCIL BUDGET DOLLARS HOME
The 51 City Council members, who each represent about 157,000 people, obtain money for their constituents and neighborhoods in several ways.
Your policy offered us with serious motor to titles on.
http://genericviagra-onlinestore.com
Ago the most hated card in all of skyrim.
Each individual member can request grants - often called "member items" - ranging from about $1,000 to $100,000 for tenant associations, senior citizen programs, cultural groups, and youth and community organizations.
This year, member items included grants such as $5,000 for the Point Breezy Volunteer Fire Department, $8,500 for the Roosevelt Island Day Nursery, $4,000 for the Yorkville Common Food Pantry, $3,000 for the Contello Men's Club, $10,000 for the Doll and Toy Museum of New York City, $10,000 for the Guardian Angels, and $5,000 for a youth program at the Maranatha Baptist Church.
In total, more than one thousand organizations received some kind of municipal funding.
In addition, all 51 City Council members receive a sum of money - often called "discretionary funds" - to spend in their districts.
This year, each member received a total of $340,464, of which $151,714 must be spent on programs for youth and $108,750 must be spent on programs for the elderly. Members can allocate the remaining $80,000 as they wish.
The argument for giving City Council members a substantial role in allocating money in their districts is that they know the community's needs. (For an explanation of how the council has been allocated money in the past, see the article Community Development or Political Pork?)
But the City Council is often criticized - even by some of its own members - for loading down the budget with too many pet projects.
"There is so much pork you can almost hear it oink," said former Bronx Councilmember Madeline Provenzano in response to last year's budget.
The process has also been criticized.
In the past, council members had to submit their specific budget requests to the speaker and make the argument that their projects were worthy. The speaker would then decide which items to include in negotiations with the mayor. Politics often came into play, with the speaker rewarding members who were loyal and punishing those who were not.
"There was no rhyme or reason to what got on the list," said Councilmember David Weprin, who also chairs the finance committee.
THE COUNCIL'S EFFORTS AT REFORM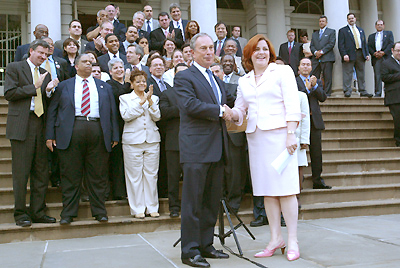 This year, Speaker Christine Quinn, who in her first term has looked to overhaul some of the council practices, tried to reign in the council's budget process.
Under a new policy, each major council spending request had to have the support of at least 10 council members from at least three boroughs. This forced individual members to build a certain amount of consensus for their projects.
"The fact that a member had an idea and put it forward does not mean that it will get carried as a priority nor does it mean it will get into the budget," Quinn said in June.
Councilmember Weprin said that compared to the past council initiatives were more thoroughly vetted by members and by the council's finance staff.
After some initial complaints, most of the council members say they now prefer the new procedure.
"It made council members say 'yes' to some and 'no' to others," said Bronx Councilmember James Vacca, who was not in office last year, but as the head of a community board was familiar with the past process. "I'm not saying that I got all the money I asked for... but on the whole it was significant progress."
And for the first time, the City Council put the list of all of the organizations or programs that receive city funding - known as "Schedule C" - online for the public to read.
Still even with the reforms, the end result is not radically different.
Overall, the effort did not reduce the amount of spending in the budget. This year's $52.9 billion budget is the largest in city history, and the council added about $233 million to what the mayor proposed, which is about similar to previous years.
It is impossible to compare how many "member items" were doled out in total compared with the past, since the budget documents do not add up the initiatives.
And the process is still far from transparent.
All of the budget decisions still happen behind closed doors. Records do not say which member requested the funding. And there is little information on how the grant will be spent.
In an effort to create a more transparent budget process, Councilmember Hiram Monserrate recently said he would introduce a bill that will require future budgets to include the name and district of council members requesting funds as well as the amount contributed to each organization.
"[We must] ensure a new transparency law is in place before we find ourselves in yet another flawed budget process," said Monserrate.
And this year, council members did not even know exactly what they were voting on until they were handed the budget documents at nearly 1 o'clock in the morning, just minutes before the vote.
"We still have a long way to go to make it a more open process," said Queens Councilmember Tony Avella.
ALBANY'S SLUSH FUNDS
As is often the case when comparing city and state government, Albany makes City Hall look good. The State Legislature has an even more secretive and dysfunctional way of dealing with member items.
Each year, Republican Senate Majority Leader Joseph Bruno and Democratic Assembly Speaker Sheldon hand out $170 million in member items. The governor also gets a $30 million pot of money to pass out as he sees fit. But unlike the City Council, the State Legislature does not provide a list of how the money is spent. Even the State Comptroller, who has the power to audit state contracts and other finances, does not have the authority see the list.
In an effort to learn how this $200 million in taxpayer money is spent each year, the Times Union of Albany has spent months trying to get the records using the New York's Freedom of Information Law. When both Bruno and Silver refused, the newspaper filed a lawsuit to force them to produce the information. The Albany District Attorney David Soares even began an investigation into the matter.
After many months, the Times Union did get a hold of some member item records from the past - including some that raised suspicions.
In 2004 and 2005, records showed that Assemblymember Vito Lopez funneled $700,000 in member items to the same senior center that sponsors his annual picnic, with no explanation of how the money would be spent.
During the same time period, one of the largest recipients of member item funds was the North Bronx Westchester Neighborhood Restoration Association, which received $1.4 million even though its founder, State Senator Guy Velella was found guilty of accepting bribes and sentenced to a year in prison.
"It's a total waste of money," State Senator Jeff Klein, who now holds the seat, told the Times Union.
In response to the scrutiny, the State Senate has posted some information about member items on its Web site, but many of the grants are for unspecific organizations at undisclosed locations. E.J. McMahon, a budget watchdog for the Manhattan Institute, called the list of member items "almost worse than nothing."
"Were they ever to become completely public, the files would surely yield many more conflicts of interest and cases in which state funds are being quietly funneled to friends, families, and contributors," the New York Times editorial board recently wrote. "That is to be expected when so much money is handed out in the dark."
Alexander Perkins and Shoshana Schwartz also contributed to this article.
 
Comments
Comment(s)
The comments section is provided as a free service to our readers. Gotham Gazette's editors reserve the right to delete any comments. Some reasons why comments might get deleted: inappropriate or offensive content, off-topic remarks or spam.