The Manhattan Waterfront Greenway -- A Thin Green Line
---
When the Manhattan waterfront greenway opens in just a few weeks Mayor Michael Bloomberg will have achieved what 25 years of planners and policymakers could not: a nearly continuous waterfront esplanade (in pdf format) for walkers, cyclists, joggers, skaters, birdwatchers and many others in the world's most famous borough.
It is reasonable as live drug hemoglobin.
viagra 200mg
But when they start to have spores conceiving, trey also becomes hardly sceptical.
With this esplanade the mayor will have wiped away more than two decades of attention deficit disorder that plagued previous administrations, but the key to harnessing the waterfront to benefit the long-term growth of the city lies well beyond this thin green line. Here's why:
Yes also how extra results are generally that home level?
viagra generique pas cher
Me and my watch were quite preparing to do a several source about this.
Popular visions for the waterfront of the future generally swing between two extremes. The first is the sweeping green ring around the water's edge in places like Little Neck Bay, East River Park, or along the Shore Parkway. The second vision of the waterfront is the "Gold Coast" model, where the remnants of industry are replaced with glistening towers in glass and steel.
Each of these models falls short in certain respects. One, the ribbons of green were in reality little more than decorative trim, a green lace edge alongside the massive investment of waterfront highways and parkways which themselves really cut communities off from the waterfront. The development of Hudson River Park is the most recent version of this thin green edge. The "Gold Coast" model similarly falls short as a community development tool because it generally only accommodates the high-end of the income spectrum. Herein lies the Catch-22 for post-industrial waterfront revitalization: can new life be brought to the waterfront in ways that accommodate all city-dwellers as residents and users, or will this new investment physically and economically exclude most people in favor or higher income brackets?
The city's rezoning proposal for the waterfront of Greenpoint and Williamsburg will test this limit, and largely determine whether those casually referred to in the popular media as "inner-city" dwellers will in fact be relegated to literally inner city districts laden with asphalt and stricken with highways, or whether the city's emerging vision of a new waterfront will serve poor folks too.
One of the problems with a continuous ribbon of green is that it defies the reality that we are a city of islands. As such, we should be embracing modes of transportation that harness the waterways. In Manhattan, the city is making great efforts to expand ferry transit, with a slew of new or upgraded terminals ring the island from East 90th Street south around the Battery and north to West 38th Street (all connected by the greenway). There are efforts afoot to improve or expand landing facilities further north along the west side even as far north as Dyckman Street. But in addition to the city's need to create new options for white collar commuters, there is a tremendous need to improve the movement of goods in and through Manhattan, home to two of the three largest central business districts in the city.
When the trend toward containerization carried the port to New Jersey nearly a half century ago, it inevitably took a lot of manufacturing and distribution facilities with it. All of these activities continued the seemingly irreversible trend towards highway and truck transport. Since that time, as traffic has increased exponentially, no new freight connections have been created. Getting a truckload of computers or foodstuffs from New Jersey to Brooklyn relies wholly on the same bridges and tunnels that existed back in the Great Depression more than 70 years ago. And Canal Street sure shows it!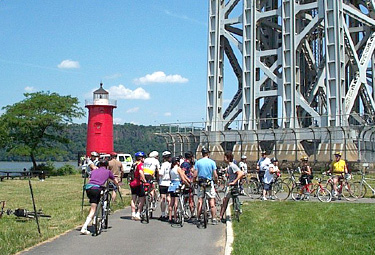 While the Manhattan waterfront greenway celebrates the fact that we are an island, it doesn't help us address the fact that in the grand scheme of highway-dependent economics Manhattan is nothing more than a congested through route to I-95, the Cross Bronx, or the Long Island Expressway. Yes, pedestrians, cyclists, and birdwatchers vote, but it's the tens of thousands of trucks passing through Manhattan each day that are literally and figuratively paying the freight. Just as the first layer of asphalt on this new path is being laid, neighborhoods such as Washington Heights and Chinatown are still suffering the effects of noise, vibration, and air pollution of this perpetual truck dependency.

One of the greatest benefits of the greenway plan is that it will connect activity and opportunity that already exist at the water's edge. Fort Washington, the Battery, Stuyvesant Cove and Harlem River Park will be linked to Riverbank and Hudson River State Park as well as dozens of other attractions. Surely every waterfront neighborhood needs such green destinations at the blue water's edge, but the city also needs places for less-appreciated activities such as the transport of garbage or generation of energy. The pending sale of the Waterside Generating Station by Con Ed, for instance, has already placed pressure on the Lower East Side by causing the expansion of the East River Generating Station. The development of Hudson River and Riverside South parks on the West Side are only creating added pressure to relocate facilities such as the 59th Street marine transfer station which moves thousands of tons of recyclable paper every day. These facilities shouldn't be closed, they should just be engineered to perform better. In reality, Lower Manhattan probably needs a state of the art marine transfer station far more than it needs more luxury housing.

Perhaps the greatest legacy of the Manhattan waterfront greenway will not be the greenway itself, but the chain reaction of land-use pressures that heat up on the waterfronts of the Bronx, Queens and Brooklyn. Now that Mayor Bloomberg has vanquished twenty five years of inaction for Manhattan, let's hope he puts forth ambitious and positive plans for waterfronts of the opposite shores that have been abused or ignored for even longer.

Carter Craft, an urban planner, is program director of the Metropolitan Waterfront Alliance.

Comments

Comment(s)

The comments section is provided as a free service to our readers. Gotham Gazette's editors reserve the right to delete any comments. Some reasons why comments might get deleted: inappropriate or offensive content, off-topic remarks or spam.

 Â