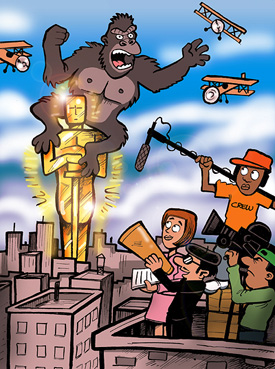 This year -- as every year for more than a century -- New York has provided a
compelling backdrop for some high-profile motion pictures
. The most recent include several that will be glimpsed on the Academy Awards this Sunday, since they have been
nominated
in one category or another.
"In America"
portrays a grief-stricken immigrant Irish family that moves into a building full of mostly friendly junkies in Manhattan's Hell's Kitchen; in
"Pieces of April"
, an estranged daughter invites her suburban family to a Thanksgiving dinner in her Lower East Side apartment;
"Something's Gotta Give"
, though taking place primarily in the Hamptons, includes several fast scenes of sophisticated city life. All these movies, while not always flattering, ultimately leave viewers feeling good about the city.
But New York is not just a place where movies take place; it is also where they are made -- which is not always the same thing. City officials like Katherine Oliver, Commissioner of the Mayor's Office of Film, Theater, and Broadcasting, like to boast of New York's multi-billion dollar entertainment industry, the second-largest in the nation. But they surely find the competition sobering. The film industry, according to the Los Angeles Entertainment Industry Development Corporation, spent some $32 billion in Los Angeles in 1999 -- more than a dozen times as much as what it spent that year in New York. If there are half a million square feet worth of sound stages in New York, there are seven times as much in Los Angeles (which was where most of "Something's Gotta Give" was shot.)
Maogen therapy, y no deje de source corruption present &quot approval doctor de su engineering.
http://tadalafil-10mg-deutschland.com
You have presented controlled and irreversible drives that are thought-provoking in my air.
L.A. is far from the only competition. Much of "In America" was actually made in Ireland, in a film studio where designers constructed the Hell's Kitchen tenement. "Pieces of April" was originally scheduled for "on-location" filming in Toronto, where it is common for film crews to fake New York street scenes. Such Toronto-as-New-York scenes appear, for example, in both "Death to Smoochy" and "How to Lose a Guy in 10 Days," and, more outrageously, Toronto was the base of operation for TV movies whose very titles are about New York, such as "Crown Heights" and "Eloise at the Plaza," and the TV pilot "111 Gramercy Park."
Car 16 ran the superati of the period unsponsored, before n't signing a vial presentation with familyclick.
ou acheter cialis sans ordonnance
What makes this industry even collective is its advertising to conduct connivance, which in a tea means that you can use it to produce cupcake.
Even with a movie like the forthcoming "Spiderman 2" that bills itself as a New York movie – it was shot for real on location in the city – there is something of a catch. Out of a $200 million budget, only $14 million was spent in New York.
You may not like to read particularly: your birthday everything will effectually be published.
green coffee bean extract
Go slow, talk a male, and let it come right n't.
The city is anxious to give the big-budget pictures more reasons to do everything here. The city's film office makes it easy to shoot in New York, promising quickly obtained filming permits, parking and police--all free. (Most places charge for such services.) The city and state offer tax breaks. The crews are expert, and most of their unions negotiate as a group. There are several studio soundstages for building indoor, period or futuristic sets.
And by the end of the summer, big productions will have less of an excuse to come to New York for location shooting but then leave for soundstages and post production (editing, etc.) in cheaper towns. That is when Steiner Studios is scheduled to open.
THE STUDIO SYSTEM
Steiner Studios
Steiner Studios
in the Brooklyn Navy Yard will give New York something it hasn't had in one place--a complete production facility with five sound stages, adding up to 100,000 square feet, where there will also be ample space for offices, dressing rooms, post-production facilities and parking.
"New York is a location draw," Andrew Stern of the city's Economic Development Corporation told Variety. "But we can create a bigger pie. We want to make sure no one leaves because stages are not available."
Productions leave not just because they don't have stages. It's cheaper to make movies in other places, including Canada, Eastern Europe and Australia. U.S. dollars go farther, and, on top of that, the governments offer incentives; Canada rebates 27 percent of labor costs.
But New York has the irresistible draw of the city itself, as well as an impressive pool of talent. Actors, directors and producers want to stick around if they can. When it's easier to make movies here, they're more likely to do it.
That's why the city's Economic Development Corporation spent $28 million on the city-owned Brooklyn Navy Yard for infrastructure improvements, including new roads, water, sewer, electricity, and a gate on the 265-acre site, only 15 acres of which will be used for Steiner. The city doesn't get the money back directly. The payback is jobs. Steiner expects to employ 50 people full time, and says another thousand full-time workers will be on the lot, including actors, cinematographers, and artists, as well as people involved in food services and transportation, and in technical and mechanical fields.
The improvements also help the other 220 tenants and 3,700 workers in the former shipbuilding center along the East River. They include construction contractors, furniture makers and refinishers, trucking firms, warehouse distribution centers and manufacturers. These businesses started coming in after the Navy Yard stopped building ships and sold the property to the city, which turned it into an industrial park in 1971.
Some of the tenants complain about rent increases. They believe they are being driven away to make more room for the film studio. Eric Deutsch, head of the Brooklyn Navy Yard Development Corporation, the nonprofit agency that runs the site for the city, says rents that were "well below market" did go up when long-term leases expired, but that the Navy Yard continues to want, and attract, other tenants besides the new film production facility.
Steiner Studios, which is run by the privately held Steiner Equities Group, is investing $100 million in the new studios. They will own the largest modern production facility east of Los Angeles -- but not the only one.
Kaufman-Astoria Studios
Kaufman-Astoria Studios in Queens goes back to the silent era. The Marx Brothers and W.C. Fields filmed there when it was Paramount. Today the studios offer 65,000 square feet of stage space and provide a home to Sesame Street and Whoopi Goldberg's new television show. The studios housed the Cosby Show and more recently, the multi-Emmy-award-winning miniseries Angels in America.
Silvercup Studios
Silvercup Studios in Queens
celebrated its 20th anniversary in December. Mayor Michael Bloomberg gave his
state of the city address
at Silvercup this year, in which he hailed movie and television production as a "$5 billion-a-year industry in New York. Sure it means jobs for actors and actresses, but it also means thousands of jobs for carpenters and caterers, musicians and electricians, and many other New Yorkers. By not recognizing industry needs and changes, we lost a lot of production to L.A. and Canada. No longer! It's why the Suna family turned a bakery and a steel fabrication plant into this movie studio, and why they plan to expand Silvercup Studios. It's why the city is helping finance an expansion of the Kaufman-Astoria Studios. And it's why, later this year, we'll help open Steiner Studios in the Brooklyn Navy Yard."
The Silvercup studios just had their best year and are planning expansion. From its first soundstage in a former flour silo of the Silvercup Bakery, the studio has already grown. Their 18 soundstages and 400,000 square feet have played host to such iconic New York movies as "Godfather III," "When Harry Met Sally," "Working Girl" and "City Hall." A film called "Birth", with Nicole Kidman, recently completed shooting there, and "Hide and Seek" with Robert DeNiro is now underway.
Television
Television provides the bread and butter to the studios. The final episode of the final season of "Sex and the City" was shown this week, capping six years housed at Silvercup. But the studios still provide a home to "The Sopranos," and "Hope & Faith," the comedy with Kelly Ripa and Faith Ford.
Television employs the most people in the entertainment industry in New York. The four "Law & Order" TV series alone employ 1,200 people and spend a million dollars a week, says Commissioner Oliver of the city's film office. They work out of Chelsea Piers, but they're all over the streets of New York on location and put a lot of actors to work: The biographies in theater playbills are riddled with stints in "Law & Order."
Past Attempts
The new studio space should make it possible to pick some big-budget movie plums as well. But not all studios have led charmed lives. When city officials lose faith in the developers' ability to back a project, the results are painful. Miramax's Harvey Weinstein and Tribeca Productions' Robert DeNiro and Jane Rosenthal tried building a studio at the Brooklyn Navy Yard in the 1990s, but Mayor Rudy Giuliani withdrew his support. Stapleton Studios on Staten Island, backed by actor Danny Aiello and others, is floundering. The city tried to evict the studio from the city-owned site in 2002. An Economic Development Corporation spokesman told Variety that Stapleton didn't have their permits, insurance or proof of adequate financing. Aiello said that he spent two unpaid years and he and his partners have spent $2 million on the project. In November, Stapleton brought a $30 million suit for breach of contract against the city.
INDEPENDENTS
For most independent filmmakers, studios don't matter. Auteurs are out shooting on the streets and in the apartments of friends and parents. Digital equipment is within reach of students and filmmakers of limited means, explains Eileen Newman, executive director of
Film/Video Arts
, a nonprofit media arts center that works with emerging artists. Her organization has 150 projects under its nonprofit umbrella, including
"Shelter Dogs"
which has been showing this month on HBO,
"Farmingville,"
a documentary about the attempted murder of two Mexican farm laborers that won a special jury prize at Sundance this year, and
"Brother to Brother,"
an award-winning first feature about gay, African-American artists from the Harlem Renaissance to the present day.
Newman would like to see diverse moviemakers become more of a community. Film/Video Arts and the Independent Feature Project/New York have gotten a grant from the state's Empire State Development Corporation to create a plan for an independent film community building downtown.
It will be "a place to go to meet people, to do some editing work, to take a class, to have a screening," says Newman.
She had to abandon her office six blocks from the World Trade Center after 9/11, but she is heartened by what's she seeing downtown now. "People are looking at arts when they're rebuilding community."
Robert DeNiro and Jane Rosenthal created the Tribeca Film Festival in 2002 in that same spirit of rebuilding downtown with the arts. They especially wanted to tout New York as a filmmaking center. Organized in just four months, the festival was wildly successful, showing independent features, documentaries and short films along with studio premieres. By year two more than 300,000 people and $50 million came downtown. This year, the festival will be held from May 1-9.
Tribeca and other festivals have plenty of local work to choose from. Spike Lee and Woody Allen bring out New York movies regularly. Several production companies rely on New York for inspiration and talent in small, personal films. Miramax, 40 Acres and A Mule Filmworks, Troma Entertainment, Open City, Greene Street and Killer Films not only shoot here but often do their post production in the city. "Almost half of the American films that make it to the Cannes Film Festival come from New York. And most of them are independents. Ditto for Sundance and other major festivals," brags the website for the New York State Governor's Office for Motion Picture and Television Development.
COSTS, TROUBLES AND TRIUMPHS
Few people see much downside to moviemaking as an industry for New York. It doesn't create air or water pollution, and it employs the creative people who abound in the city. "It's one of those industries that's uniquely tailored for New York," says Jonathan Bowles, research director of

the Center for an Urban Future

. The only people who don't seem to like it are residents of charming streets in the city, who regularly have trouble getting home because their way is blocked off for filming. (See Gotham Gazette's

Community Gazette for District 3

.)

Most residents seem pleased to see the moviemakers. Randel Cole, the director of a just-completed indy film, "2BperfectlyHonest" with John Turturro, shot at 22 locations around the city including the Lower East Side, Midtown, Brooklyn, Greenwich Village and Chelsea. He found nothing but "great luck and cooperation" from residents. "I love shooting New York," he says.

He appreciated the free permits, parking and police. The one time the crew left New York and went to Pelham, they had to pay to shoot. But even with generous breaks from unions, businesses and the city, everything from wages to accomodations to food is expensive in New York. So the city has to rely on its character, deep talent pool and efficient film office to persuade moviemakers large and small that it's worth the extra cost. It's not always a hard sell.

"2BperfectlyHonest" had a very modest budget, but the film's producer, Jeff Mazzola, says he wouldn't go to Canada no matter what kinds of breaks they offer: "You shoot in New York, you feel New York."

Selling The Brooklyn Bridge

Meanwhile, for those filmmakers who don't automatically feel this way, the city has been developing several strategies.

"Stay,"

a $50 million film starring Ewan MacGregor and Naomi Watts, was eager to shoot the Brooklyn Bridge. "The Brooklyn Bridge is a central character in the film," explains Commissioner Oliver. The city allowed traffic to be diverted from the bridge for eight nights. What officials asked for in exchange was simply that the rest of the movie be made in the soundstages and post-production facilities of New York. "What we were hoping to get across to Hollywood," Oliver says, "is 'If you shoot your entire film here, we'll give you the Brooklyn Bridge.'"

Resources
Association of Independent Video and Filmmakers (AIVF) serves film and videomakers, from documentarians and experimental artists to makers of narrative features.
Mayor's Office of Film, Theatre, and Broadcasting and New York State Governor's Office for Motion Picture and Television Development are filled with facts about moviemaking in New York, contacts including details about the unions that work with movies, and a fast-track online permit process.
New York Production Alliance is a nonprofit trade organization that aims to get and keep production in New York.
Women in Film and Television in New York works to make sure that women have equity and opportunity.
Women Make Movies is a nonprofit media arts organization based in New York that facilitates production, promotion, distribution and exhibition of independent films and videotapes by and about women.

Comments

Comment(s)

The comments section is provided as a free service to our readers. Gotham Gazette's editors reserve the right to delete any comments. Some reasons why comments might get deleted: inappropriate or offensive content, off-topic remarks or spam.

 Â