By Gale Brewer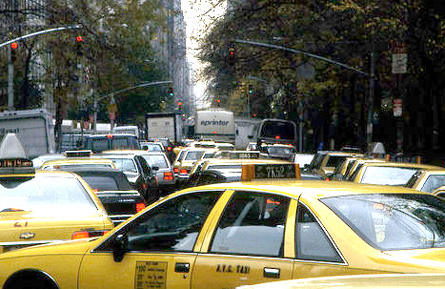 Two pedestrians were killed in my district on the same day last October, one by a city bus, the other by a truck. When I arrived at the scene, I was immediately struck by how the two intersections where these tragedies took place – Amsterdam and West 74th, and Broadway and West 73rd – exemplify the problem of traffic and congestion in our city. They are thronged with vehicles day and night, at levels that seem only to increase. One the one hand, some say this shows how New York is thriving; on the other, so much traffic causes inconvenience, harm to the economy and the environment and, on some days, death.
Eight in ten New Yorkers see traffic jams on city streets as a problem; half believe congestion is already unacceptable. More people are driving, and traffic in the central business district is higher than it was before 9/11, according to the Department of Transportation. Transportation Commissioner Iris Weinshall says that this is not a crisis, but rather a "challenge." I do believe traffic congestion is at crisis levels. To confront this, I have introduced legislation that would require city officials to set concrete goals for reducing its ill effects, and then measure how well they are doing to meet those goals.
THE COST OF CONGESTION
Increased congestion is a well-known drain on both citizens and economies. It is worse here than almost anywhere else in the country. According to the Census Bureau, New Yorkers endured the second-longest commute in the nation in 2006, and spent an average of one hundred hours a year just getting to work.
The Department of Transportation reports that, while more people are using private vehicles, there has also been a increase in the use of public transportation. This is good news. But public transportation is not immune to traffic congestion, despite city officials' attempts to improve bus lanes. As of October 2006, nine bus routes in Manhattan had average speeds below five miles per hour. The most laggard is the M14A, which crawls crosstown on 14th Street at 3.9 miles per hour – slower than most of New York's fast-paced pedestrians.
But traffic congestion is not only about wasted time and lost productivity; congestion also degrades air quality. Motor vehicle emissions are the main contributor of hazardous air pollutants on an average day in Manhattan. Diesel emissions are known to be especially harmful, and there are many studies linking high concentrations of diesel-powered vehicles with increased respiratory disease, especially asthma. Recent studies have reported that areas of the Bronx with a high volume of diesel-powered trucks are experiencing almost epidemic levels of asthma, especially in children.
There is a way to ease such damage. A well-cited study from Atlanta reports that when the Atlanta Olympic Games prompted the city to reduce its auto use by 22.5 percent, asthma admissions to municipal hospitals simultaneously decreased by 41.6 percent, revealing the strong likelihood of a correlation between respiratory health and vehicle emissions.
The quality of social and cultural life in the city may also be threatened by traffic congestion. Transportation Alternatives, a non-profit group promoting biking and cycling in New York City, recently released a survey on " traffic's human toll," showing that residents in high-traffic neighborhoods, beset by unbearable noise, pollutants, and dangerous intersections, have a perception of their blocks that is more negative than residents of adjacent areas, and they also have fewer relationships with their neighbors, and spend less free time outdoors.
These conditions call for decisive action, but we must select carefully among many proposed solutions. That means getting a full picture of the issue at hand.
SETTING GOALS AND MEASURING PROGRESS
So what can be done to reduce congestion and the ills that it causes? First, we should initiate a well-publicized, open public debate on traffic congestion, and especially on its impacts on health, land use, housing, and economic development, and quality of life.
Reliable data will be critical to this informed discussion. City officials lack the basic information necessary to redress the current gridlock, much less plan for future growth, according to a recent report by transportation consultant (and Gotham Gazette columnist) Bruce Schaller. This information gap should be immediately addressed by wide public input, and studies and metrics of better design and implementation.
I have introduced New York's "Traffic Information and Relief Bill" (Intro. 199), that if adopted by the City Council, would develop the metrics needed to set reasonable congestion relief targets. This way, city officials would have set goals in terms of congestion reduction, and clear ways to measure their performance in meeting these goals.
Under its terms, the Department of Transportation would adopt measurable goals in terms of commute time, pollution and noise reduction. They would constitute the core of annual performance measurements: the Department of Transportation would report twice a year to the mayor's office and the City Council on its traffic relief efforts and achievements. The updates would also be readily accessible on New York City's public website. The adoption of such good government practices for an urgent problem like congestion should be a standard practice of the city, an objective shared by Mayor Bloomberg in his PLANYC 2030 sustainability plan.
In addition to measuring progress on primary goals, collecting this information would give officials a better picture of the overall, helping us improve safety conditions for bikers and pedestrians by revealing weaknesses in traffic enforcement, or by telling us where to create protected bike lanes and adjust pedestrian crossing times.
CHANGES WE CAN BEGIN MAKING TODAY
Traffic relief must become a top priority for New York's sustainability and development. We already know many incremental changes that could be started on immediately, forming part of a strategy for long-term traffic relief:
• Better street design is key, especially as the city's senior citizens and the disabled are increasing; they will need improved street safety and access strategies.
• Larger, cleaner sidewalks with increased numbers of curb cuts are reasonable expectations for all our citizens, and have a direct impact on street safety.
• Encouraging office buildings to set aside space for bike parking, providing safe bike parking elsewhere, and creating and maintaining genuinely safe and dedicated bicycle lanes would doubtlessly foster bike riding.
Such measures should not be underestimated. While they will not alleviate the massive congestion that defines life at the city's core, they are achievable now, cost little, and will involve citizens where they live and work. They are a simple and practical way to engage the public, to make congestion issues an everyday concern. They can show the way toward a long-term, more comprehensive approach to congestion and the city's wellbeing.
Gale A. Brewer represents the Upper West Side in the City Council. Fabrice Aubert, a policy aide to the council member, assisted in writing this article.
Â