The Big Stories of 2002?
31 December 01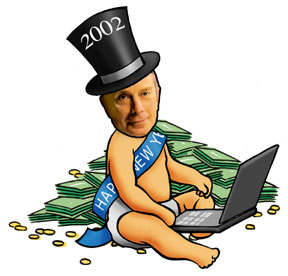 It's that time of year again, when the gossip columns are full of the bold-face names of the rich and famous answering the big questions for the New Year. Will Star Wars Episode Two break Harry Potter's record at the box office? Will Tom Cruise and Penelope Cruz get married and what last name will they choose? Is Rudy contemplating a run for the White House?
But the kind of questions that Gotham Gazette readers seem to be interested in are more along the lines of: will the rail freight tunnel ever be built under the Hudson river?
So we've compromised. We asked some bold-faced names and a few of our most reliable standard typefaces to predict the big stories of 2002 in New York City. It was difficult to prod anyone into saying anything other than "the economy," but we tried.
Tina Fey, anchor of Saturday Night Live's Weekend Update
More really, really cute babies will be born.
Valerie Harper, actress who played the quintessential New Yorker Rhoda on TV, and who actually lives here now
I know what I'd like it to be -- New York becoming unified in a way that it hasn't been in years.
Susan Sontag, writer and intellectual
It doesn't matter what I think.
Michael Bloomberg, 108th Mayor of New York City
The economy will be the major story of 2002. Clearly, 30-odd states are already running a deficit. So it's how the government deals with the recession and when the economy will come back. We1re going to have some tough budget times in this city, I don't think there's any question about that. Long term, the best is yet to come for New York City. There is no question in my mind. You pick one city with the cards to play, and this is the city. And I told Jet's owner Woody Johnson that I would support a West Side stadium if he would let me play quarterback for one game.
Elizabeth Kolbert, staff writer for the New Yorker magazine
The big stories will be the education of Michael Bloomberg, the fiscal crisis, the fight over what to build at the World Trade Center site, rising crime rates, and the consequences of the five-year welfare cutoff.
Thomas Von Essen, New York City Fire Commissioner
For the Fire Department, we will certainly have to rein in the money at a time when we need more of it for training.
Bertha Lewis, Executive Director of the New York Chapter of the Association of Community Organizations for Reform Now (ACORN)
The whole welfare reform situation with tens of thousands of families coming to the end of their benefits is going to be huge. And people who were working are going to have to come back on welfare. Job and wages and welfare and housing and education -- those are the big things. Who bears the brunt of the cuts? In the past, it has been the poorest neighborhoods and the people who are least able to afford it. That is the fight we1re going to see.
Iann Robinson, MTV News Correspondent
Can New York hold onto its title of "Tourism Capital of the World"? Plus the opening of Star Wars, Episode Two. And the Spiderman movie.
Marty Markowitz, Brooklyn Borough President
The most important story of 2002 will be how we do more with less in New York. How we meet the needs of our citizens with less revenue, and how we find creative ways to fund our institutions while rebounding economically.
Robert "Buzz" Paaswell, director of the City University of New York Institute of Urban Systems
The first and biggest headline is "Yankees Win World Series in Sweep; Dynasty Remains Intact! Reacquisition of Tino Martinez Key to Victory!"
The second, probably from the New York Times real estate page, is that developers agree to provide innovative cost-sharing for new subway construction - long term financing programs lessen need for traditional debt financing packages. Development opportunities at rebuilt or new stations are seen as "gold mines" and bring exciting new designs and land uses to lower Manhattan."
Mayor declares Broadway, from 23rd street to 72nd Street, an auto-free zone.
A group of local investors bring rail car manufacturing to the Bronx, creating a 100 percent U.S./NY owned company to compete in the manufacturing of cars for transit systems. This, the first major, locally owned manufacturing business to open in the city in many years, provides a major shot in the arm to local economy.
Mayor bullies the Department of Housing and Urban Development to provide low/moderate income housing credits to stimulate construction or rehabilitation of 10,000 new housing units in Northern Manhattan and the South Bronx. New housing serves to stimulate neighborhood growth and economic development, as well as provide much needed housing for those being driven out of five boroughs by high housing costs.
Peter Vallone, outgoing Speaker of the New York City Council
Does the federal government keep its commitment to the city?
Peter Vallone, Jr. incoming representative for Astoria in the New York City Council
In my district, it is definitely power plants. There are four there now, two have been approved, and three more are looking for approval. We already supply 50 percent of all the power for the entire city right now. Citywide, it will be economic recovery and public safety. But public safety now means crime AND security.
Adam Nagourney, political reporter for the New York Times
New York City reconstruction. The way the city deals with the fiscal crisis. And the biggest question of the year is can executive Michael Bloomberg rise to the occasion?
Eugene McGrath, chairman and CEO of Con Edison
The economy and how secure people feel over time.
Gene Russianoff, Straphangers Campaign
The V train will be a bust. V stands for Very Underused. The fares will not go up in 2002, but that does not mean there won't be a hearing by the end of the year to consider an increase for the year after. One sure thing -- there will be no new subway line letters in the New Year.
Brian Lehrer, radio host of WNYC's "On The Line."
President Bush will bestow a surprisingly large amount of September 11th recovery money on New York State, with Governor Pataki standing at his side, just in time for Pataki's re-election campaign kickoff.
The Andrew Cuomo and Carl McCall race will get ugly early. Cuomo, already in hot water with blacks and latinos for referring to a "racial contract" between Ferrer and McCall, will face increasing pressure to drop out.
Mayor Bloomberg will face the reality of governing New York City with the coalition of Giuliani supporters and Sharpton supporters that got him elected. The biggest pressure will come from the GOP, which will want him to act more Republican to get aid from Pataki and Bush.
Court TV will feast on a lawsuit by Larry Silverstein against his insurance company, after the company decides that the Sept. 11th incident was one attack on the complex (a $3.6 billion claim), not a separate attack on each tower ($7.2 billion).
Alan Hevesi and John Faso will square off in the state comptroller's race. No one except Gotham Gazette readers will notice.
###
Visit the Issue of the Week archives.
Tell us what you think about this issue. Write a letter to the editor.