9/11/02: Art And Culture
9 September 02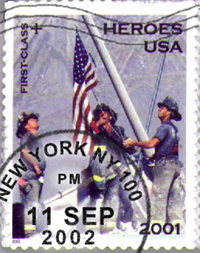 Last week when Governor George Pataki spoke at a union rally in lower Manhattan, he made sure to mention that he had just come from Madame Tussaud's Wax Museum in Times Square. The governor was deeply moved, he said, by the newly carved, life-like wax replicas of three firefighters hoisting the American flag at Ground Zero.
When the New York Times recently described "what good memorial art looks like" it did not point to any of the over 2,000 ideas that have been submitted for Ground Zero or even to a monument in Washington D.C. The Times instead singled out Chelsea Jeans, a clothing store on Broadway and Fulton Street that has preserved a window display of Ralph Lauren sweaters and Levi jeans covered with dust from the day the twin towers collapsed.
This is New York City one year after the terrorist attacks of September 11. Remembrances and commemorations have sprung up in nearly every neighborhood, industry, cultural institution, tourist site, and public place.
In fact, if one wished, it would be possible to spend every waking minute of the anniversary marking last year's terrorist attacks on the World Trade Center.
A New Yorker could stay up the night before at an all-night peace vigil in Washington Square Park, then go to an 8:00 a.m. "commemorative breakfast" at the Flushing Council on Culture and the Arts, followed by a white pine tree-planting ceremony in the South Bronx. After a stop at City University of New York's midtown campus for a conference on death and mourning, it would be possible to attend a noon-time "doll-making therapy" session at the Toy Museum in Brooklyn. In the afternoon, Buddhist monks on Staten Island will lead a meditation on 9/11. At sunset in Battery Park City, Mayor Michael Bloomberg will read from Franklin Delano Roosevelt's "Four Freedoms," leaving just enough time to make an evening concert by blues singer Joan Osborne at the Cathedral of St. John the Divine. Or one could just stay home to watch an ESPN documentary about how the New York Yankee players responded to the attacks on the twin towers.
September 11, 2002 -- as US News and World Report wrote -- "may well be the largest collective ceremony of remembrance in American history."
Why has this happened?
In New York City it could be in part an organized effort to continue what occurred spontaneously last year. The city lost 2,801 people, its two tallest buildings, over 150,000 jobs, and a sense of security in the terrorist attacks. Residents responded by creating spontaneous memorials and gathering together in public places to grieve, pray, create, and protest.
Public events and remembrances are an essential part of the recovery process. Many of the efforts - even by the media - are a genuine attempt to come to come to grips with trauma.
Still for some, these efforts -- for all of their good intentions -- ring hollow.
"To me, and to so many in Battery Park City, like the victims and survivors, the event is not over -- and the ceremonies will not help us," Marilyn Howard wrote on the Gotham Gazette message board. Instead Howard plans to mark the anniversary of September 11 by making it to work -- something she could not do last year -- and "sharing our day with friends and colleagues."
In addition, New York is also a world capital of media, publishing, and culture, which may help explain why there are hundreds of books, dozens of documentaries and films, and endless television coverage. Some argue that the media culture is driving the anniversary and that September 11 will eclipse other events like Pearl Harbor, the assassination of President John F. Kennedy, and the bombing in Oklahoma City in part because of the shear volume of information and media outlets in the city.
The phrase that September 11 "changed everything forever" became a kind of slogan for the nation, though there are some signs that the rest of the nation would like to move on. In a CNN poll, fewer than half of all Americans said they thought September 11 should be a national holiday like Memorial Day or Labor Day.
But the day remains a profound one for New Yorkers, its after-affects in the city still tangible:
(See Gotham Gazette's collection of articles that explore some of the ways daily life in the city has changed.)
But one of the clearest changes is in arts and culture.
Shortly after September 11, Mayor Rudolph Giuliani said going to a Broadway show was a patriotic duty. But if the list of events on the anniversary is overwhelming, the entire last year has been an outpouring of plays, photography exhibits, and museum exhibitions -- over 700 books alone! -- aimed at recording and perhaps making sense of what has been called "the most documented tragedy in the history of the human race."
TELEVISION
Sept. 11 Anniversary Coverage Highlights by Channel
Sept. 11 Anniversary Coverage Hour-by-Hour Schedule
On September 10, 2002, ESPN, the all sports cable network, will air a special on the passengers that overtook the hijackers aboard Flight 93 which crashed in Pennsylvania. Why would a sports channel focus on airline passengers? "The four men, whose selfless acts revealed extraordinary character, had strong sports connections," ESPN said in a press release. For example, one had been a star high school quarterback and another was a national collegiate judo champion.
But this unusual programming is not just for the anniversary.
September 11, 2001 was a television event for most of the world, and even for many New Yorkers. For the last year, television has struggled to make the medium fit the events and has made substantial changes to its programming.
Viewers have witnessed an unprecedented amount of news coverage. Audiences have revisited the events through dozens of documentaries and benefit concerts. The story lines and opening credits of comedies and dramas have been altered to reflect the new reality in New York and the nation. Even sports events and late-night talk shows have been affected.
Later this year, television producers will construct their own made-for-TV versions of the events with two TV movies about former Mayor Rudolph Giuliani. One will be based on the biography by Village Voice writer Wayne Barrett and feature veteran actor James Wood in the title role. The other, entitled "Rudy Giuliani: Emperor of the City," will be produced by the same film company that did bio movies on Jesus and Moses.
DOCUMENTARIES
The first documentary about September 11 was shot and shown on that very day. Video cameraman Evan Fairbanks was shooting a documentary about Trinity Church when the planes crashed into the towers right before his eyes, and his camera. Part of the 25-minute video was shown that very day on television by Peter Jennings, that night by Connie Chung, the following morning on Good Morning America and, by the end of the week, on Ricki Lake. Two months later, it was shown in its entirety as part of a museum exhibition at the New-York Historical Society, where a critic called it "a Zapruder film for our time."
But within months it was clear that this is one tragedy that, unlike the Kennedy assassination, was an event captured by many filmmakers.
Six months after the attack, the families of some of the victims expressed reservations about the broadcast of two separate documentaries about firefighters who had rushed to the rescue on September 11. One of them, "9/11," was a two-hour film made by two French brothers, Gedeon and Jules Naudet, who had been making a documentary about a firehouse that happened to be close to the World Trade Center and filmed 45 minutes of footage inside the north tower.
When CBS aired "9/11" it was watched by nearly 39 million viewers, the most watched non-sports broadcast of the season.
SONGS AND MUSIC
For a list of songs and audio clips
Songwriter Jack Hardy, whose brother Jeff died on September 11, wrote nine songs about the attack, even though he had no plans to record them. "It was impossible not to write about it," he has said. Two of Hardy's songs, along with pieces by Suzanne Vega and others from Hardy's songwriters collective the Greenwich Village Songwriters Exchange, were recorded and released in a benefit CD called Vigil. His song "Ground Zero" captures his guilt at being a survivor:
Down to ground zero / with a rust colored rose / trying hard to close / that door / what have I opened / what have I done / that I'm not the one / it's for.
Bruce Springsteen read obituaries about memorial service after memorial service where family members played his songs in tribute, and was moved to write an album's worth of songs about September 11. The Rising spent two weeks at number one in the charts, and songs like "You're Missing" and "Into the Fire," written from the perspective of a fireman's widow, led critics to call the Boss our "poet laureate of 9/11." In "You're Missing," Springsteen sings:
Coffee cups on the counter, jackets on the chair / Papers on the doorstep, but you're not there / Everything is everything / Everything is everything / But you're missing
Country singer Toby Keith wrote an angry fighting song, called "Courtesy of the Red, White & Blue (The Angry American.)," that has captured patriotic support, if not critical acclaim. At the last minute, ABC did not include Keith in the lineup for their Fourth of July special. After Keith said he was removed because the song was not positive enough, Oklahoma DJ Crash Poteet told his listeners to send their boots to Peter Jennings in protest. Outraged fans mailed 400 pairs. The song, addressing the unnamed enemy, celebrates revenge:
Soon as we could see clearly / Through our big black eye / Man we lit up your world / Like the Fourth of July
Last fall's tragic events have been written about in songs by artists in nearly every genre, from Sleater Kinney's punk rock "Far Away" to the Wu-Tang Clan's "Rules." Some are thoughtful, some are angry, some are prayers, and some, like Steve Earle's song in the voice of American Taliban fighter John Walker Lindh, try to understand the incomprehensible.
THEATER
For a list of theater performances
A month after September 11, the Flea Theater, located near the World Trade Center site was nearly broke. Then the theater produced "The Guys," based on journalist Anne Nelson's experience writing eulogies for a fire department captain who lost many of his men. The show, which the Los Angles Times hailed the play as "one of the first high-profile artistic conduits for a city's grief" not only brought the theater back economically, but set a precedent for productions based on personal accounts of the tragedy.
Playwright Bill Leavengood set his play about a tense encounter between a stock trader and a New Jersey shop owner from Saudi Arabia on the one-year anniversary. His one-act play, called "Steve," is now one of 50 works being performed as part of the series "Brave New World: American Theater Responds to 9/11." The production, called a "marathon" of pieces, includes plays by Eve Ensler, Christopher Durang and Neil LaBute, performed by Sarah Jessica Parker, Matthew Broderick, Harvey Keitel, and nearly a hundred other stars.
Many theater productions have served as fundraisers for relief efforts, local firehouses, 9/11 charities or as community building events.
Broadway theaters - which depend on long running shows and tourists - have faced their own challenges. For months, Broadway attendance was down despite calls from Mayor Giuliani for people to help the city by going to dinner and a show. The city gave Broadway a $2.5 million grant to stay afloat. A year later, ticket sales are back up, but given the sluggish economy and a drop in tourism many believe it will take years for sales to return to the pre-9/11 levels.
VISUAL ARTS AND PERFORMANCES
Artist Kevin Ryan's response to the World Trade Center attacks was concrete and immediate. Ryan photographed posters of the missing posted by families all over the city, and created a mosaic out of their portraits.
Painter Sarah Yuster, whose depiction of the pre-September 11 skyline had long been popular, particularly on Staten Island, returned to paint a firefighter and the post-disaster cityscape.
Others expressed their feeling more abstractly. "Grace," by Pietro Costa features a tower of concentric neon circles. Some of the thousands of pieces of paper at the base bear the names of those killed in the attacks, while others are blank and so represent the unknown number of homeless and undocumented victims of the tragedy.
Perhaps most strikingly though, is that much of the post September 11 art seeks to turn viewers into creators.
The week after the attacks, Margaret Kerr devised "September 11: In Ashes," an installation in the Heckscher Museum of Art in Huntington, New York, that asked visitors to use a gray ribbon to tie a personal message to a brick. Together the participants were building a memorial wall to commemorate the tragedy.
MUSEUM EXHIBITIONS
For a list of museum exhibitions
Two months after 9/11, Robert Macdonald, the former director of the Museum of the City of New York, was asked how long it would take for the museum to put together an exhibition on the terrorist attacks.
"The Smithsonian waited 35 years to present an exhibition of the Japanese internment," Macdonald said. "We are not going to wait 35 years to present the defining event in New York, but we are going to wait more than four or five months."
This is not how it turned out.
New Yorkers worked to make sure the events of September 11th would not be erased -- from their own memories, or from history. In the first weeks, color photocopies of the missing were plastered on bus shelters and lampposts. "Walls of prayers" and makeshift shrines and memorials sprang up throughout the city, many placed outside firehouses.
And these creative acts had a profound influence on New York City museums.
Photographs of many of these spontaneous displays are being presented in an exhibition entitled "Missing: Streetscape Of A City In Mourning" at the New-York Historical Society.
"Here is New York" a collection of images from amateur and professional photographers opened in SoHo on September 25. By December 24, the exhibit had sold more than 30,000 prints of photographs to raise money for relief efforts. Many of the best photographs from "Here Is New York" became part of a slide show in "Life of The City," at the Museum of Modern Art.
A year later, some 150 museums across the country are displaying 9/11 exhibits as part of a collaboration of participating in "Celebrate America's Freedoms: A Day of Remembrance."
The New York Historical Society is currently presenting seven exhibitions relating to the tragedy, including "In the Light of Memory," a painting of the 360 degree view that used to be visible from the top of the South Tower, "Pilgrimage," a photo essay documenting the faces of Ground Zero visitors in the weeks following the attacks, and "Twin Towers Remembered," a series of photographs of the World Trade Center taken over the last 31 years.
"We are not the World Trade Center museum, but we do feel there is a strong public need to connect to the evidence of this event," said Jan Ramirez, vice president of the New York City Historical Society.
With such shows, museums redefined what a museum exhibition means, erasing the line separating amateur from professional -- as if to say, "we are all in this together" (or, more pessimistically, "the professionals didn't know anything more than the rest of us") -- and rethinking the long-held belief that a museum exhibition takes years of preparation. It was almost as if New Yorkers reacted to the sudden destruction of something as "permanent" as the twin towers by seeing the city, and everything in it, as really just makeshift, temporary.
BOOKS
September 11 has spawned more books than any other single news event in history. Amazon.com lists nearly seven hundred 9/11-related titles in stock. Ingram Book Group, the country's largest book distributor, will release 150 new 9/11 books in the fall of 2002.
"It's definitely a high-water mark for the industry," said Charlotte Abbott, Book News Editor at Publishers Weekly. Abbott believes some publishing houses, many of which are located in New York City, are driven not just by sales, but by a sense of obligation. "I think they wanted to help in some way," she said. "It is only natural that publishers would respond."
A number of books related to 9/11 try to answer the overarching questions -- how and why the events occurred Ņand arrive at different conclusions. Richard Bernstein's Out of the Blue explains the 9/11 attacks in the context of the emergence of Islamist movements. Breakdown by Bill Gertz and The Cell co-authored by ABC journalist John Miller attribute Al Qaeda's success to massive intelligence failures. In 9-11, Noam Chomsky finds fault in the United States' foreign policy.
Communicating the event to children and young adults created an additional challenge for authors and publishers. The editors of The New York Times compiled a young reader's edition of the newspaper section "A Nation Challenged." A book called Fireboat: The Heroic Adventures of the John J. Harvey is aimed at a 9-year-old audience and recounts the story of the "the largest, fastest and shiniest fireboat of them all."
What makes the events of September 11 unique, argue book publishers, is that they touch on nearly every aspect of contemporary culture: politics, economics, art, science, and religion.
"No other has had so many tie-ins," says Nancy Stewart of Ingram Book Group told Publisher Weekly. "In a sense, it was a very comprehensive disaster."
OTHER LINKS AND RESOURCES
###
Visit the Issue of the Week archives.
Tell us what you think about this issue. Write a letter to the editor.