Asthma
14 May 01
by Kevin Strouse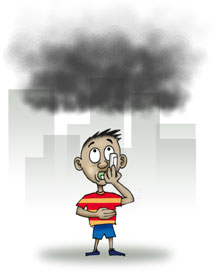 Many New Yorkers who have never before had allergies have been gasping for breath all month, thanks to what experts are calling the worst allergy season ever, with pollen counts, normally no higher than 90 particles per cubic meter of air, going up to 6,000. When the count is so high, it is like dust in the air, and everyone suffers, with scratchy throat and eyelids, runny nose, shortness of breath.
But for people like Ben Gaines, none of this is novel. Ben is 10 years old and suffers from asthma.
"It's scary to see him gasping because I know it can be fatal," says his mother Julie Gaines, a Battery Park resident, and owner of Fish's Eddy dishware stores in Manhattan. "And it's scary when he doesn't respond to medication."
Ben, who was diagnosed with asthma when he was nine months old, has been to the hospital many times in his life. His asthma attacks make him miss school days as well.
And even when Ben is healthy, he cannot act like other 10-year-olds.
"He can't participate in gym class, and he can't go to the playground. He has to sit in the principal's office," Gaines says. "He feels isolated, and he feels left out."
Despite Ben feelings, he is not alone. New York City has the worst asthma rate in the country. Over 500,000 New Yorkers have asthma, or an amazing six percent of the population. About 35,000 New Yorkers go to the hospital with asthma attacks each year. A disproportionate number of them are poor minority children. In the Hunts Point neighborhood of the Bronx, over thirty percent of the students have asthma. Over ten percent of city school children suffer from asthma--children fourteen and younger comprised 44 percent of admissions in 1997, though they only make up 20 percent of the city population.
The problem has gotten much worse over the last decade, in the entire country but especially in New York City. The number of asthmatics in the country has jumped 30 percent over the last decade. Yet, the hospitalization rate for asthma attacks in New York City is twice the national average, and in some areas, like East Harlem, the rate is nine times the national average. Overall, the hospitalization rates increased by 22 percent between 1988 and 1997.
"It's a health issue, a school issue, a housing issue, a legal issue," said Catherine Hughes, President and Founder of AsthmaMoms, a website that provides extensive information on asthma. A school issue because asthma is the leading cause of absenteeism in schools. A housing issue because conditions of homes (such as the presence of dust or cockroaches) can often exacerbate it. A legal issue because activists are suing the city and the state over their plans to build more power plants and bus depots in neighborhoods where asthma is the worst.
They are suing because, though asthma is a mystery -- no one can say with certainty why it is so bad in New York — one thing is clear: Pollution makes it worse.
BREATHLESS
Asthma is the leading chronic disease in children. In an asthma attack, the muscles around the bronchial tubes (the airways) become inflamed and produce excess mucus. The airways narrow and it becomes difficult to breathe. The feeling of an asthma attack has been described as similar to drowning.
Asthma works in the same way as allergies. While some people are predisposed to asthma attacks, what triggers asthma varies from person to person. Triggers include air pollution, pollen, allergens from animals and insects, mold, tobacco smoke and viral infections.
The National Institute of Health released a study that said cockroaches and their residue can cause attacks as well.
And stress is believed to cause some asthma attacks.
While most asthmatics can live normal lives, asthma can be debilitating, and even deadly. Schools Chancellor Richard Green was killed by an asthma attack in 1989, and former Police Commissioner Benjamin Ward almost died from an attack.
NO GRASP ON THE GASP
While there haVE been extensive studies done on asthma, "people don't really know why asthma is so bad in the city, said Louise Cohen, the Director of the New York City Department of Health's Childhood Asthma Initiative. "There are some guesses."
"Other illnesses are decreasing, but asthma is up," said Megan Charlop, an administrator for the Schools Health Program at Montefiore Hospital in the Bronx. "No one knows why."
According to one theory, people's immune systems have become weaker because people take potent medicines rather than allowing their immune system to kill a virus. This doesn't give the immune system an opportunity to develop properly, and as a result people's immune systems now react to the smallest irritants, like dust, which causes an asthma attack.
Environmental concerns also play a significant role. In areas like Hunts Point and Washington Heights, pollution from cars and trucks, especially diesel trucks, makes for poor air quality. Washington Heights has 200,000 vehicles travel trough the area every day, according to Miguel Martinez: "The residents cannot walk the streets during the heavy traffic hours,"
In Hunts Point, which has one of the highest asthma rates in the world, 60,000 diesel trucks travel through the neighborhood every month. Diesel fuel is particularly bad for air quality and can trigger asthma. The South Bronx handles about 40 percent of the city's garbage. The combination of the industry and the garbage leaves the air constantly polluted. "People tell me that they are dreading summer because they have to keep their windows open," said Megan Charlop. "There's so much industry, the toxic hazards, the smells and fumes. All of these things contribute to a debilitating health factor."
A study done by New York University environmental medicine professor George Thurston found that more people go to the hospital with asthma attacks on days that pollution rates are higher. Also, areas near airports and areas with high levels of truck exhaust tend to have higher asthma rates.
But air pollution cannot be the only reason for asthma. "As measurable pollution has gone down, the rate of hospitalizations has gone up. That is a worldwide trend," said Louise Cohen. "It's a conundrum."
A SELECTIVE SICKNESS
Asthma likes to pick on children, particularly minority children from low-income areas. The New York City Department of Health reported that children from low-income areas were four times more likely to be hospitalized for asthma than children from high-income areas. Between 1988 and 1997, the hospitalization rate for children under the age of 5 in low-income areas rose 63 percent.
East Harlem has the highest rate of asthma hospitalizations of children in the city, a whopping 28.8 children per 1,000. This rate is 19 times higher than the rate in Bayside-Little Neck in Queens, which at 1.5 hospitalizations has the lowest rate. Children in East Harlem are also about nine times more likely to be hospitalized than children in the rest of the US, and 12 times more likely to be hospitalized than children in the rest of New York.
There are many possible reasons for this. The poor tend to get substandard health care. Poor children often do not get or are not even aware of the inexpensive preventative medicine that is available, like spacers (inhalers). Many people are ignorant of the available treatments, so asthma is only treated when a child is taken to the emergency room. And a 1995 study showed that half the pharmacies in Harlem did not carry spacers, for reasons varying from ignorance to distribution problems. "Some pharmacies don't have what's necessary because they don't know, or they know and can't get it," said Megan Charlop.
Another mystery is whether there is higher rate of asthma in these areas, or just a higher rate of hospitalizations.
"That is a fabulous question, and one we're trying to answer," Louise Cohen said.
Because many homes in poor areas are older and not as well-maintained, asthma triggers such as "rampant vermin, cockroaches, and mold" can easily develop, said Cathy Breen, a home environment worker at the Little Sisters of the Assumption Family Health Service, which helps asthmatic families in East Harlem.
THE CITY'S RESPONSE; OR, A PARADOX
There has been some indication that the programs like the Childhood Asthma Initiative have been effective. Last August Mayor Giuliani announced that the hospitalization rate for children up to 14 years of age with asthma in New York City decreased by 27.4 percent, from 1997 to 1998, and Louise Cohen said that the rate has dropped 13.3 percent between 1997 and 1999. Decreases have occurred in all five boroughs, and in areas that have high rates of asthma, including Central and East Harlem, Willamsburg-Bushwick, and Fordham-Bronx Park.
Yet, while the Department of Health attacks the problem, the city's Department of Transportation and the New York State Power Authority may be making the air worse in areas with high rates of asthma. In Queens, a judge ruled that the construction of a mini-power plant in Long Island City must be halted because of environmental concerns. Opponents of the plant's construction said that it would add pollutants in the air that could spark an already increasing asthma rate. A Brooklyn judge later ruled that construction of all other power plants in the city could continue (this did not affect the Bronx power plant). Officials for the State Power Authority claimed that they were acting within the law, and said that with new technology the plants would be the "cleanest in New York City."
The city also plans to build a new bus depot for 133 buses at 110th and Lexington -- the center of East Harlem. This plan is "outrageous" said Cathy Breen, and will compound the asthma problem in the East Harlem. Building the depot has affected the environment, as the city had to put up a "big containment tent because of the diesel fumes," said Breen. The Metropolitan Transport Authority has been sued in federal court over the placement of these depots.
Organizations like the Little Sisters of the Assumption Family have sprung up all over the city to inform and help people and families with asthma. In Hunts Point, the Department of Health established a Hunts Point Childhood Health Initiative, which is primarily run by residents and paid for by money attained in a lawsuit against New York Organic Fertilizer Co., which creates much of the pollution in the area. Social workers go to people's homes and teach them how to manage asthma.
While most New Yorkers this season may be especially sympathetic to asthma-sufferers this season, having breathing problems of their own suddenly, there is at least one person with asthma who is welcoming this pollen-laden season. Ten-year-old Ben Gaines only has asthma during the winter. "The summer's great for Benjamin," his mother says. "I've got four months of asthma free life ahead of me." While some suffer during the summer, some only during the winter, some year-round, is just another one of the mysteries of asthma.
Links:
###
Visit the Issue of the Week archives.
Tell us what you think about this issue. Write a letter to the editor.