Public Toilets
15 July 01
by Rebecca Webber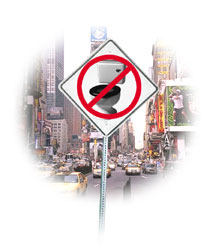 The problem has endured in New York City for more than a century. In 1898, the very first pamphlet by the then-new good government group Citizens Union decried the city's lack of public toilets.
It has even been chronicled in literature. "I know that I am in distress when I walk the streets of New York. Wondering constantly where the next stop will be and if I can hold out that long," Henry Miller wrote in "Black Spring" in the 1930's.
As late as last year, a survey of city residents sponsored by the City Council found that the lack of public toilets was a common complaint, and made the city less livable.
Yet, though now across the globe, more than 600 cities have automatic public toilets -- Singapore alone has 750, London 678, and Athens 500 -- New York City is still "in the planning stages."
Why this is so is an odd tale that involves not just neglect and indifference, finger-pointing and passing the buck, but fear, philosophical conflicts, and, believe it or not, competing struggles for the rights of the oppressed. It is, in other words, a very New York story.
GOOD INTENTIONS GONE BAD
It would be unfair to give the impression that the situation was always as bad as it is now. In the early 1900s, the city accepted the need for public toilets in parks. Robert Moses opened 145 in 1934 alone. The subway system also offered accessible restrooms. By 1940, subway stations offered 1,676 public toilets that were inspected weekly.
But in the middle of the twentieth century, the state of the city's toilets plummeted, because of vandalism and neglect. Currently, about 1,100 comfort stations are available in the city's 1,500 parks, according to the Parks Department. In the city's 468 subway stations, only 78 restrooms remain available to the public.
Many Europeans cities have been able in the past decades to take advantage of advancing technology to place, safe, self-washing state-of-the-art facilities in prominent locations. New York City has been unable to do so.
Part of the reason is outright opposition.
New York State outlawed pay toilets in 1975 in response to the charge that such facilities discriminated against women. Women always needed a stall, while men could make do without, opponents argued. The city won an exemption to the state law in 1993, a few years after a group of homeless people brought a class-action lawsuit. "The fact that I can't find anyplace to relieve myself in New York causes me lots of problems and pain," testified one homeless man. "I have never been able to find bathrooms in the subways. They are always locked and unavailable. The bathrooms in the parks are in terrible condition and dangerous."
The city proceeded with plans for automatic toilets, starting with a pilot program of six. The toilets were well-received in some quarters. But again, they were held up amid accusations of discrimination. This time, the victims were said to be the disabled. The plan to install some toilets that were handicapped-accessible and some that were not violated the Americans with Disabilities Act. Toilet makers responded by shrinking the size of the toilets, while keeping them handicapped-accessible.
But the opposition is not just among organized communities, but in actual physical communities. In Holliswood, Queens, a group of residents blocked the construction of a two-toilet comfort station in a local playground. They feared it would fall into disrepair and would attract child molesters, vagrants and other undesirables.
In May of 2000, another community board voted against a $350,000 comfort station for Utopia playground in Fresh Meadows.
GIULIANI'S FIZZLED PLAN
When Mayor Rudy Giuliani came into office, public toilets were one issue he had a strong interest in, according to former Deputy Mayor Fran Reiter, who spearheaded the plans for the administration.
By March 1997, when Reiter left the administration, the plan "was well under way," she says. "We had reached an agreement with the City Council for my program." The plan was to contract for 20 years with a company that would provide all the "street furniture," including 430 newsstands and 3,300 bus shelters along with 30 toilets. The company would sell advertising on all of the furniture (not just the toilets), in order to help subsidize toilet creation, installation and maintenance.
But then abruptly, Reiter says, "the plan was pulled. The administration decided to look at other approaches." There was concern that contract was just too big to go all to one company. Such a monopoly-making approach made Mayor Giuliani squeamish. The talk changed to awarding at least five contracts, one for each borough.
"Ideally you would try to do it with more than one supplier," admits Reiter. "The problem was that advertising in the major population centers, Manhattan and downtown Brooklyn to some extent, subsidized the rest of the city. That's why we felt a borough-wide approach wouldn't work. Queens has mostly residential areas so you couldn't be self supporting in Queens."
The mayor scrapped the plan in June 1998 saying the city would prefer to "encourage competition and greater design variation."
VALLONE'S FIZZLED PLAN
Shortly thereafter, City Council speaker Peter Vallone vacationed in Athens and learned that 500 public toilets were available for his use. He returned to New York with photos of the Athenian toilets and a plan to adorn the city with similar structures. The City Council found 5 million dollars in the budget to build between 50 and 100 public toilets.
"The administration never did anything with it," said Jordan Barowitz, City Council spokesman. "They said they were waiting for a plan from the council on how to do it. We were totally miffed because that's not what we do. The administration has never acted upon it, and so the money just sits unspent and it is tremendously frustrating."
One of the companies that submitted a plan when the city requested proposals was J.C. DeCaux, a company responsible for many of the public toilets found in Europe, as well as those in San Francisco. The company submitted about 140 models and a plan that would cost the city nothing, before the city announced that it would start the process over. Some interpreted this as the administration's lack of real interest in bringing public toilets to the streets.
THE PRIVATE SECTOR, PART I
In response to the government's failure to address the city's need, earlier this year, the 34th Street Partnership, a Manhattan business improvement district, installed two automatic public toilets, in Greeley and Herald Squares. As with the toilets in San Francisco, users pay 25 cents for a maximum of 20 minutes and the toilets clean and disinfect themselves after each use.
Such facilities are not without hazards. "Travelers may think they can use the toilets for free, by sneaking in as someone else leaves," cautions one travel guide, "Don't do this! If you don't pay, the toilet thinks it is empty and will clean itself while you are in there" Still, they service about 750 customers each week.
The partnership shouldered some of the cost since advertising on the toilets and coin revenue do not cover operating and capital costs. "It's not the model exactly the advertising companies had in mind when they made that proposal earlier, but we think it's an important step," said Dan Biederman, president of the 34th Street Partnership. "It shows that with some effort they can be made to work, as the test the city did previously also showed."
But neither the city nor any of the other 40 business improvement districts have followed the 34th Street Partnership's lead yet. With 1.5 million people passing through each day, Times Square would seem an apt location for automatic public toilets, but there are no such plans.
"We haven't been able to find the sidewalk space that could be sacrificed," said Brendan Saxton, president of the Times Square Business Improvement District. "Our sidewalks are so congested and sidewalk space is at such a premium. We haven't found good spots on the sidewalks although we're still looking."
Saxton's group instead makes restrooms available in its tourist center and has been involved with negotiations for new buildings in Times Square. As part of the deal for buildings for Arthur Anderson (on the Times Square Brewery site) and Ernst & Young (corner of 7th Avenue and 42nd Street), attended public restrooms will be available in the subway station below the building.
"They will build public restrooms that will be clean, available to the public and supervised 16 to 18 hours a day," said Sexton. "We made restrooms one of the amenities that was part of the deal. We are trying to promote additional public restrooms wherever we can."
Sexton sees less of a need for public toilets than a decade ago. "I think that as the city has relaxed, we've all become less paranoid and more welcoming of the basic human requirements. It's not an issue the way it used to be." Still, he recognizes that the need arises with regularity and should be addressed. "If you're a host city for millions of people you have to be a good host. You can't invite all these people to the city and leave them standing out on the street."
THE PRIVATE SECTOR, PART II
As the city continues to struggle with the lack of public toilets, Web entrepreneurs have stepped in to help.
A cottage industry disseminates the locations of restrooms in New York City. Internet guides include The Bathroom Diaries, a guide to bathrooms around the world, as well as in New York.
One company, Rovenet Inc., created a program for palm-type computers that can be used anytime and anywhere. The user types in his location and the program lists nearby public restrooms, along with a rating for each.
SAN FRANCISCO'S SUCCESS STORY
Some who wished to defend New York could point out that few American cities have the public facilities that are so common in Europe -- that perhaps, public toilets in some way offend American sensibilities, or provoke worry that they will attract the undesirable.
Of course, New York is more similar to European cities in the way it encourages both residents and visitors to walk around and hang out in public spaces. In any case, this argument only could have been made up to five years ago. That is when San Francisco began its street toilet program. The 24 available toilets average 80 uses per day, offering 20 minutes of toilet time for 25 cents (20 minutes was recommended by the mayor's task force for the handicapped.) The coin revenue does not begin to pay for the $200,000 cost of the toilet, or for its daily maintenance. To cover those costs, the company sells advertising on cylindrical kiosks erected in high traffic areas.
"In the beginning, there were a lot of reservations about advertising and the size of the kiosks," said Jake Szeto, Project Manager of the Automatic Public Toilet and Public Kiosk Program at the San Francisco Department of Public Works. "But it is a success. Otherwise the city wouldn't have expanded the program."
The toilets have been placed along the waterfront, at Fisherman's Wharf, and in low-rent areas. Maintenance workers visit daily to restock paper and soap and there have been only a few complaints.
"Maintenance is not a big issue, vandalism is not a big issue," Szeto says. "The complaint is that some of the toilets are being used for illegal activities -- drug use, prostitution, that kind of stuff -- generally in areas where those activities are already a problem." As in Queens, there is also an aversion in individual neighborhoods. "Everyone thought the toilet is a great idea, but put it in someone else's front yard," said Szeto.
CAN DO
Still, other American cities have become enthusiastic about public toilets, after observing San Francisco's success. Boston has already approved plans for new toilets while both Los Angeles and Chicago are welcoming proposals.
New York is apparently waiting for its next mayor. A plan for public restrooms could finally put the century-old complaint to rest.
###
Visit the Issue of the Week archives.
Tell us what you think about this issue. Write a letter to the editor.