WHAT IS THE CITY'S FISCAL CRISIS AND WHO IS TO BLAME?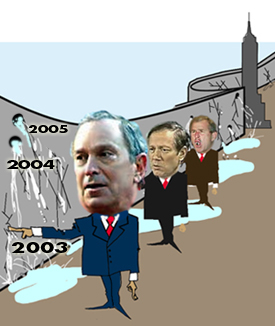 Between now and next July, when the fiscal year ends, the city's expenses will be about $1 billion more than the taxes it raises. Next year, expenses are expected to be $5 billion more than revenues.
Most agree that the city's current fiscal woes have a number of causes: the national economy, the terrorist attacks of September 11, poor decision making in Albany, and shortsighted planning by the previous administration.
Blame The National Economy and 9/11
The city's recession, which began roughly a year and half ago, according a report from the city comptroller's office, has mirrored the national recession, except it is worse.
"We have been especially hard hit by the downturn in the financial markets because our economy and tax revenues remain highly dependent on these markets," said city Comptroller Bill Thompson.
The events of September 11, 2001 also added to the city's fiscal woes. The city lost roughly 150,000 jobs after the attacks. The mayor's office has estimated that the total loss of tax revenue from the attack -- from lost taxes on property, income, and sales -- will amount to $750 million in 2002 and $1.3 billion in 2003.
Blame Albany
The governor and state legislature have deprived New York City of some $2 billion in lost revenue in recent years, according to a report by the Center for an Urban Future.
"It's a combination of everyone in Albany: the governor, the legislature, the Republicans, the Democrats," said Jonathan Bowles, one of the authors of the study. "Basically Albany has shafted New York City and is partly responsible for the city's budget situation." (Read his article Ten Things Albany Denied the City.)
The trend of Albany not helping the city continued after September 11, when the state budget included no significant aid for the rebuilding efforts. This is in sharp contrast, some argue, to how the California State Legislature responded after the earthquake of 1989 in San Francisco when it enacted a temporary state sales tax to raise nearly $1 billion for disaster relief.
Blame Giuliani
During the boom years of the 1990's, the size of government and the number of people on the city payroll grew. At the same time, Mayor Giuliani and the City Council gave out roughly $2 billion in tax cuts. By the last year of Giuliani's term in office, the economy had slowed and the budget surpluses of previous years were gone.
"People often forget that the city had a $2.5 billion shortfall before September 11 ever happened," said Doug Turetsky of the Independent Budget Office. Rather than using the budget surpluses to pay down the debt, he argues, Giuliani made the minimum payments, pushing the city's problems ahead into the future.
###
Visit the Issue of the Week archives.
Tell us what you think about this issue. Write a letter to the editor.