WHAT TAXES AND FEES CAN BE RAISED?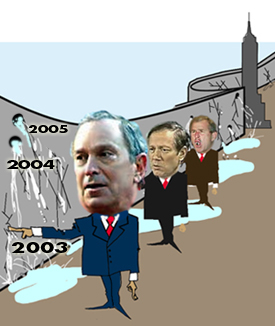 The debate over whether or not taxes should be raised often takes on predictable reasoning.
Proponents of tax increases argue that citizens are willing to pay for quality city services, especially schools. They also argue that severe cuts to city services make the city dirtier, more dangerous, and a less desirable place to live. (Read the article "Consider Tax Hikes" by James Wetzler, who served as the New York State Commissioner of Taxation and Finance.)
On the other side, opponents argue that new taxes discourage business, hurt the economy, and drive people out of the city. (Read the article "Don't Tell New Yorkers To Take A Tax Hike" by Councilmember James Oddo.)
However, with the city now facing such a huge deficit, the issue of new taxes may not be a matter of if they are good or bad for the city, but which ones will be least painful.
"At least two principals should guide our consideration of potential tax increases: fairness and long-term competitiveness," wrote Ronnie Lowenstein of the Independent Budget office in a recent New York Times editorial. "Carefully choosing among possible tax increases can minimize the damage to the city's economy."
Property Taxes
The property tax, which accounts for about 40 percent of all city tax revenues, is the only tax that the mayor and City Council can raise without Albany's approval.
The mayor has proposed a tax increase of up to 25 percent next year. An increase of that size would add roughly $475 to the average single family homeowner's tax bill. Such increases, if adopted by January, would generate an additional $1.2 billion for the fiscal year ending June 30, and approximately $2.5 billion for the following fiscal year.
Under New York State law, property is divided into four categories. Owners of one-to-three family homes pay the least tax, less than a third of what the owner of a similar house on Long Island would pay. Owners of co-ops, condominiums, rental or other commercial property pay more. However, changing this formula to be more equitable would require state approval.
Under the law, owners of rental properties would probably pass any increase on to tenants.
"It will translate directly into rent increases," Michael McKee, associate director of New York State Tenants said. (Read Gotham Gazette's Housing Topic Page on Property Tax and Rents.)Even tenants of rent-regulated buildings would be affected because taxes are one of the factors the Rent Guidelines Board considers in setting rents.
The Real Estate Board of New York, which rarely agrees with the tenants group, also opposes a large property tax increase.
"A vast real property tax would, in our view, be a very bad thing for the city," said Warren Wechsler of the board. "Businesses would pack up and go, and residents would pack up and go, and there would be fewer people paying the freight."
Whatever its negative effects, if the state rejects other revenue measures, the mayor and City Council may have little choice but to turn to the property tax. The City Council - which has proposed increases in nearly every other area except for the property tax - is the reluctant partner on this issue. Unlike the mayor, the members of the council are up for re-election in 2003 and taxing homeowners is a big political risk.
"I couldn't imagine the council doing a significant property tax increase," said City Councilmember David Weprin, chair of the Finance Committee.
Commuter Tax
One idea for solving New York City's budget woes is to look to the suburbs -- by bringing back the commuter tax that was repealed in 1999. The commuter tax would bring an estimated $400 to $500 million in revenue.
Proponents of the commuter tax, like Glenn Pasanen, argue that it is an issue of fairness. (Read Pasanen's story Bringing Back the Commuter Tax.) "New York City is the economic engine of the entire metropolitan region, and it seems reasonable for the beneficiaries of the engine to pay for some of the fuel," he writes.
E.J. McMahon of the Manhattan Institute counters that the commuter tax and "the notion that non-resident workers are a bunch of well-paid freeloaders" should be a thing of the past. If the city wants to recover, he says, it can not afford to give workers and their companies one more reason to leave the city. (Read his story The Tax Whose Time Has Gone.) "In this shaky economy, the city desperately needs to attract and retain more commuters -- a goal that will not be served by slapping them with what amounts to a wage toll," writes McMahon.
The New York City Council is calling on Albany to bring back the tax this year. Council Speaker Gifford Miller says Democratic Assembly Leader Sheldon Silver -- who voted to repeal the tax in 1999 -- agrees.
However, Governor George Pataki and Republican State Senate Leader Joe Bruno have said that the commuter tax is not an option. With two of the three decision makers in Albany against the idea, most agree that the chances of it being reinstated -- at least anytime soon -- are slim.
East River Bridge Tolls
Given the seriousness of the fiscal crisis, the idea of charging drivers to go across the Brooklyn, Manhattan, Williamsburg and Queensboro bridges has gained steam. The Independent Budget Office anticipates that instituting a seven-dollar roundtrip toll - equal to the existing toll on the Brooklyn-Battery and Queens-Midtown tunnels - would generate about $320 million a year. Other estimates put it as high as $800 million a year.
Mayor Bloomberg first raised the idea of a bridge fee last February. This fall, the mayor floated it again and was rebuffed by Governor George Pataki, who was in the middle of his re-election campaign. But if the city really wanted to add tolls, the governor might not be able to prevent it because the city owns the bridges.
However, many Brooklyn and Queens politicians also oppose tolls, not surprisingly given that an estimated three-quarters of people crossing the bridges into Manhattan live in those two boroughs.
"Tolls would constitute an unfair new tax on Brooklynites, while Manhattan residents would get off nearly scot-free," said Brooklyn Borough President Marty Markowitz.
Proponents argue there are other benefits like discouraging automobile traffic, thereby reducing congestion and pollution.
Critics argue that East River tolls would cause more trouble than they are worth, because the bridges were not designed with toll plazas in mind. However, new technology could alleviate some problems and charge cars without even slowing them down; a camera would photograph the license plate of cars and bill them, the New York Times reported.
Personal Income Taxes
Last year, the New York City Council proposed a personal income tax surcharge to raise $400 million for education. Under the plan, most New Yorkers -- who make less than $80,000 annually -- would pay less than $100 a year.
The mayor rejected the idea, but the council is looking at it again as a way to protect education funding.
In the past, the city has used the personal income tax to tackle serious problems. During the Dinkins administration, when city crime was high, the city levied a specific tax on individual income in order to hire more police.
One advantage of the personal income tax is that it can be tied to income levels, increasing taxes on higher-income New Yorkers who are best able to pay.
On the other hand, the wealthy often have more ways of getting out of taxes. "Many of New York's highest income residents are particularly mobile, and could continue to work in the city but avoid city personal income taxes by residing elsewhere," wrote Ronnie Lowenstein of the Independent Budget Office in a recent New York Times editorial.
Subway Fare Increase
The Metropolitan Transit Authority is having its own budget crisis: it is expected to have a $663 million deficit.
In response, the authority is looking for ways to reduce expenses and may raise subway and bus fares from $1.50 to $2 per ride. "We have always said, and will continue to say, fare increases are a last resort," said MTA budget director Gary Caplan. Subway and bus fares were last raised in 1995, by 25 cents.
"Raising the fare is a political hot potato, but it's also wrong," writes Roger Toussaint, president of the Transport Workers Union, Local 100, who argues that the state government, not riders or workers, need to pay more of the bill. (Read his editorial.) "We need to recognize that mass transit is a public good, like education and policing, and, like those services, it cannot be expected to 'pay its own way.'"
The Straphangers Campaign, which is gathering petitions and organizing against a fare increase, has an online message board where New Yorkers can vent. "If the fare goes up again before 2004, I will buy an unlimited card, stand at the turnstile and swipe everyone in for free every 18 minutes," wrote one New Yorker.
An increase in subway fares would not necessarily help the city's budget. Currently the city subsidizes the subways with about $500 million a year. Only if the city rescinded its payment as part of a fare increase agreement would it help alleviate the city's fiscal burden.
Mayor Bloomberg has hinted that this may be part of his plan. "We cannot go on having a deficit that is unfunded or the city subsidizing something it doesn't have money to pay for," he said.
Other Tax Options
While much of the attention is placed on individual taxpayers, some budget watchdogs like Bonnie Brower of City Project, argue that the city's business taxes need to be reformed and raised.
Insurance companies based in New York City, for example, are exempt from city taxes. That cost New York $191 million in 2000. Another corporate tax that is seen as out of date is the minimum corporate tax fee, which was set in 1966 at $300.
"Over 125,000 corporations are paying that $300 minimum tax," said Brower. "Could some of them pay more? I suspect so. Could that figure be adjusted for growth, inflation, and perhaps indexed for the future? I think probably yes."
Next Page | Can The City Be More Efficient
###
Visit the Issue of the Week archives.
Tell us what you think about this issue. Write a letter to the editor.