CAN THE CITY BE MORE EFFICIENT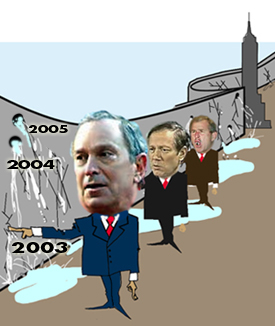 "Before the mayor and City Council raise taxes or reduce services, they need to explain what steps they are taking to make government more efficient," wrote Diana Fortuna of the Citizens Budget Commission in a recent New York Times editorial.
Those in favor of more productivity cite several ways the city can save money, such as:
Replacing paperwork with online forms.
Scheduling police and fire department shifts so the departments do not accrue as much overtime.
Using more civilians to do the desk duties of uniformed service positions.
Some also believe that municipal workers should have to pay a portion of their health care premiums (the city currently pays 100 percent of comprehensive health coverage for its workers and their families) which would save more than $500 million. (Read the article Avoiding the Next Crisis by Marcia Van Wagner of the Citizens Budget Commission.)
While government can always be made more efficient, there are often obstacles to implementing them.
First, it can take time for the city to realize savings. Second, some efforts like more computerization requires up-front money that the city does not have. And as often is the case with issues involving unions and contracts, the details can produce bitter political battles.
Even Mayor Bloomberg, who has repeatedly urged the city to "do more with less" seems to think there is only so much that can be done. The mayor recently said that he had found relatively little waste or corruption in city government.
Next Page | What's The Bottom Line?
###
Visit the Issue of the Week archives.
Tell us what you think about this issue. Write a letter to the editor.