Guide For The Last Minute Voter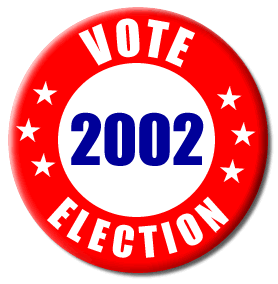 4 November 02
Alfonso Mendez, a 38-year-old contractor from Sunset Park Brooklyn, has not yet decided who he will vote for in the race for governor on November 5. He has seen plenty of television advertisements, but he has not heard talk about the issue he is currently most concerned about: a proposal to put tolls on East River bridges.
"I heard a couple of weeks ago that the mayor wants to charge to go over the Brooklyn Bridge," said Mendez, who drives into Manhattan more than a dozen times a week. "It's getting hard to run a business in the city with all of the taxes and tolls."
Mendez does not know what the candidates for governor have to say about the issue and even if he did, he says, he isn't sure he would believe them.
Mendez's ambivalence is understandable.
While the three front runners in the race for governor have spent an average of $1.4 million a day on television ads in the last few weeks in the most expensive nonpresidential race in U.S. history, the candidates have only debated issues like education, transportation and taxes once on New York City television. (Read Walter Cronkite on why television stations should give free air time to candidates).
Mendez knows nothing about most of the races. However, he did get flyers for a special election for City Council in his district, which is the only race for City Council this fall. Earlier this year, the former council member Angel Rodriguez resigned after being charged with bribery.
"I know that that the council member was arrested," said Mendez. "And I have seen people campaigning at the subway station. But I don't really know what they stand for."
Many New Yorkers have not been paying attention to the election to know who will be on their ballot on November 5. And New Yorkers will be asked to vote "yes" or "no" on a ballot question about mayoral succession that even the most attentive voter will find confusing.
For those who are still looking for some help, we offer the following guide.
Governor
Most New Yorkers with a television have probably seen advertisements from Republican George Pataki, Democrat H. Carl McCall, and Independence candidate Thomas Golisano, who are running for governor. However, there are other candidates running who don't have millions to spend on commercials.
Green candidate Stanley Aronowitz, Libertarian Scott Jeffrey, Marijuana Reform candidate Tom Leighton, and Right-to-Life candidate Gerard Cronin will appear on the ballot on November 5. (To find out what all candidates say about the issues, read a transcript of a recent debate).
And even Andrew Cuomo, who dropped out of the race before the Democratic primary, will still appear on the Liberal Party line even though he is no longer running.
Other Statewide Races
When voters choose a candidate for governor, they will automatically choose a lieutenant governor who is nominated by each party. New Yorkers will also be asked to vote for New York State comptroller, the chief financial officer for the state, and New York State Attorney General, the chief legal officer for the state.
Ballot Proposal
Voters will also be asked to vote on one ballot question that calls for a special election in 60 days if the mayor were to leave office. It would also alter the power of the Public Advocate, who would no longer oversee the proceedings of City Council meetings. (Read the article on the ballot proposal for more information).
State Legislature
To find out who is running in your local State Assembly or State Senate District, go to Gotham Gazette's Eye on Albany and use the "What's My District" address finder in the right hand column.
Type in your street address and zip code in the box and you will be taken to a page listing your State Senate and State Assembly districts - click on either to find out about the candidates in your district, the issues, and the incumbent's record. You can also check out other districts in your borough by clicking on the borough tabs at the top of the page.
City Council
For those who live in the Southeast Brooklyn neighborhoods of Park Slope, Red Hook and Sunset Park, there is a City Council race to fill the district 38 seat of Angel Rodriguez, who resigned from office after being indicted on bribery charges. (For coverage and a transcript of a debate see district 38 on Searchlight).
In recent weeks, New York City's fiscal crisis has become more tangible. Mayor Michael Bloomberg has cut city employees, is proposing tolls on the East River bridges, warning that subway fares may go up to two dollars per ride, and calling for new taxes.
However, during the campaign, many of the candidates for governor and state legislature have tried to be more optimistic about the state of the city. But they will face the reality of these problems soon after election day.
Significant funding for many city services, including 40 percent of the education budget, comes from the state. Albany also has significant influence over the subways and bridges. The State Legislature must also approve all new tax increases in the city, with the exception of property taxes.
At the same time, the New York State government is notorious for not getting things accomplished.
Last year, the budget was seven months late. Reform of New York's Rockefeller drug laws is stalled. Albany even failed to adopt new drunk driving laws that both Republicans and Democrats agree on, costing the state $30 million in federal funding. (For more, read Ten Things Lawmakers Denied The City)
"Things take longer and are more difficult to accomplish than in just about any other state," Republican State Senator James Lack told the New York Times, as part of a three-part series on Albany's chronic case of gridlock.
This year, members of the State Legislature may have a chance to vote on critical issues facing the city, including education funding, rent control, civil rights legislation, and the minimum wage. (Read Blame Albany for more on state's role on city issues.)
WHAT ARE THE CANDIDATES SAYING?
Even attentive voters who do take the time to research the candidates may find it difficult to tell them apart.
For example when the candidates for governor were asked about the state's $8 billion deficit, Republican George Pataki and Independence candidate Tom Galisano pledged not to raise taxes next year, while Democratic candidate H. Carl McCall said the state must "grow" its way out of financial trouble. All of the candidates agreed that the Rockefeller Drug Laws should be reformed. None of the candidates said they wanted to raise subway fares, but none would rule it out.
And the candidates - even George Pataki, who receives blame for much of the gridlock - are calling for reforms in how Albany works.
Likewise, in many of the races for State Legislature, the Republican and Democratic candidates agree on many of the same issues like education, housing, and public safety, but argue that their party affiliation is the key to getting things done.
Democrats running for a seat in the Democratic controlled Assembly say they can work with the leadership to get more done for their districts. Republicans running for the Republican controlled Senate argue the same thing. Those running in opposition to the majority say their voice is needed to shake up the legislative bodies.
To learn more about the candidates, several news web sites like WNYC, The New York Times, and Newsday have election guides.
Civic groups like the League of Women Voters, Common Cause, and Citizens Union also issue voter guides to help citizens learn more.
Catch up with all of the campaign news with Eye on Albany's Campaign Trail which has archived stories from all of New York City's major newspapers, as well as the Albany Times Union and various community newspapers.
Over the last 20 years in New York, 98 percent of incumbent state legislators have won their reelection campaigns. However, this year - thanks to redistricting and some big spending challengers - there are a few results that are not pre-ordained.
In Queens' Assembly District 26 Republican challenger John Ottulich is trying to unseat Democratic incumbent Ann Margaret Corrozza.
In Manhattan's Assembly District 73 three new-comers - Democrat Jonathan Bing, Republican Gail Hilson, and Working Families candidate Kirk Swanson - are trying to leverage their community involvement and experience to win a seat without an incumbent.
In the Upper East Side Senate race in district 26, Republican Andrew Eristoff is challenging Democratic State Senator Liz Krueger. Krueger has only been in office less than a year after winning a special election last February in the historically Republican district.
In Brooklyn's Senate District 22, Republican Martin Golden, a long time City Council member, is challenging incumbent Democratic State Senator Vincent Gentile. Both candidates are fairly well known in Brooklyn and the local papers have devoted considerable attention to the race.
Registered voters should have received a post card in the mail with the address of their polling place. If you did not, you can also call the Board of Elections at 212 VOTE-NYC (9 a.m. to 5 p.m. Monday to Friday to get a real person; and automated system operates 24 hours a day), try the board's poll site locator web site, or e-mail them at [email protected] with your complete address.
WHAT IF I ENCOUNTER PROBLEMS AT THE POLLS?
A close race exposes the problems in the city's voting systems. In 2000, the race for Upper East Side Senate seat took longer to decide than the presidential recount.
In the September primary race for State Senate in district 32 it took nearly three weeks of legal disputes and ballot counting before a State Supreme Court judge ruled that Ruben Diaz, Sr. had defeated incumbent, Pedro Espada Jr. by 97 votes.
If you have problems at your polling site on Election Day, call the New York Public Interest Research Group Voter Help Line 212-822-0282 to register your complaint. They will have both Spanish and English speaking operators. They are also asking New Yorkers to fill out a one page survey to gather information about how they were treated at their polling sites. You can download the survey on their web site.
The television stations will cover the big races for governor, comptroller, and attorney general and even some state legislative races. But there are some results - like the judicial races - that are more difficult to find. Visit Gotham Gazette's Results Page on election night and the following days. Remember, a close race can take days or weeks to decide.
###
Visit the Issue of the Week archives.
Tell us what you think about this issue. Write a letter to the editor.