Virtual Tour Of The Chosen Design
---
11. SKYLINE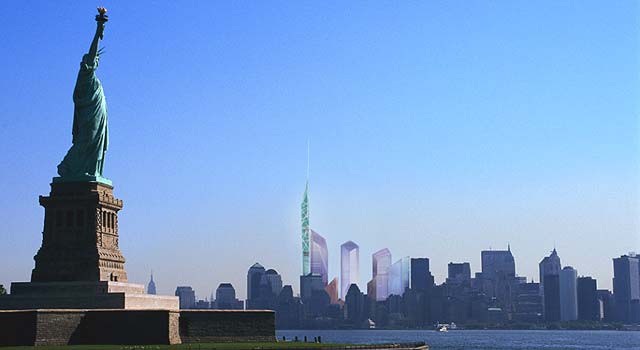 Libeskind told the crowd at his presentation that the spiraling form of the Statue of Liberty inspired his design for the World Trade Center site. As a teenager, the Polish-born Libeskind immigrated to New York City by ship, and was struck by the sight of the statue and the city's skyline. Libeskind grew up in the Bronx, and studied architecture at Cooper Union. He became world-reknown for his moving design for the Jewish Museum in Berlin, which opened in 2001. To ensure that the Jewish Museum was built according to his vision, Libeskind moved to Berlin and spent over a decade overseeing the process. Many have predicted that he will face an even more difficult struggle to build his vision for Ground Zero. This remains to be seen, but history has already begun to repeat itself. Libeskind and his family are moving to New York City in May.


---
PREVIOUS PAGE: The Landscape Design
START OVER: Tall Towers...
---