Virtual Tour Of The Chosen Design
---
2. THE MEMORIAL SPACE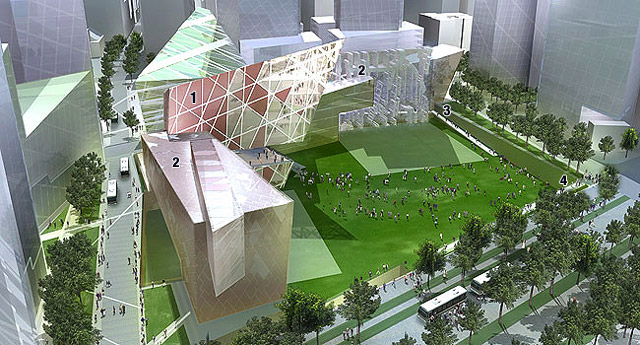 Libeskind created a sunken, walled-in memorial space at the center of his design. This illustration views the proposed design looking east. The tree-lined, multi-laned street with the buses in the foreground is West Street; the street to the left, which runs east, is Fulton. Libeskind envisions a diamond-shaped 9/11 museum at the center of his design [marked with a 1]. It is flanked by two other cultural buildings [both marked with a 2].

Visitors would be able to arrive down to the memorial area by several different paths, including walking through the 9/11 museum itself. Others could get to the memorial by walking down two ramps, one on the southern edge of the site at Liberty Street [marked with a 3] and another on the western edge near West Street [marked with a 4].

Community Board 1 Chairperson Madeline Wils and other lower Manhattan residents are worried that the sunken area for the memorial — even at a shorter 30 feet below ground — will be a barrier for residents who want to travel easily from east to west. "The access issues still need to be dealt with," Wils said after listening to Libeskind's presentation of his modified design.
---
PREVIOUS PAGE: Tall Towers...
NEXT PAGE: Street Life
---