Virtual Tour Of The Chosen Design
---
3. STREET LIFE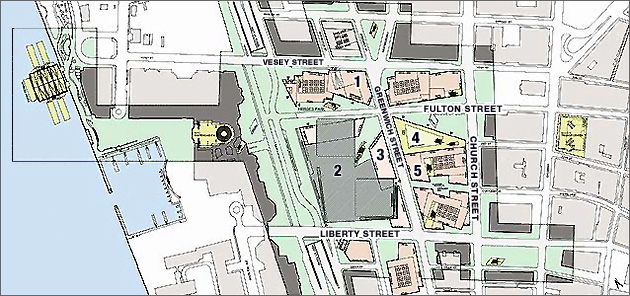 Mayor Michael Bloomberg was reportedly impressed with the way that Libeskind's design suggests a new street life along Fulton Street and a newly connected Greenwich Street. Fulton Street would be lined with storefronts and restaurants on the street level. A performing arts center [marked with a 1] would be located along this area as well.

The sunken memorial area, marked with a 2 in the map, is 4.7 acres. The memorial space is "protected by the museum buildings and cultural buildings that frame it," Libeskind said in his presentation.

These cultural buildings, inside the block bounded by Fulton, Greenwich and Liberty Streets, are marked with a 3 on the map. The center building is to be a museum about September 11. The triangle shaped building across the street, marked with a 4, is the new transportation station.

On the same block are office buildings, marked with a 5, with retail on the ground floor. Libeskind has made space for 880,000 square feet of retail development — both above and below ground — on the entire site.
---
PREVIOUS PAGE: The Memorial Space
NEXT PAGE: Underground Connections
---