The Next Great Energy Crisis?
by Julia Hood
31 July 00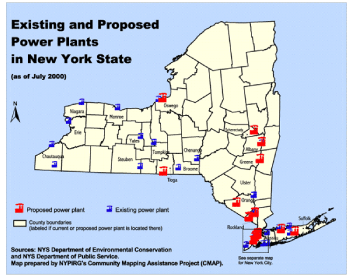 When George Kruzikas was a teenager pumping gas in Williamsburg, it was his unenviable job to walk the long line of waiting cars and put the "Last Car" sign on the rear windshield of the vehicle that would get that day's last drop of gas. Everyone behind that car, who might have been waiting an hour or longer, was out of luck. "It was really bad in those days," Kruzikas said. "I saw lines three blocks long, waiting for gas."
Kruzikas, now 43 years old, has become an electrician, and now it is electrical power failures that have become the focus of public anxiety: Last month, six Upper East Side buildings saw their electricity supply cut without warning for several hours. Two weeks later, service on the number 1,2,3 and 5 subway lines was disrupted when a tree fell in Yonkers.
On the street, in the press, and in Congress, there is talk of a new energy crisis, akin to the one in the 1970's.
Sen. Charles Schumer used that exact phrase earlier this month when he issued a report that read like the script of a summer disaster movie. The combination of low energy reserves and record demand for electricity and other resources, Schumer said, was the formula for a "`perfect' energy crisis."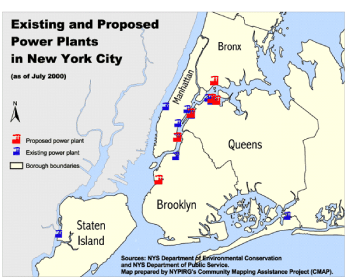 "Never in our history have we seen U.S. stocks of natural gas, crude oil, and heating oil shrink so low at the same time," the Senator said. He added, "All it would take is an unseasonably hot summer or cool winter to push us over the line."
Not everybody agrees. Some think we are already over the line.
"As far as I'm concerned we've had an energy crisis for a long time," says Gordan Raacke, executive director of the Long Island-based watchdog group Citizens Advisory Panel. "It's just that when we see these price spikes people become aware of it."
Others say that, whatever you call it, what's happening is actually a good thing for New York (story by Conn Nugent).
THE QUICK LOOK -- GAS, OIL, AND ELECTRIC
The price of gasoline in New York City has jumped 44 percent in one year according to a New York Department of Consumer Affairs survey. In June, the average price was $1.78 a gallon for regular, unleaded.
The price of heating oil prices could also rise sharply this winter, warns the Energy Information Administration. That is because heating oil is in low supply, as are both natural gas and diesel. (Natural gas, for example, is 33 percent below the historic average).
Electric rates have climbed -- 43 percent more last month than July of the previous year -- and more increases seem forthcoming. A booming economy in New York City has increased demand for electricity, with 1999 usage having exceeded the levels that were forecast for 2003. The promise of lower prices through deregulation remains theoretical.
The higher cost of energy has resulted in higher prices in everything from housing to airline fares.
THE POLITICS OF POWER -- BLAME AND SOLUTIONS
Mayor Giuliani accused the Clinton administration of being "asleep at the wheel while gas prices have continued to skyrocket nationwide."
Hillary Clinton attacked Con Ed for the fact that consumers may pay much higher prices by summer's end. Clinton favors price limits and standardized labeling requirements to make it easier for people to shop around for their electricity provider.
Rick Lazio pushed for a reduction of gas taxes to alleviate costs at the pump, the Republican-dominated U.S. Senate rejected a measure to suspend the federal gasoline tax for 150 days.
President Clinton announced on July 10th that a heating oil reserve of up to 2 million barrels will be created to bolster the Northeast's supply.
On the local level, Maureen Helmer, chairman of the New York Public Service Commission placed part of the blame for the high prices and low supply on the strong economy, and said the only solution was to build more power plants.
So far, most politicians have stayed away from dread talk of energy conservation.
CONSERVATION - "IT'S SO 70'S"
During the energy shortages of the 1970s, people were encouraged to lower the heat, turn off the lights and suffer a little for the greater good. In some place, Christmas lights could not be hung outside the house.
Those sacrifices won't be necessary this time around, said Nathanael Greene, an energy policy analyst with the Natural Resources Defense Council in New York.
"There has been a shift away from telling people to do without," Greene said. "The solution is to give people better appliances. With the technological advances available, people don't have to do without. They can get all the light, heat and air conditioning they need and use a lot less energy," he said.
A July report by the American Council for an Energy Efficient Economy concluded that 1999 power outages that occurred in different parts of the country might have been avoided if air conditioners had higher standards of efficiency.
Ashok Gupta, who is senior energy economist with the Natural Resources Defense Council said, "Easily 20 to 30 percent of our energy is wasted. We've been strongly advocating for programs and policies that would lower peak demand through better appliance standards, better building codes and better rebate programs to help consumers buy more efficient models."
Even this push for efficiency seems like a piece of nostalgia. "The Seventies kicked off a whole industry of making things efficient," Greene said. "People didn't think about energy before."
###
Visit the IOTW Archives!
WHADDAYASAY?? GothGaz wants to know what YOU say about this issue. Fire away!