Hudson River Park
THE LOWDOWN: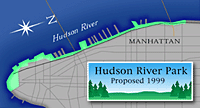 On June 19,1998, the Hudson River Park Act was passed by the State Legislature, and three months later, signed into law. The three years that preceded the passage of the legislation were marked by an insistent pro-park campaign by a coalition of New York civic, community and environmental groups that called itself the Hudson River Park Alliance (HRPA). Though effective in reaching its objective, the Alliance also prompted considerable dissension and debate, usually among the factions of HRPA itself. Headed by chairman Al Butzel (see his story below), its constituent groups disagreed on many fronts: How should the park be governed? How much (if any) development was acceptable? Would the fragile marine habitats be adequately protected? In short, a park at what environmental price?
THE LEGISLATION:
The Hudson River Park Act - Governor Pataki and Mayor Giuliani announce the plan to create a Hudson River Park Trust. Details the contents of the legislation passed.
Governor Pataki Signs off on the Hudson River Park Act - Press release from the NYS DEC foreshadows the complicated nature of the legislation, and the large number of state and city agencies involved in executing the plan.
THE PARK AS CIVIC ASPIRATION:
Albert K. Butzel - Head of the Hudson River Park Alliance on the need for waterfront space in NYC and the unfounded objections of Alliance opponents.
THE PARK AS POLITICAL BATTLEFIELD:
Michael A. Rivlin - A Splendid Park, But at What Price? Rivlin takes a critical look at the Alliance. What went wrong? According to Rivlin, the combination of ill-matched personalities, differing views on the planning process and environmental protection quickly gave rise to irreconcilable differences among Alliance members.
THE ADVOCATES - FOR AND AGAINST:
Hudson River Park Alliance - The Alliance details its members and mission and outlines the history of the park.
Hellskitchen.net- Community Board Four reports on the fractious coalition that is the HRPA.
Sierra Club NYC Chapter - Criticizes the passage of HRPA as Westway, round two.
Clinton and the HPRC - A pier by pier breakdown of how the Hudson River Park plan gives short shrift to the already under-parked Clinton neighborhood.
Clearwater Hudson River Sloop- Singer/songwriter/activist Pete SeegerÍs group was one of the first to advocate for the preservation of the Hudson. Member of the Hudson River Park Alliance, their site includes fact sheets, histories and other information about PCB contamination and other pollutants.
"A New Park Needs Green(backs)" - The Daily News proposes ways to pay for the Hudson River Park