Lobbying
21 May 01
by Kevin McCarthy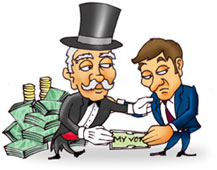 Most days of the week, the members of the City Council perform their ritual tasks (roll call, speeches, votes) to an absent audience. The public is missing. The press is elsewhere.
But the lobbyists are always there.
It would be difficult to find a group with business at City Hall that has not hired a lobbyist or two to make its case. The Blumenfeld Development Group spent more than $250,000 on lobbyists to gain approval to build a $160 million shopping center in East Harlem. Yeshiva of Flatbush reported spending $70.
Recently, some of the city's most powerful lobbyists -- including Fred Ohrenstein, the former minority leader of the New York State Senate; Randy Mastro, a former deputy mayor of Rudolph Giuliani; the firm of Fischbein, Badillo, Wagner, Harding -- were all at City Hall representing a single client, the billboard industry, which had hired them to stop the Council from shrinking the city's billboards.
"I've never seen this many lobbyists on one issue," one council member reportedly observed.
Using lobbyists is nothing new, but the game has changed in New York, where more lobbyists are working with more money, in more sophisticated ways.
Some elected officials and good-government groups have been trying to push the government into regulating the industry at both the state and local level. But bills aimed at restricting lobbying have failed to pass into laws.
In the absence of tight spending restrictions, Assemblyman Pete Grannis (D-Manhattan) wants at least to have stringent reporting requirements, in order to keep tabs on the connection between money spent and results garnered.
Top Ten Spenders:
The ten clients in New York City who spent the most money on lobbyists in 1999; what lobbyists they hired and for how much money; and what the lobbyists were hired to do, according to a report by the New York Public Interest Research Group:
1. The Blumenfeld Development Group hired:
Rubenstein Associates for $5,500
Wachtel & Masyr LLP for $200,416
Kathy Zamechansky & Associates for $60,000
Total $265,916
To lobby to build a large shopping complex in Harlem between 116th and 119th street. They also lobbied to develop a Bulova Watch site in Queens.
2. Forest City Ratner Companies, etc. hired:
Forest City Ratner Companies for $30,508
Geto & De Milly for $96,000
Wachtel & Masyr for $57,436
Wilson, Elser, Moskowitz, Edelman & Dicker for $20,000
Winthrop Stimson Putnam & Roberts for $32,800
Total $236,744
To lobby for the development on many sites including a new Brooklyn courthouse at 330 Jay Street and a development on Steinway Street in Queens.
3. American Insurance Association hired:
Wilson, Elser, Moskowitz, Edelman & Dicker $225,000
To lobby on all issues related to the insurance industry.
4. New York University/ NYU Medical Center/ NYU School of Dentistry hired:
Battle Fowler LLP for $16,219
Wilson, Elser, Moskowitz, Edelman & Dicker for $165,000
Total $181,219
To lobby on budgetary and education issues that affected NYU
5. Greater New York Hospital Association hired:
Kenneth Raske for $147,956
Wilson, Elser, Moskowitz, Edelman & Dicker for $22,500
Total $170,456
To lobby on Medicaid eligibility, funding for AIDS program, and about Emergency Medical Services.
6. Air Transport Association of America hired:
Bolton St. Johns, Inc. for $25,000
Richard Lipsky Associates for $66,050
Claudia Wagner for $75,000
Total $166,050
To lobby the Port Authority proposal to construct a rail system above the Van Wyck Expressway to JFK Airport.
7. Neighborhood Small Business Association hired:
Richard Lipsky Associates for $165,125
To lobby on issues of land use.
8. Kaufman Astoria Studios hired:
Martin J McLaughlin for $60,000
Stadtmauer Bailkin for $97,970
Total $157,970
To lobby on issues regarding the construction of a new studio.
9. Home Depot hired:
Wachtel & Masyr for $135,128
To lobby for the development of sites of the retail chain in Brooklyn, Queens, and Manhattan.
10. National Association of Securities Dealers hired:
Stadtmauer Bailkin LLP for $123,796
To lobby for relocation incentives.
The New York Public Interest Research Project published its report in July 2000 connecting interest groups to the lobbying firms they employ, how much they spent and on which legislation in 1999. Because of the inadequacy of New York City disclosure laws, it is nearly impossible to discover who exactly was lobbied and by what means. It is up to the lobbying firm or the interest group that hired them to choose to disclose the information. Unsurprisingly, they usually do not.
But even this is not so easy to do: A law was to go into effect this year intended to beef up lobbying regulations in New York City. But the state legislature recently voted unanimously to postpone it, because the law was so confusing they could not understand what they had enacted.
But critics push on, because they fear that lobbyists might have too much influence over elected officials, and that special interest groups, by hiring lobbyists, are in effect buying votes. If lobbyists have a dubious image, these critics argue, it is well earned.
Lobbyists themselves disagree.
"When people think your client is no good, that's when they think lobbying is no good. When they think your client represents motherhood and apple pie, then you're an 'advocate,'" says Ethan Geto of the public relations and lobbying firm Geto & de Milly.
It is not only lobbyists who see lobbying as useful and important. New legislation to regulate lobbying has been met with resistance from some surprising quarters -- including religious and charitable groups -- arguing, in effect, that the proposals go against the grain of American democracy.
"Lobbying has certainly reached a fever pitch in this nation. Some would argue that that fever pitch is exactly what the founding fathers envisioned," says City Councilmember Stephen Fiala, a Staten Island Republican. "Lobbying is an indelible part of our society." [See "Lobbying Is Not A Dirty Thing" by Stephen J. Fiala]
Like it or not, lobbyists long have been central to the way the government of New York functions. Thanks to term limits, they may become even more so this coming year, when the wholesale changeover of the City Council offers the specter of 35 new legislators seeking out expertise on the issues from wherever they can find it. And the one place they are sure to find it is from lobbyists.
"It is going to take a while to educate them," says Joseph Strasburg, of the Rent Stabilization Association, a group of landlords.
WHAT LOBBYISTS DO
Lobbyists meet with public officials who could affect their client's legislation. They also represent their client at pertinent hearings.
In their efforts to enlighten officials as to why they should vote one way or another on a piece of legislation, lobbyists try to endear themselves and their cause to legislatures.
"Our view is that lobbying helps to educate and tries to convince on the merits of an argument," says Thomas L. McMahon of the New York City Partnership and Chamber of Commerce, an association of business leaders. Indeed, they often know far more than most individual legislators on a given issue, which is where they can derive much of their power and influence.
The lobbyist is invaluable to the legislator; they collect statistics, conduct polls, and provide the legislature with a steady stream of useful information that might not otherwise be available. And, they spend a lot of money doing it.
By far the most money spent on lobbyists in New York City is to get approval for real-estate development projects, according to a report on local lobbying by the New York Public Interest Research Group. Among those that have enlisted lobbyists locally include Home Depot ($135,128), Time Warner Cable ($55,838), and the Whitney Museum ($1,900). Current disclosure laws do not require that the purpose nor the target of the lobbying be specified, making it difficult to decipher exactly what went on and with whom.
Indeed, critics object that the business of lobbying is often conducted behind closed doors. Few lobbyists are willing to talk about what they do. Most do not even call themselves lobbyists, preferring to identify themselves as lawyers or publicists: Look at the Manhattan yellow pages under "lobbyists" and there are only four listings. The privacy surrounding lobbying draws criticism and the suspicion that lobbyists influence elected officials in more ways than any of them reveal.
They look to past scandals, when lobbyists were caught bribing legislators. In 1974 New York Congressman Bertram Podell was sentenced to six months in prison because he received money from a lobbyist for helping a Florida airline win Federal authorization to fly more profitable routes.
But more often food and gifts take the place of hard cash in the effort to gain influence over an elected official.
WHO LOBBYISTS ARE
The circle of elected officials and the major lobbyists that surround them is small and often closely related.
Lobbying is the career of choice for many government officials reentering the private sector. Many former officials are getting into this lucrative game.
Former speaker of the State Assembly, Mel Miller, is now a top lobbyist in Albany. The former chairman of the state Republican party, William D. Powers, recently started his own lobbying firm.
Within four months of her resignation, former aide to Assembly Speaker Sheldon Silver, Patricia Lynch, had signed the New York State Electric and Gas Corporation, Cablevision, Avis, and UPS as clients to her fledgling lobbying company, which brought her contracts totaling $713,000.
Jesse Masyr, a former Manhattan deputy borough president, is a partner at the Manhattan law firm Watchel and Masyr, which was paid $200,416 to lobby on behalf of the Blumenfeld Development Group in 1999, one of three firms hired by the company.
Even the mayor is connected to the lobbying business. The top lobbying firm in New York for five consecutive years has been the Albany office of Wilson, Elser, Moskowitz, Edelman and Dicker which represents clients such as the Hotel Association of New York City and the Lincoln Center for the Performing Arts. Peter A. Piscitelli is a partner in the firm in charge of Wilson, Elser's New York City office and is a former senior aide to Mayor Ed Koch. Piscitelli's son, Anthony Piscitelli, is a senior aide to Mayor Giuliani and lobbies on behalf of the city in Albany.
The law firm of Fischbein, Badillo, Wagner & Harding is another top lobbyist in New York City with connections to the Giuliani administration. Partner Robert M. Harding's son is Mayor Giuliani's deputy mayor for economic development and finance. Herman Badillo, another partner in the firm, is a political ally of the mayor.
Senior partner Richard S. Fischbein responded to such observations in an interview with the New York Times. He said that the suggestion his firm took advantage of its relationship with the mayor "is absurd." Besides, he added, the fees his firm collects from lobbying accounts for less than one percent of its annual revenue.
NEW METHODS
The lobbying industry has the potential to expand indefinitely; as more money is devoted to lobbying, more money is required to leave an impression on law makers. More available money has increased the sophistication and breadth of the lobbyist's task and conversely, the task of lobbying has gotten more expensive as marketing blitzes, polls, and mass mailings have become necessary elements of big-issue lobbies.
What was once characterized as back-room elbow rubbing and arm-twisting is now front and center in the public's eye. While lobbyists still take politicians out to dinner, they are now, in addition, waging expensive political campaigns, complete with television spots.
In April, the General Electric Corporation sponsored a half-hour long commercial at four upstate television stations in opposition to a five-year project that would dredge the Hudson River near Albany.
In 2000, Donald Trump employed ten lobbyists in Albany and spent $749,604, much of it on advertising, trying to prevent the construction of a new casino on Mohawk land in the Catskills and protect his Atlantic City casinos from competition.
Blue Cross and Blue Shield, the insurance company, paid almost $900,000 last year alone to develop just radio and newspaper advertisements (part of a larger, $1.2 million effort) trying to convince the New York State Legislature to allow them to switch from non-profit to for-profit status.
Another developing trend in the way lobbyists seek to influence elected officials is by creating fake grass roots campaigns, called "astro-turf," among an official's constituency. Corporations spend money to gain the support of community members who, in turn, lobby on their behalf, for free.
Firms are hired to produce and distribute leaflets, operate phone banks, and organize town meetings on behalf of an interest group.
Jack Bonner, called the "guru of grassroots" by Fortune magazine, is the President of the Washington D.C. based public relations firm, Bonner & Associates and specializes in creating "astro-turf." The firm represents an astounding list of clients including General Motors, Citigroup, Metlife, GE, the Fraternal Order of Police, Merck, and the Blue Cross Blue Shield Association.
The ongoing debate over term limits in the city has given rise to what some might label an "astro-turf" campaign.
In February, the City Council introduced a bill that would overturn the term limits imposed on them by voters on two separate occasions. During a heated hearing, Janine Kemp, the director of New Yorkers for Term Limits testified against the legislation. The organization has spent millions of dollars since 1994 lobbying for term limits.
While the group bills itself as a "grass roots" organization, it has been funded in large part by one man, Ron Lauder, and is widely believed to primarily represent his personal interests. Council Member Mary Pinkett asked Kemp if she was a paid employee of New Yorkers for Term Limits, implying that Kemp was acting as a hired lobbyist for Lauder.
Kemp shot back, "Are you a paid employee of the City Council?" She maintained the New Yorkers for Term Limits was primarily "concerned citizens" and the fact that she is an employee was irrelevant.
Bonner replies to those who criticize his techniques that corporations have every right to protect their interests by making their viewpoint known. Strasberg from the Rent Stabilization Association agrees: "Businesses can not vote, so the only way to get your voice heard is with your resources."
John Stauber, editor of a newsletter called PR Watch, sees it differently: "The corporate voice is drowning out the rest of the debate."
FEAR OF CORRUPTION
If money does, in fact, buy influence, then lobbyists have more influence in New York City today than ever before. The amount of money paid to lobbyists by interest groups has risen by fifty percent since Mayor Rudolph Giuliani entered office in 1994.
In 1999, groups having business with the city spent $12.7 million on lobbyists to influence officeholders. That number had risen steadily for over a decade.
Critics of lobbying wonder to what extent elected officials can resist "selling" their vote for personal gain. They say that expensive dinners and gifts serve the purpose equally well.
In 1999, the tobacco company Phillip Morris spent thousands of dollars lobbying, unsuccessfully, against legislation that would require cigarettes to be less flammable. State Attorney General Eliot Spitzer accused the company's top Albany lobbyist of filing false reports. Legislators came under fire and Philip Morris was fined $75,000 when it was disclosed that the tobacco lobbyist spent lavishly on meals for them.
Lobbying laws, like term limits, are often passed in the face of public uproar over just such scandals.
The most recent lobbying bill was approved by the Assembly in December 1999. Some speculate that it was only passed because the Phillip Morris incident had recently made the news.
A CENTURY OF INADEQUATE REGULATION
In 1905, after a scandal that included the head of a life insurance company, a lavish costume ball, and extravagant bribes of public officials, New York State recognized for the first time officially that lobbying played an integral role in the legislative process -- and one that should be monitored. A law required that lobbyists in Albany register with the Secretary of State's office, although the office had no authority to investigate or prosecute any specific lobbying endeavors.
Since 1977, when the State Legislature created the Temporary State Commission on Regulation of Lobbying, lobbyists are required to register with the commission, and disclose the names of their clients, their fees, and (in very general terms) their activities.
Subsequent legislation in 1981 and 1999 tried to fortify the state's commitment to the disclosure laws against increasingly extravagant lobbying efforts. In 1978, $5.7 million was spent to influence government officials at the state level. Two decades later, that figure has increased more than ten-fold. In 2000, $66.3 million was spent and that figure was down from $71.9 million in 1999.
A NEW CENTURY OF INADEQUATE REGULATION
The legislation passed in December 1999, for the first time, seeks to specifically regulate city lobbying which had been exempt from previous state legislation that focused only on lobbying in Albany.
But it conflicts with existing laws in New York City and elsewhere.
There was so much confusion as to the precise requirements of the legislation that the Assembly, with the approval of Governor Pataki, unanimously agreed to delay the effective date of the law, originally slated for January 1, 2001, until April 1, 2002.
The vote to postpone the legislation came just more than a year after the very same Assembly members and the same Governor approved the bill they apparently now do not understand.
For all the confusion, many good government groups praised the new provisions.
"Money talks. We're concerned when money instead of ideas dominate the process." said Rachel Leon of Common Cause New York.
Common Cause New York, which also lobbies government officials, supports more disclosure. "Were willing to pay the price," Leon said. "Theres more paperwork but were willing to put the extra time in to make the process more accessible to groups with fewer resources."
NYPIRG, the New York Public Interest Research Group, also praised the state legislation. Neal Rosenstein of NYPIRG said that he thinks the state legislation will result in "a lot more individuals reporting now that they know that theres some legislative teeth behind the citys regulations."
But among the groups that are bothered by the legislation are the heads of many charitable organizations, who worry that the new rules may discourage public participation.
Doug Sauer heads an association in Albany called the Council of Community Services of New York State, which represents 800 charitable groups. He argues that the paperwork and other bureaucratic requirements of the new legislation would be an unreasonable burden on small groups and individual citizens. "Big money groups already have the lawyers and the resources to do the reporting."
The potentially sizeable fines that could result from violating the disclosure regulations, Sauer said, would contribute to "a growing fear of getting involved. "
"We may very well have a better idea of who influences the government, but we may never know who chose not to because of this law," Sauer wrote in his organizations newsletter.
SAVING GRACE
Almost all legislatures meet with lobbyists. Even Assemblyman Pete Grannis, the staunch supporter of lobbying restrictions, believes that they are integral to the democratic process. But, "I generally dont go out to dinner with lobbyists," he said, "and if I do, I pay."
Those who, like Grannis, look upon lobbying with a suspicious eye can take heart: sometimes not even the most well stocked coffers are enough to woo officials.
The president of NBC, Robert Wright, recently lobbied the council on behalf of the networks parent company GE, which is trying to prevent the dredging of the Hudson River near Albany. But even the personally delivered objection of NBCs president, did not stop the Council from endorsing the dredging project.
Philip Morris, despite its thousands of dollars spent on hungry legislators, failed to keep restrictions on the flammability of cigarettes from passing into law. The $1.2 million Blue Cross and Blue Shield campaign to become a for-profit corporation also failed.
Much to Donald Trumps dismay, a casino might still be built on Mohawk land.
And, the City Council passed the fiercely contested restrictions on the size of billboards in the city. The billboard industry has passed their bucks from lobbyists to lawyers, taking the council to court.
###
Visit the Issue of the Week archives.
Tell us what you think about this issue. Write a letter to the editor.