Lobbying Is Not A Dirty Thing
by Stephen J. Fiala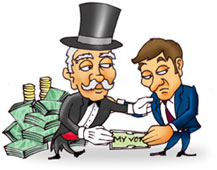 The term lobbying originates with the founding of our nation. The original United States Congress did not have offices, so when they came to Washington they stayed in boarding houses or hotels. The only way a lobbyist could contact a member of the congress was to literally stand in the lobby of the hotel or the boarding house. So that is how they became known as lobbyists.
Legislators are no longer staying in hotels or boarding houses, and lobbyists no longer hang around lobbies. They have sophisticated tools, such as databases and political committees. Lobbying has certainly reached a fever pitch in this nation.
Some would argue that that fever pitch is exactly what the founding fathers envisioned. James Madison wrote in the Federalist Papers number 10 that, in order for our democracy to work, as many diverse interests as possible would need to be able to contact the leaders. And that's certainly the case in the 21st Century. There are more lobbyists and special interest groups registered than at any other time in the history of our country, and they are lobbying on behalf of everything from Alzheimer's disease to zoos, and everything in-between.
As a member of the City Council, you quickly find out that the time when the council is putting together the city budget is the time when most lobbyists reach out to us, because from the city budget flows a statement of priorities. Everything that happens in the course of a fiscal year obviously stems from whether or not there are dollars in the city budget to handle any particular issue.
So how do you deal with lobbyists? They reach you through your chief of staff, or your secretary or your legislative aid, and they'll ask to meet with you to talk about their interests. And it is up to you as an individual to decide how you are going to handle it. I find that it is appropriate to provide special interests with an opportunity to meet with you -- in the presence of your lawyer, or your chief of staff; you should always have some kind of plausible deniability. Don't make any commitments up front.
Lobbyists are an indelible part of our society. There is nothing wrong with them. Lobbying is not a dirty thing. Some would say it is a necessary evil in our society. I don't choose the word evil, because, for many causes, it is only through lobbying or political action committees that those causes get addressed in a legislative body.
Many people first elected to office probably say, "I'm not going to meet with lobbyists, this is a dirty country, there's too much money in politics." Yes, there's too much money in politics. But, in New York City, we have the most progressive campaign finance system in all of America. It's the most open; it's the most democratic. So you should feel comfortable about being able to meet with people, because you're disclosing everything to the public.
But, more importantly, you should want to meet with these experts, because through listening, you learn. Elected officials are experts at just about everything, or so we tell our constituents. But the truth is, we are generalists; we are experts at being generalists. Lobbyists are experts at a given issue and they help to shape public policy from Washington to City Hall. And, it is through their expertise and knowledge, their intimate knowledge of an issue, that many legislators find themselves drafting legislation. All of the minutia behind a particular issue probably stems from a lobbyist or a special interest expert. They provide you with all of the statistics, they provide you with all of the relevant data, they provide you with all of the empirical proof that you'll need to make your case. They help you move from being a generalist on an issue to being able to really contribute to the debate.
So, a lobbyist is a tool.
Not all lobbyists are going to approach you gracefully. Some are heavy-handed. Some will suggest to you outright or in very subtle ways that if you don't go along, you won't be able to stay in the game. And that is done in the forms of special interests groups or political action committees. That's where the threatening letters come in and the postcards. That's where the phone calls come in. That's where you're told that you're going to have a primary opponent -- not just an opponent in the general election, but a primary opponent. My only advice is to search your soul and go back to your roots. If you got into this business to go along, then go along and you'll get along. But if you got into this business to represent people honestly, then tell the lobbyist to go to hell, that no amount of money is going to make you sacrifice your honest opinion for somebody else's political judgment.
Edmund Burke said a long, long, time ago that a legislator owes his constituents not only his industry but his judgment. And he said, if you sacrifice your judgment, then you are not a good legislator, you're a political panderer. The people you represent don't hold opinions in the same way you do, because they don't have access to the knowledge that you have access to, nor do they have the level of interest. That is why it is called a representative democracy. They send us there, we get paid the money to do the thinking because they are busy raising families and working. It's not that they don't care, it's that in our society, the hope is that the people's representatives are going to go there and spend time doing the thinking and doing it honestly.
Ed Koch said politics, outside of the religious profession, is the noblest of any, if it is done honestly and done correctly. It can be done honestly. And if it's done honestly, it will, in all likelihood, be done correctly.
In New York City you will find that by and large, most of the people that you'll deal with are honest people who are there offering honest expertise, and they're willing to work with you and they're willing to help you formulate your opinion. Because, if you're honest with yourself, most of us don't go in with an opinion on every single issue that we're going to confront. You're going to go in with a lack of opinion because you're going to be confronted with so many issues that you've never even thought of or never even heard of, and it is through these lobbyists that you'll be able to develop an honest opinion. And, at the end of the day, if you part paths, it's okay. My way of doing it is to shake hands; I've never told anybody to go to hell, but to shake hands.
If nothing else remember this: politics is about contested rank. You're on a battlefield. There are limited dollars. There are many many pressing needs and there are many, many interests out there that are vying for those limited dollars and for your limited time. That's the American way. If it weren't we wouldn't be America. This is an opportunity for everyone's interests in one form or another.
Forget about all the money that's in the system. The money is only corrupting if you let it corrupt you. Remember that. You're only bought off if you allow yourself to be bought off. So, don't focus on the negative. Focus on the positive. And the positive is, in our society, everyone has the opportunity to have a voice. And the way it works in government is, there's a special interest group for just about every interest out there and you get to pick and choose which of those interests you want to represent. At the end of the day, there's only one person who can cast that vote on the budget, there's only one person to make a decision on a piece of legislation. Many hands could have had an impact in helping you reach that conclusion, but you live or die with your vote. It's yours and yours alone. And, if you do the job honestly, then you'll do it correctly.
Stephen J. Fiala is a member of the City Council, representing the 51st district on Staten Island. This essay is adapted from a presentation to a group of candidates at a forum sponsored by the Baruch College School of Public Affairs.
###
Visit the Issue of the Week archives.
Tell us what you think about this issue. Write a letter to the editor.