The Mob In NYC
by Michael Burger and Chris Stewart
29 October 01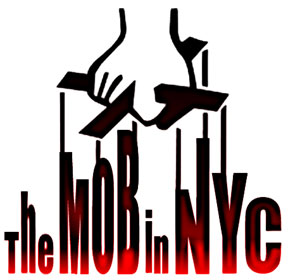 Some traditions in New York are not suspended even in the middle of a national tragedy. A few days after September 11, some truckers allegedly carted away some of the wreckage from the collapsed World Trade Center -- not to the old Fresh Kills landfill on Staten Island, where it was supposed to go, but to junkyards in New Jersey and Long Island, where it would presumably have been sold as scrap metal. A grand jury is now hearing evidence in the case. The talk is that the Mafia was involved.
To curb further rip-offs, Mayor Rudy Giuliani has hired four private companies -- all of which are run by former federal prosecutors -- to help the Federal Emergency Management Agency vet contractors seeking work at the site and to monitor their activities once they are hired. Some outsiders have said the hiring was unusual for a disaster cleanup effort. New Yorkers who know Giuliani, though, are not surprised. It is the latest step in his quest to root out organized crime, a quest that began when he was a federal prosecutor, and that indeed established the reputation that made it plausible for him to run for mayor in the first place.
Five years ago the mayor started to appoint commissions to oversee the city's wholesale food markets, private carting industry and shipboard gambling, all traditionally associated with the mob. Two months ago, the mayor appointed a charter revision commission in part to change the city's charter, the rambling blueprint for city governance, to allow for an Organized Crime Control Commission, a mother watchdog agency which he claims would make policing more effective by eliminating duplication among existing agencies and closing potential loop holes.
Opponents say that Giuliani's latest effort is unnecessary, and that the city already has a robust police force charged with eliminating unsavory business dealings. Even those who support the substance of the commission question investing it with such overarching authority. Council Speaker Peter Vallone voiced concern that the language creating the new agency is unclear and could be misconstrued.
The proposed Organized Crime Control Commission will be on the ballot in November, along with several other proposed changes to the city charter that few voters know about. (See last week's "Uncharted Proposals")
But whatever voters decide, it will be just the latest strategy in a 50-year battle against a problem that took root in New York City a century and a half ago; flourished as a national enterprise based in the city during Prohibition; became part of the political establishment in the 1940's; and, though seriously weakened in the ensuing decades, persists in both old and new ways. How successful has the Giuliani administration been in combating it?
FULTON FISH MARKET REVIVAL
Kickbacks and extortion at the Fulton Fish Market ran rampant for years. Federal and state law enforcement officials long suspected one of New York's five Mafia "families," the Genovese family, in particular, of laundering money and skimming huge amounts from dealers and other market companies through secret partnerships, intimidation and no-show jobs. In 1995, Mayor Giuliani took his first whack at the seedy underground dealers with the introduction of a system that required participants in the fish market to obtain permits. This allowed the city to run background and fingerprint checks on merchants, employees, and unions at the market. Anyone with mob ties was denied a license and chucked.
One of the Giuliani administration's first major changes was to replace the six unloading companies who had run the business for some seven decades. Laro Maintenance Company, a Long Island company with no prior experience in wholesale fish transport, took over. This change led to a wildcat strike shutting the market down for a day. But Laro, and the market, survived.
Other changes followed immediately. Within a few months the city had ejected 30 companies from the market, including a number of dubious loading companies whose sole job was, strangely, to watch over unattended fish. A lawyer for the companies claimed their business was not a protection racket. But, in the past, a couple of these same owners had pled guilty to involvement with a mob-related bank robbery ring, while others had known affiliations with organized crime. The city did not need any more evidence to act.
Anger swelled in the industry. Tires were slashed in retaliation. Union leaders threatened a big strike. Still the market kept on.
Giuliani's actions were declared a success. The next year he and the City Council expanded the licensing program to the Hunts Point Produce Market in the Bronx, the Gansevoort Meat Market in Manhattan, the Brooklyn Terminal Market, and the Brooklyn Wholesale Meat Market. Officials estimate the city and its businesses save $50 million each year as a result.
COMMERCIAL HAULING
Five years ago Mayor Giuliani created the City Trade Waste Commission to oversee a new era of commercial trash hauling. His vision called for replacing mob-connected companies with national carriers in hopes of both cleaning up the industry and saving money for local businesses. That commission, founded in the fall of 1996 and directed by Raymond V. Casey and charged with the task of regulating the industry, could investigate the "character and fitness" of companies, issue licenses and give contracts.
The massive industry overhaul started with the indictments of 34 companies, 34 people, and four trash trade associations, most of which led to convictions and prison time. During that first year, the Trade Waste Commission oversaw the shutdown or sale of nearly 200 garbage hauling companies, and denied licenses to many others.
Large national carriers such as Waste Management, Allied, and IESI moved in on the territory. Because these companies owned many of the local transfer stations, where trash is dumped and packed for transport, as well as numerous area landfills, they agreed to a contract with the city that undercut then-current hauling prices.
The next year Giuliani and the Trade Waste Commission claimed victory, saying that they had cleaned up the blighted industry and eliminated the "mob tax," which for years had forced businesses to pay millions of dollars in inflated trash bills. They claimed a total savings of nearly $500 million per year.
However, the national carriers, which now represent about 25 percent of commercial trash collection, have since complained of losses in the millions and demanded an increase in hauling prices. On average, prices have climbed about a third since 1999. And today, just to break even, industry officials say they must raise their prices from $12.20 to $30 per cubic yard.
The fact that these companies were recruited by the City Waste Trade Commission makes it especially difficult to reject their requests. But, so far, Giuliani has been resistant to any significant increases.
Still, the national carriers have had some run-ins of their own with the Trade Waste Commission. Over the last year, the commission has found that improper audits on trash collecting caused city customers to pay inflated prices. The findings resulted in individual fines for Allied and Waste Management totaling upwards of $500,000. Moreover, charges of price-fixing and anti-trust breaches have haunted the companies of late, charges somewhat reminiscent of the old days of the mob-run trash haulers.
"This is ironic," said City Councilmember Kenneth Fisher. "But as far as I know, the national carriers have not threatened to kneecap anyone or set anyone's truck on fire."
CRUISES TO NOWHERE
When word got out in the winter of 1997 that Bay Casino was operating so-called "cruises to nowhere" from Sheepshead Bay in Brooklyn, a stunned Mayor Giuliani took immediate action to stamp it out. In a matter of days, the casino ships were forced to shut down. The city passed legislation that required the boats to travel 12 miles out to sea, resulting in increased cruise time and a significant jump in gas and operating costs.
A month later, a federal judge reinstated the 3-mile cruising limit, and soon the casino industry was back on its feet. Travel to international waters took a mere 30 minutes, far quicker than the two hours it takes to get to Atlantic City from Manhattan. Other companies followed Bay Casino to Sheepshead Bay. Manhattan Cruises, one of the larger companies, inaugurated the first overnight gambling junket.
Nevertheless, bets on the success of the gambling boats were mixed, especially with the city clearly against them. As a conciliatory gesture, the casinos promised to transform a badly ailing Sheepshead Bay into an economic hotbed. Grandiose plans evolved for a Marriott Courtyard hotel, and a park, as well as a private security force, which the casinos promised would reduce the crime and prostitution rings that had grown deep roots in the area.
Still, the mayor was not pleased. By December he had created the Gambling Control Commission, headed by former federal prosecutor Robert Caruso. The commission required more expansive background checks and fingerprinting policies for any interested offshore gambling company, an exhaustive procedure that would take nearly seven months of processing time and could cost upwards of $7 million for larger ships.
Ironically, just as the casino industry in the city seemed as though it were doomed, the mayor floated the idea of opening a casino on Governors Island. To many, this move made it clear that it was not necessarily the gambling that he was opposed to, but the fact that a transient casino made policing the industry harder and hence more vulnerable to corruption. Land gambling, though illegal in New York State, would be easier to manage.
The island casino never materialized. And shipboard gambling started to flounder in 1998. The smaller companies were forced out by setup costs. A financially strapped Bay Casino grounded its fleet. Manhattan Cruises, headed by founder G. Micheal Brown, has persevered by trading its 1000-person mega-carrier for a 200-person cruiser and increasing trips from one overnight excursion to three daily six-hour trips. Yet, Manhattan Cruises appears to be in limbo (perhaps a victim of September 11th?) The phone at its Manhattan office has been turned off. And there is no answer at the ticket center.
Whether or not the demise of shipboard gambling can be attributed solely to the commission's vigilance is not clear. State Senator Carl Kruger said that casinos were just not right for the area. "To me, this offshore gambling is like a mackerel in the moonlight," he said. "It glistens and it looks beautiful, but you get close enough and it stinks."
NEW MARKETS FOR CRIME
Even as candidates and voters weigh the value of charter reform, the Mafia, squeezed from some of its traditional strongholds, continues to expand into new territory. In June of 2000, federal prosecutors in New York City charged dozens of people with using stock manipulation, fraud and violence to steal an estimated $50 million from thousands of investors nationwide. The indictments included one high-ranking member and several lower-level members of New York's organized-crime families, as well as brokers, stock promoters and a retired police officer who served as treasurer of the union that represents New York City detectives. At the center of the investigation was a Manhattan investment firm, DMN Capital Investments, which the prosecutors said was infiltrated by the mob.
DMN allegedly used a range of schemes to defraud investors, including high-pressure boiler-room sales operations and phony stock trades. Investigators charged that the DMN conspirators used beatings and threats to instill fear in brokers and others and ensure that they would cooperate in exchange for money. Such tactics purportedly led to artificially-inflated stocks, which could then be sold off for tremendous profit.
Criminal investigations over the last five years have in fact uncovered the mob's wider involvement in the stock market, particularly in dealing with securities known as microcap stocks, issued by small, little-known companies. In one 1997 case, organized-crime figures were charged with bribing brokers to fraudulently inflate the value of certain stocks. And early last year, federal prosecutors in Brooklyn charged 19 people with stock fraud, including men they said were members of the Russian mafia and a high-ranking member of the Bonanno family.
The Mafia has also moved into other rackets, such as manufacturing and distributing phony telephone cards and siphoning money from health insurance companies. Like the stock market schemes, these are more often than not federal cases, over which the city has little control.
###
Visit the Issue of the Week archives.
Tell us what you think about this issue. Write a letter to the editor.