You may not be able to visit this page because of:
an out-of-date bookmark/favourite
a search engine that has an out-of-date listing for this site
a mistyped address
you have no access to this page
The requested resource was not found.
An error has occurred while processing your request.
Please try one of the following pages:
If difficulties persist, please contact the System Administrator of this site and report the error below.



Off Track Betting
6 August 01
by John Wolfson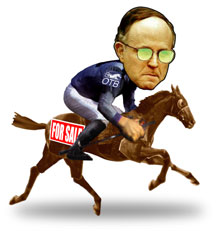 The young blond man in the Off Track Betting Corporation advertisement sits between two beautiful young women at a fancy restaurant, his wine glass raised in triumph. His horse, it seems, has come in.
He looks nothing like the old men some of them alcoholics or drug addicts, some mentally ill, many degenerate gamblers -- who account for much of the actual business conducted at the smoke-filled and heavily littered OTBs throughout the city. But in that, there is, in a way, a triumph, an odd off-track promise fulfilled.
When New York created the Off-Track Betting Corporation in 1971, it did so with the idea that this legal bookie joint would lure away business from the illegal bookies. The goal was to eliminate a source of income for the mob while generating new revenue for the state.
While its track record has had some twists in it -- such as corruption, incompetence, red ink -- the OTB in New York City (one of six OTBs in the state) is now viewed as a winner as it races toward the finish line. And that may be more than a metaphor, if Mayor Rudy Giuliani has his way. Fulfilling a pledge he made when he first took office, the mayor announced last week that he is selling OTB, and named the winning bidder.
He had come within a nose of selling it a couple of weeks ago, when he scheduled a press conference to announce who had won the bidding war between two of the most powerful organizations in horseracing. But just an hour before the press conference, the deal collapsed.
It was not the first disappointment in the story of OTB.
AT THE STARTING GATE
When OTB began, "we encountered problems almost immediately," Ken Auletta, the first OTB executive director, told the L.A. Times last December. Instead of just drawing hard-core gamblers away from already-existing illegal operations, "we were mainly luring a lot of low-income people into gambling."
But the problems were not limited to the clientele. OTB quickly earned a reputation for mismanagement, corruption and favoritism, a place that cared less about the bottom line than it did about providing plum jobs to the politically connected. Hazel Dukes, who ran the agency for former Mayor David Dinkins, pleaded guilty in 1997 to embezzling more than $13,000 from an employee.
When Giuliani ran for office in 1993, he mocked the agency as "the only bookie joint in New York that loses money." He promised to improve OTB and eventually sell it to a private business. At his insistence, many of the worst-performing shops were shut and the OTBs administration bureaucracy was trimmed. But proving just how intractable corruption at the agency has been, Giuliani, too, has seen scandal. Last year, William Carnevale, the agency's president from April 1998 until December 2000, pleaded guilty to placing nearly $5,000 in family and personal restaurant charges on an OTB American Express. Still, the mayor has received extensive praise for turning the agency around. In 1993, it lost about $7 million. Last year, it made nearly $40 million for the city in profits and fees.
But the profit, says Los Angeles Times reporter Josh Getlin, has come at a cost.
"The goal in the beginning was to make it a more legitimate operation, to get it away from the bookies, from organized crime," said Getlin, the author of the Times article about New Yorks OTB. "To that extent, I think, theyve done it very well. You really dont have to go to a bookie now to bet on a horse.
"On the other hand," he said, "yes, youve generated all this extra income for the municipalities, but whose pocket is it coming out of? Overwhelmingly its the poor. Thats a negative for society."
Perhaps the most significant aspect of OTBs success is that no one anymore seriously questions whether the city has any business owning a company that profits from the bad luck of the poorest New Yorkers. Giuliani promised to sell the OTB eight years ago not out of righteous indignation at the exploitation of the poor, but because, he said, it was mismanaged and corrupt. His opponents do not criticize him for more efficiently luring city residents into gambling. Rather, in this age of Instant Lotto which OTB surely helped usher in -- the mayor is criticized for his plan to sell the city's bookie joint.
THE SALE?
At Hunters Steak & Ale House in Bay Ridge, Brooklyn, you can bet the races while dining on Maryland crab cakes, marinated NY sirloin steak and rack of lamb with fresh ginger sauce. Hunters and three other New York City restaurants now offer off-track betting. Several others will soon join them. New York City OTB decided a few years ago that making private restaurants its racebook partners was good for business everybodys business. The city-owned betting agency got access to new gamblers in a more upscale environment than its street-front shops, and the restaurateurs attracted new customers and got to keep two percent of the monthly handle (the total amount bet in a month).
That is not the only innovation in the city's OTB network, which has come to include 68 betting shops; three Tele-Theatres, which charge admission and offer dining service and better payouts than other OTB locations; and a telephone betting system that allows bettors to call in their wagers while watching the races on television at home.
The innovations are what made OTB so attractive to the two main suitors: 1. The New York Racing Association, the non-profit organization that owns the Aqueduct, Saratoga and Belmont Park race tracks, and 2. the partnership of Greenwood Racing of Pennsylvania and Magna Entertainment of Ontario, Canada, a publicly traded giant whose race-track holdings include Santa Anita Park in California and Gulfstream Park in Florida.
Last Thursday, Giuliani announced he was awarding the bid to the Magna Entertainment group, in a deal he said was worth $389 million.
But this is not the end of everything. The deal has to be approved by the Legislature and Governor George Pataki, and the non-profit Racing Association has vowed to fight that approval, lining up support from its allies in state government. The Racing Associations persistence is understandable, even though horseracings share of national gambling had dwindled to seven percent by 1998, according to the National Gambling Impact Commission. Even so, betting on thoroughbred racing alone last year totaled $14.2 billion, according to Eric Wing, a spokesman for the National Thoroughbred Racing Association, a track-owners trade group. Harness racing generated billions more. About 80 percent of that money was bet off site, in places other than where the races were run. "New York, at the very least, is one of the four biggest horseracing centers," Wing said, identifying Florida, Kentucky and California as the others. "The New York signal [simulcasting races from Aqueduct, Belmont and Saratoga] is one of the most desirable signals in the country, if not the single most desirable. Its a big chunk of the action."
POLITICAL HURDLES
If the transaction cannot be closed before Giuliani leaves office, though, it may never happen. City Council Speaker Peter Vallone, one of the four major Democratic candidates hoping to succeed Giuliani as mayor, has come out against the plan, claiming it will cost the city jobs and revenue. Bronx Borough President Fernando Ferrer also opposes the plan.
He has called it shortsighted to sell the profitable betting network for what he characterizes as a one-time payday. Any other Democrat might find it difficult to support the sale, considering that unions representing most of the nearly 2,000 OTB workers adamantly oppose a sale because they fear it will lead to layoffs.
There are other hurdles. Under the state law that authorized OTBs, only public-benefit corporations, ones that turn their profits over to the government, may own an OTB. The Assembly, the Senate and Governor Pataki all have to approve changing that law to allow the Magna group to own New York City OTB, said Stacy Walker, the spokesperson for the agency that oversees the OTBs. Of the states six OTB branches, New York City is the first to seriously considering selling, Walker said.
Of course, this being horseracing, there are questions of shady dealings that could threaten the sale.
Magna's "winning" bid has drawn scrutiny because one of one partners association with a New Jersey financier recently convicted of money laundering and bank fraud. But even the Racing Associations bid has been tainted by investigations of cashiers at its tracks for possible money laundering and tax-evasion schemes.
So, as Giuliani's term nears the wire it remains too close to call whether he will actually be able to pull off his end-of-term effort to privatize the agency. What is for sure, however, is that in one form or another, New York City will continue to offer its residents a legal way to bet the races.
###
Visit the Issue of the Week archives.
Tell us what you think about this issue. Write a letter to the editor.