You may not be able to visit this page because of:
an out-of-date bookmark/favourite
a search engine that has an out-of-date listing for this site
a mistyped address
you have no access to this page
The requested resource was not found.
An error has occurred while processing your request.
Please try one of the following pages:
If difficulties persist, please contact the System Administrator of this site and report the error below.



Second Avenue Subway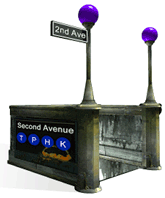 THE LOWDOWN:

Though the Second Avenue Subway may not be the sexiest of issues, it's receiving ample press these days. Bob Herbert's 13 Sept Times column (see sidebar), says that the political stars may be in alignment for revamping the City's transit system. The how, he contends, is simply a question of leadership. Maybe so: certainly the question of transit on the East side of Manhattan has been taken up by the City's political cultures. The Second Avenue Subway debate has in turn prompted a more expansive discussion about the movement of people within all five boroughs. All of this, no doubt, anticipates this fall's NYS debate on the MTA's Five Year Capital Plan.

KEY DOCUMENTS:

Metropolitan Transit Authority - Here are the MTA's current planning studies on future investments for the Five Year Capital Plan. In general, they prove disappointingly unambitious to transit advocates. The Manhattan East Side Alternatives Study (MESA) is the MTA's answer to the proposed new Second Avenue line. Transpo die-hards will appreciate the thoroughness of the report (downloadable), if they are not deterred by the bureaucracese in which it is written. The East Side Access Project, Gov. Pataki's favorite, would connect the LIRR to Grand Central, with a new passenger station in Sunnyside. And the Lower Manhattan Access Study aims to improve the commute from northern and eastern suburbs to Wall Street. All three studies have summaries of meetings, public advisories and other relevant documents in downloadable format. You can join the mailing list, or fill out a commuter survey. Great graphics.

Bob Herbert: "Underground Dreams"

"It could happen. I'm not saying it will happen. But the stars are moving ever closer to a favorable alignment...Mr. Pataki, friend of the suburbanites, meet Mr. Silver, who says he's a champion ofthe urbanites. Let's make a deal. If not now, when? The number of New Yorkers using mass transit has soared over the past couple of years. And these are the best of economic times, with the Federal, state and city governments all running surpluses. All we need is a little vision."

- Bob Herbert, In America
NYT, 13 Sept.

Regional Plan Association - RPA houses the Empire State Transportation Alliance - the most notable of the groups proposing alternatives to the MTA's plans. ESTA's Capital Needs Assessment details investment requirements in the next five years and over the next twenty. Additional information on ESTA lists its members and their recommendations. RPA also weighs in on the capital plan, independent of the ESTA coalition.

MetroLink - RPA's proposal for a rapid transit system that would serve new markets and supply new routes to Midtown for commuters. Touted in Al Appleton's article. Read online or download in pdf format.

Transport Link - Brief summary of NYC Transit. Includes stats on ridership, infrastructure investment, and the subway system in particular. Also recommended is their NY-NJ-CT Regional page which has datasets on demographic and landuse characteristics, and on transport infrastructure and operations in 31 counties in the tri-state area. Serious business.

AL APPLETON SAYS BUILD IT NOW:

Al Appleton - Former DEP Commissioner, currently Senior Fellow at RPA, comments on terminal incrementalism and why New York needs a new subway line, not a shinier old one. Also stumps for Metrolink, RPA's plan to add new lines in four bouroughs.

DICK NETZER SAYS THINK AGAIN:

Dick Netzer - NYU Professor and Senior Fellow at the Taub Center for Urban Research offers less expensive alternatives to a new Second Avenue underground line.

THE TRANSIT MAVENS:

The Committee for Better Transit presents their alternatives to a new underground Second Avenue line.

State of the Subways Report - The Straphangers Campaign's third annual evaluation of the NYC subways. Their criteria: amount and dependability of service, and the comfort/usability of the ride. Their findings: most lines have declined in the quality of service and though ridership has risen dramatically, overall service has not improved.

New York Metropolitan Transportation Council - Federally designated planning organization that promotes public participation. Download their regional transportation plan, entitled "Mobility for the Millenium." Nine goals range from the overly broad (quality of life) to the utterly practical (airport access).

Tri-State Transportation Campaign - Critique of the NYMTC plan from a greenish perspective. Their main gripe? The plan is too vague, does not address other proposals (i.e. the Second Avenue Subway) and is poorly written. Yeesh.