Getting Back On Track
by Jeffrey M. Zupan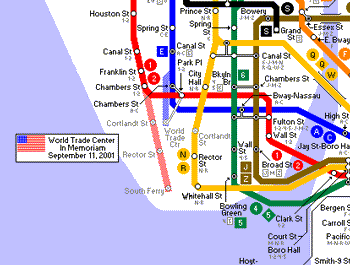 For decades, commuters to New York City have contended with crowding, delays and long travel times. But, since September 11th, many area residents have become almost nostalgic for trips of an hour each way.
New Jerseyans such as Paul Nadler of Metuchen and Andy Lanset of Cranford had reached their jobs in lower Manhattan by taking New Jersey Transit trains to Newark and then transferring to the PATH, which would take them to the World Trade Center, within easy walks of their offices. But the collapse of the World Trade Center shut the PATH station there. Today Nadler, Lanset and thousands of others who used to take the PATH jam trains bound for Penn Station where they switch to downtown subways beset with service disruptions and delays.
Lanset, whose commute has risen from an hour to at least an hour and a half each way, experiments with different subways lines to reach his job in the Municipal Building. Regardless of which one he takes, "it's always a crawl."
According to the New York Times, the number of passengers on many New Jersey Transit trains has increased by 44 percent since September 11. With what had once been the PATH's busiest station out of service, four of the system's other Manhattan stations have seen passenger loads double.
And the problems affect people who do not live in New Jersey or work on Wall Street. Service along the West Side of Manhattan and into the Bronx has been slowed by curtailing of express service on the Broadway IRT lines. And delays skyrocketed in the first months after the attack as passengers reported suspicious packages or substances.
A more inconvenient commute does not compare, of course, to the kind of suffering that the events of 9/11 have caused some New Yorkers. But it is not just an irritation. The longer trips make New York a less attractive place to work, live or visit. The potential harm this could inflict on the city's economy is obvious.
If downtown Manhattan is once again to be a thriving business and residential district, and if the city as a whole is to flourish, planners face two challenges. First they must quickly restore as much service as possible to reassure workers, businesses and residents that lower Manhattan is a safe, active part of the city. Then they can take a longer view toward making access to and around the area better than it was previously.
Planners with private and public organizations, as well as business organizations and many average commuters, hope the Metropolitan Transportation Authority, the Port Authority, the state and the city will seize on the rebuilding effort not merely to replace what was lost on September 11, but to make traveling around the city easier -- perhaps even pleasant. To accomplish that, they are looking at some long standing ideas, such as the Second Avenue subway, and at innovative schemes taking advantage of new technologies and changing public attitudes.
LONG, STRANGE TRIPS
Traveling to or within New York has always involved multiple transfers, confusing maps, crowding and a myriad of other obstacles. In June, former Transportation Commissioner Lee Sander called getting around New York City "a daily challenge". And in a 1996 report, the Regional Plan Association said that mobility in the metropolitan region "is hampered by limited and fragmented transit service, a freight system that terminates at the west side of the Hudson River and congested and bottlenecked roads."
But the events of September 11 made things worse. Before 9/11, more than 600,000 people traveled into or through Lower Manhattan every day, 500,000 of them by public transit. Now, with 100,000 jobs having been relocated or lost, a half a million still travel into or through lower Manhattan each day. But of these people, about half ha ve seen their commute become long and complicated. And they are unlikely to see much improvement soon.
The collapse of the Trade Center knocked out two subway lines and the downtown PATH line. Today, five New York City subway stations that served 121,000 people a day prior to September 11th as well as the Trade Center PATH station remain totally or partially closed. The affected subway stations include three on the 1 and 9 lines, the Cortlandt Street N/R stop and the E line station at the Trade Center. To ease the congestion from these and other disruptions, the city has barred automobiles with only one person from the bridges and tunnels entering midtown and downtown Manhattan during the morning peak period.
TIME, MONEY AND STANDING ROOM ONLY
New Jersey residents have been most seriously affected by the disruptions. Consider a few examples:
17,500 people living in Hudson and Essex counties who used PATH trains or buses to reach Lower Manhattan now spend an extra hour traveling each day, use two trains instead of one train or one bus, and pay an additional $63 a month to reach their jobs;
11,100 suburban rail riders are diverted to the uptown branch of PATH. When they reach midtown they must do a 180 degree turn to head downtown. The toll: an hour more a day and $63 more a month
9,700 commuters who previously transferred to PATH in Newark now pack their way on standing room only New Jersey Transit trains between Newark and Penn Station. The resulting trip takes 50 more minutes a day and $85 per month. The trains have become so jammed that conductors cannot collect all tickets, and passengers must stand in vestibules between cars.
Officials have made efforts to help. Ferry service to Pier 11 on the East River and Pier A at the Battery has been beefed up, and limited ferry operations have been restored at the World Financial Center. Ferry ridership has grown from about 30,000 before the tragedy to more than 60,000 today.
Amtrak has made some of its capacity into Penn Station available to NJ Transit, but there is no room to add any more trains at peak periods. All bridges and tunnels have been reopened. Restrictions on single-occupant cars remain in effect only between 6 a.m. and 10 a.m.
More ferries and vans could help ease the immediate crisis. But it will take years to repair the already taxed transportation network. Substantial portions of the 1/9 IRT subway tunnel under the Trade Center site was completely destroyed. The MTA now hopes to have all but the Cortlandt Street station open by the end of the year. The Port Authority of New York and New Jersey is hoping to reopen the PATH station at the Trade Center in 18 to 24 months.
Meanwhile, the state is seeking relief for the transportation system. Governor Pataki has asked the federal government to waive federal air quality requirements for New York City transportation projects for the next four years. The state argues that the September 11th disaster invalidated much of the state's previous transportation plan and has created an array of new and pressing needs. Environmental groups, though, are afraid that the waiver could apply to a whole array of projects, including many not affected by the current emergency situation in lower Manhattan.
THE COST OF COMMUTING
Cities thrive on access; it helps compensate for the noise and congestion. When mobility is lost, workers and their employers, shoppers and stores, diners and restaurants tend to look elsewhere.
In recognition of the vital role that transportation planning must play in any rebuilding effort, Governor Pataki has set aside $25 million of the first $700 million the city is to receive from the federal Department of Housing and Urban Development rebuilding transportation and communications networks.
Unless the transportation system is made whole again, the willingness of commuters and others to travel to lower Manhattan to work, to shop or for entertainment will slowly but surely erode. So will the resolve of the area's residents.
Some have said that a diminution of Lower Manhattan would not necessarily be bad, that lower Manhattan is obsolete as a center of commerce and jobs should be relocated to midtown or to the boroughs. But proponents of rebuilding downtown counter that a thriving Lower Manhattan is vital to the economy -- and the life -- of the region.
The area now supports some 300,000 jobs, making it the third largest Central Business District in the nation. There is little assurance that jobs leaving Lower Manhattan will remain in New York City. Many could be lost to other states, or even other countries in our global economy.
The state government has predicted that many, if not most, of the 19,000 Wall Street area jobs that have left the area since September 11th, might not return. These jobs supported as many as 30,000 service jobs that could also be lost. The New York City Partnership forecasts a net loss of 57,000 jobs in the next two years.
As Bill Rudin, president of Rudin Management, noted at a recent briefing for the incoming City Council, New Jersey in particular has much to lure businesses, including lower tax rates and zoning regulations that make it easy to construct new buildings.
While estimates vary from 16 to 26 percent, there is no question that sizable numbers of workers in lower Manhattan live in New Jersey. Many of these are upper and middle management. As their employers weight where to locate, they could be powerful advocates, pressing for a move across the Hudson -- particularly if their commute remains long, crowded and costly.
From a transportation perspective alone, downtown jobs hold an advantage over those in other parts of the metropolitan area. Commuters to midtown are twice as likely to drive in than people who work in Lower Manhattan. Workers in other parts of New York City, let alone the suburbs, are even more likely to drive.
REASSURING MOVES
Organizations making long-term commitments to office space want assurance that lower Manhattan's transportation system will be as good or better than it was before September 11th. The transportation system must also offer a sense of security to a traumatized work force. This can be done through by emphasizing transit and walking, limiting unnecessary vehicles and carefully setting rules on when, where, and how goods can be delivered.
If these plans are accomplished quickly, employers and workers will see a return to a normal commute and residents a return to a more normal life. But no single neighborhood, even one as large as Lower Manhattan, can be viewed alone.
A plan for improving access to Lower Manhattan requires changes throughout the region. This could include addressing such long-standing deficiencies as poor access to downtown from Brooklyn, the suburbs and Kennedy Airport and creating better connections between transportation in lower Manhattan and elsewhere in the region. More comfortable transit, overlapping routes to withstand temporary service disruptions, and some duplication between rail, bus and ferry can all attract more riders to mass transit.
MOVING IDEAS
Over the years, a number of ideas have been offered to improve transportation in the metropolitan area. For example, in 1996 the Regional Plan Association issued "Region at Risk," a plan for the tri-state area. It called for a Regional Express Rail System, a variety of steps to fight highway congestion, and the construction of a new Hudson River freight tunnel.
This June, five former transportation commissioners along with business, labor, civic and environmental groups announced a five-part plan called "Unclogging New York." It urged work on major projects, such as the Second Avenue Subway; faster, less congested subways; a crackdown on speeding motorists; and encouraging off-peak trips.
Since September 11th, there is an increased desire to advance transportation proposals that benefit lower Manhattan. It is unclear yet whether this will translate in the necessary funds to implement these plans, particularly in the current fiscal environment. Here are some proposals up for consideration:
The Second Avenue Subway: In December, the Metropolitan Transportation Authority cemented its commitment to a full-length Second Avenue Subway, running from 125th Street to the Financial District, by approving a $200 million contract for a preliminary engineering study.
The project is important to residents of upper Manhattan and The Bronx who work in Midtown and Lower Manhattan. By relieving overcrowding on the Lexington Avenue line between Grand Central Terminal and Lower Manhattan, this new line, which has been on the drawing board for decades, would benefit residents of the northern suburbs who work Downtown. The line would also feature easy transfers to and from existing subways lines, including the Flushing Line the 63rd Street Line, the 53rd Street line and the Lexington Avenue IRTs. Because of the benefits to Lower Manhattan, this project continues to have strong support, though the need for many billions of dollars to fund it remains a major obstacle.
The Metropolitan Transportation Authority is weighing two routes for the Second Avenue Subway below Houston Street. One, the so-called "Water Street Alignment," would go down Chrystie Street and terminate at Whitehall and Wall Streets. The other, the "Nassau Street Alignment," would run farther west, down Centre Street, using the now underutilized Nassau Street subway tunnel. The Water Street route would provide more capacity to Lower Manhattan and better access to the east side of the financial district.
Extending the PATH. A lengthened PATH line eastward would allow easier transfer to north-south subway lines, including the Second Avenue Subway, and better access between New Jersey and the eastern half of Lower Manhattan. In Lower Manhattan, the rebuilt PATH system could also offer better connections to the World Financial Center.
The Port Authority has already taken the first step toward rebuilding the PATH by authorizing the expenditure of $544 million to rebuild the station that was destroyed, including the tunnel under the Hudson and the station at Exchange Place in New Jersey. It has also set aside $10 million to plan to extend the reach of the World Trade Center station eastward and another $10 million to consider how to better connect the PATH to the subway and neighboring streets.
Improving transit service to Lower Manhattan from the north, east, and west: There are currently no plans to improve needed access to Lower Manhattan for residents of Brooklyn, Queens, and Long Island. Nor do any of the plans for access to Kennedy Airport provide much benefit to Lower Manhattan.
However, the Regional Plan Association's Metrolink proposal addresses these concerns. It calls for a new rapid transit system extending from Coop City in the Bronx and then linking with the Second Avenue Subway through Manhattan. A tunnel under the East River would connect the new subway line with the Long Island Rail Road's Atlantic Terminal, offering fast and frequent service to Brooklyn and Lower Manhattan for Long Islanders and those traveling to and from Kennedy Airport. Others have suggested the creation of direct commuter rail links to Lower Manhattan for Metro North, the Long Island Rail Road and NJ Transit, but it may prove difficult to justify the expense of these single-purpose alternatives.
Create a direct link between the Long Island Rail Road and Grand Central Terminal: The so-called East Side Access Project would use 8,700 feet of tunnel that already exists under the East River. This project, which is proceeding to final engineering, will increase the Long Island Rail Road's Capacity into Manhattan by 45 percent, cut travel times by approximately 40 minutes a day for more than 50,000 passengers, and reduce auto travel over the East River bridges..
A new passenger rail tunnel under the Hudson River could relieve the severe overcrowding into Penn Station, and a new rail freight tunnel, also under the Hudson, could ease congestion by taking heavy trucks off city streets and highways.
Encourage commuting by water: Since the World Trade Center attack, the ferry network has shown its value. If it is to further thrive, links with ferries could be created throughout the metropolitan region, particularly in Lower Manhattan, where docking facilities are relatively close to work sites. These ferry routes would be able to fill gaps in the existing transit system. For example, boats could run to and from Long Island City, where they would connect to the Long Island Rail Road; to the west side of Manhattan, where subway lines are overcrowded; and to the north shore of Long Island.
Ease pedestrian movement: Walking is integral to the transportation system, but downtown has not been particularly pedestrian friendly. For example, people using subway or PATH trains at the Trade Center had to walk on or over eight lanes of traffic on West Street to reach Battery Park City and the World Financial Center. When the Trade Center was built, there was little west of the site. Now, however, planners may be able to better integrate the areas along the Hudson into downtown's transportation and pedestrian network.
Newer and better stations: The 83-year-old South Ferry stop on the 1/9 subway line is small and awkward. After September 11th, the Metropolitan Transportation Authority had discussed replacing the station and relocating the 1/9 line so it could better serve Battery Park City and a renovated Battery Marine Terminal. This month, though, transit official said that the station the authority hopes to reopen in November will simply be a rebuilt version of the existing one. Further improvements, though, could be part of a second phase of rebuilding that would also include the Cortlandt Street station.
How many of these projects, some of which have been talked about for years, will actually happen now, because of the momentum caused by the aftermath of 9/11? It is hard to say. But their proponents argue that advancing at least some of them, even in these difficult times, is what is needed to give New Yorkers the confidence that downtown, and the rest of the city, will not only survive, but thrive.
Jeffrey M. Zupan is senior fellow for transportation at Regional Plan Association, the not-for-profit advocacy and planning organization in the tri-state region.
See "Mapping the Trends" by Bruce Schaller
###
Visit the Issue of the Week archives.
Tell us what you think about this issue. Write a letter to the editor.