A Downstate Republican Going Face-to-Face Upstate
by John Ravitz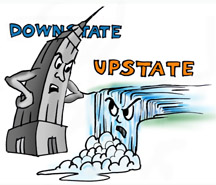 Much has been written about the supposed rift between Upstate New Yorkers and city dwellers. But as both a native of New York City and the Minority Whip of the New York State Assembly, I have found that the differences of opinion we sometimes have can almost always be overcome. When people meet one another, face-to-face, mistrust can melt and turn into constructive action. This is what I hope will happen as the New York State Legislature prepares to return to Albany next month.
People commonly believed that our differences are ideologically motivated, that the views of "Upstate Republicans" and "City Democrats" are on an inexorable course towards political collision. Campaign literature and newspaper opinion pieces encourage residents of the city to eye suspiciously the dark conservative forces lurking just north of the Westchester border, just as Upstaters are warned about the spendthrift and amoral ways of those living in the five boroughs.
Three years ago, the issue of rent regulations brought these misconceptions and mistrust to new heights. The Republican Senate Majority Leader, who lives just outside of Albany, declared that it was time to decontrol almost one million apartments in New York, the vast majority of which are located in New York City. The public outcry was both deafening and justified. Eliminating rent regulations would have thrown the city into chaos. People who lived in their apartments for decades -- the very same ones government encouraged to stay put in the 1970's when much of the middle class was fleeing the city -- would have been forced out in to the street by skyrocketing rent increases. It was the most polarizing debate I have seen in my 10 years in office.
But it wasn't just "Upstate Republicans" who wanted to get rid of rent regulations. Many Upstate Democrats, who were equally unfamiliar with New York City, supported the measure as well. They, too, were under the critical misimpression that taxpayers somehow were subsidizing the rents of wealthy New Yorkers living in Park Avenue mansions for $50 per month or similarly fantastic amounts.
As one of only two Republican Assembly Members from New York City, I found myself in a good position to influence many of my Republican colleagues (as well as some of my Democrat colleagues) on this issue. I brought to their offices typical occupants of rent-regulated apartments, hard working people of modest means who had shaped their lives around the promise of their equally modest apartments. When they got the chance to sit down with them, Upstate legislators saw the fear in the eyes of those tenants and listened intently while they explained why continuing rent regulations made both social and economic sense. I think they were deeply moved by the experience and in the end, those face-to-face meetings paid off. Rent regulations were extended for another six years and legislators from Upstate now have a better understanding of the issue.
Last year was one of the most productive years the state legislative has ever had. Bills that were considered dead on arrival for more than a decade passed both houses and were signed into law. Again, this could not have not have been accomplished without earnest face-to-face discussions. Among the bills passed were the Clinic Access Law, which protects women entering and exiting abortion clinics. A law was passed to extend extra protections to, among others, lesbians and gays who are often physically attacked simply because of their sexual orientation. (A bill to extend civil rights to gays and lesbians unfortunately is still in limbo). The Child Health Care Plus initiative was passed, guaranteeing health care to all children in New York State. We also passed the toughest gun control measures in the nation.
Cynics suggest this was all done simply for political reasons, that in a contentious election year the Republican Senate leadership decided to let these measures through to protect their members on Election Day. But in reality, most Republican legislators already had come around on these issues. Moderate city Republicans like myself and Senator Roy Goodman had spoken with them dozens and dozens of times over the years, visiting them with hate crime victims and with parents whose children had been killed by gunfire or who had children with no health insurance. It was those very private meetings that, little by little, eroded their resistance. But ultimately, it took the Senate leadership to take the giant leap forward. They should be applauded for doing so. Those "dark conservative forces" (Upstate Democrats included) passed some of the most progressive legislation in the country.
This year, it is my greatest hope that "Downstate Democrats" reciprocate by passing equally important measures that have been bottled up by the Assembly leadership. Many of these measures involve education reforms, specifically an expanded Charter School initiative, parental school choice, limited opportunity scholarships and school privatization, longer school days and years and the replacement of the New York City Board of Education with an entity for which the Mayor is held accountable.
Every year, hundreds of parents visit my office in Albany and literally beg for the chance to choose the school to which they send their children. They have met with other legislators too, most importantly Democrats from New York City. It is impossible to believe their impassioned pleas have not softened resistance to these ideas. But until the Democrat Assembly leadership relents and allows a vote on these measures, things will stay the same--yet another generation of poor children will be lost.
Another important bill that can be passed is one that would require consecutive rather than concurrent sentences for serial rapists. This bill has passed almost unanimously in the State Senate for the past four years, but the Assembly leadership will not let it out of committee. Late last year, I introduced a brave girl to many of my Democrat colleagues and I know her courage moved them. She had been brutally raped the year before, when she was 16 years old, and spoke passionately about the need to protect other women from sexual assailants like the one who attacked her. I am convinced that if the Consecutive Sentencing Bill was allowed on the floor for a vote, it would pass by a count no less than 145-5.
So as I prepare to return to Albany this year, I ask the Assembly leadership to show some courage as well and to think of the faces who have graced their offices. After all, if we are not acting on behalf of real people, what are we doing in Albany anyway?
John Ravitz is a Republican member of the New York State Assembly who has represented the East Side of Manhattan since 1990.
###
Visit the IOTW Archives!
WHADDAYASAY?? GothGaz wants to know what YOU say about this issue. Fire away!