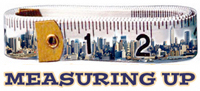 A new approach to government accountability -- officially called "performance assessment" but more colloquially, compstatmania -- compiles, analyzes and interprets statistics in order to spot trends, gaps and overlaps in city services. It's not magic -- it's hard work, and requires lots of attention to detail and follow-up. On this page, Gotham Gazette looks at this approach to improving city services.
Measuring Up Newsletter
Sign up for our monthly Measuring Up newsletter:


Who's Rating City Services
A guide to government agencies and private groups that measure New York's performance in heath, education, crime fighting and more.
more > >
Stories from Gotham Gazette