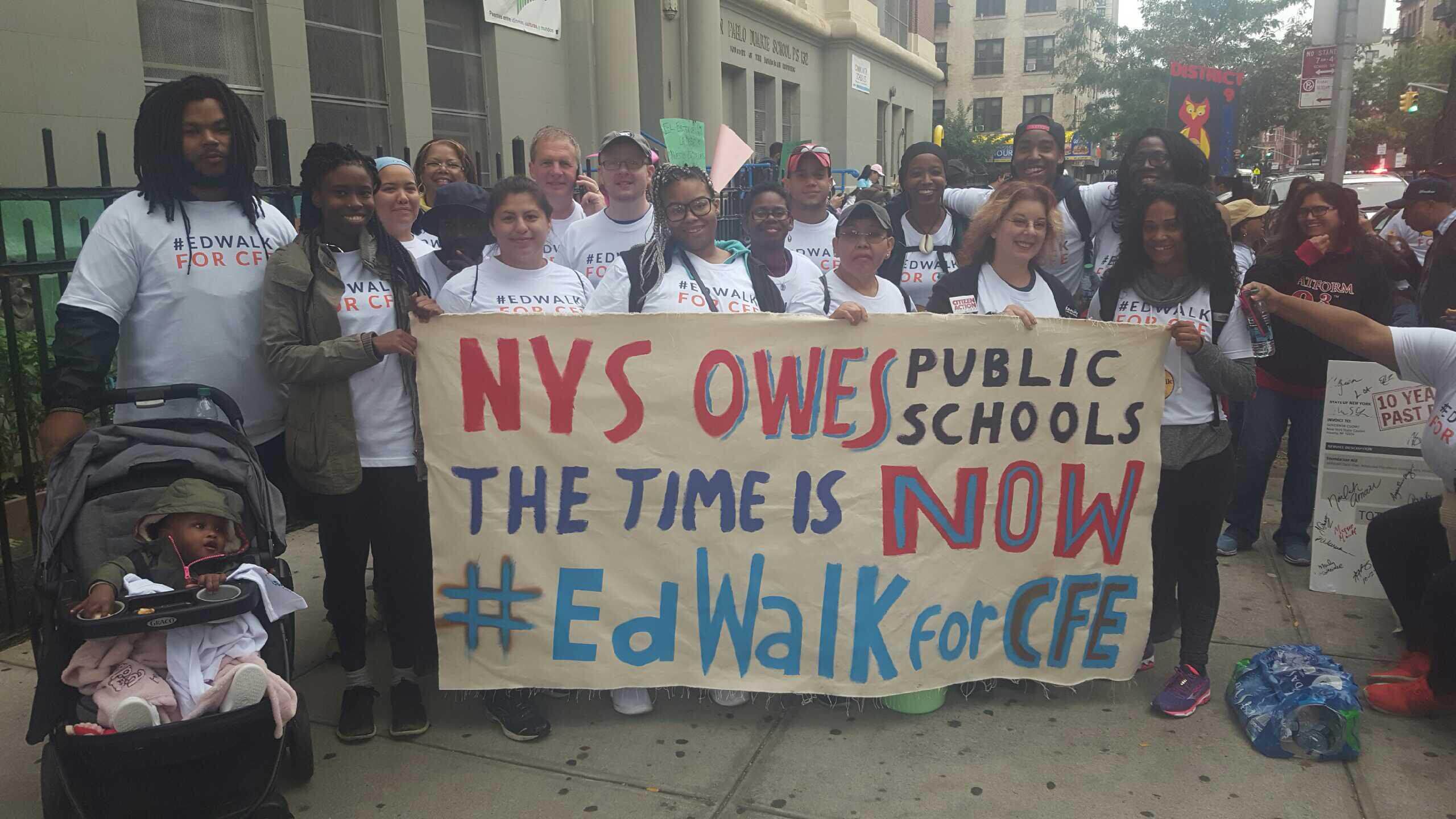 Marching to Albany (photo: Alliance for Quality Education)
---
As a mother of two children, I worry every day about how they're progressing in school. Are they doing their work? Are their teachers providing them with the special attention they need? Is their school giving them all the opportunities to succeed that they deserve?
This is what it means to be a mother. We love our children dearly, and we worry.
And, in New York, we have particular reason to be worried. For families living in high-needs school districts, the simple fact is this: our schools don't have the resources that they deserve, and this is because New York State has failed to give them the money they need.
Ten years ago, in the landmark Campaign for Fiscal Equity (CFE) case, a judge found that New York State had been violating the constitutional rights of low-income children and children of color by short-changing their schools, where working-class and low-income families are concentrated, out of billions of dollars. The judge was appalled by tremendous inequalities in our schools and mandated that our state government contribute several billions of additional dollars to public schools around the state—with a particular eye to high-needs schools like where my children study.
As a parent and a taxpayer, I thought that the state would comply.
But it hasn't. According to the Alliance for Quality Education, 10 years after the CFE ruling came down, New York State still owes our schools $3.9 billion. Let me repeat: a full decade after a court demanded that our government provide the resources needed for our schools to offer the places of learning that our children need, the money has not yet materialized.
Now, at schools like my children's, programs have been cut, and students lack the computers and other technology that are fundamental to modern education and career training. The same does not happen in wealthier communities across the state—some of which have among the best public schools in the country.
It's just not right, and working-class families of color like mine will not accept being second-class citizens who have to send our children to second-class schools.
That's why, this week, parents from around the state are marching from New York City all the way to Albany to commemorate the CFE ruling's anniversary and demand that the Legislature and Governor Cuomo make our schools, and our children, whole.
As we head into the next legislative session, it's well past time to make sure that our children have the well-resourced schools that they deserve. The Governor, the Senate, and the Assembly must prioritize paying the debt owed to our schools in the upcoming state budget. If they don't, they will continue to put the future of my children—and millions of other children around the state—in jeopardy.
***
Faceli Álvarez is a member of Make the Road New York, the largest grassroots community organization in New York offering services and organizing the immigrant community. On Twitter: @maketheroadny.
***
Have an op-ed idea or submission for Gotham Gazette? Email This email address is being protected from spambots. You need JavaScript enabled to view it.