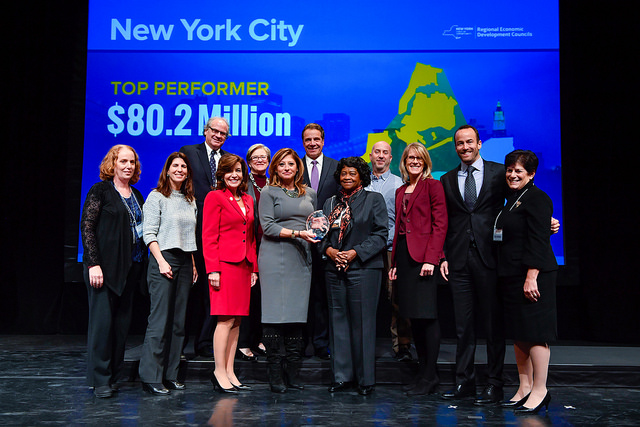 Gov. Cuomo and the NYC REDC (photo: The Governor's Office)
---
If we learned one thing from Donald Trump's election it's that our country expects its leaders to prioritize job creation and strengthening the middle class. Earlier this month Governor Cuomo outlined a new budget that invests in just that by prioritizing infrastructure, education, and entrepreneurship in a way that is both positive and forward thinking. For New York City, this is the strongest budget we have seen from Albany in decades.
In New York and across the country, high-quality education was always the great equalizer. Access to a good school, regardless of your zip code, provided a pathway to higher learning and a gateway to opportunity. With an additional $1 billion in new funding for schools statewide, including a $294 million increase in in New York City alone, the governor's budget will improve academic institutions across the five borough for millions of students.
From increased support for vital pre-kindergarten programs, especially for those in high-needs districts, to increasing access to Community Schools, which are transforming high-needs schools into community hubs, and expanding the Empire State After-School Program by more than a third, New York State is ensuring all our students have the skills they need to grow and succeed.
But we must also ensure students are able to climb the next rung on the ladder of economic opportunity. By 2020, New York City is projected to gain 284,000 jobs that require a Bachelor's Degree or more, and an additional 201,000 jobs will require an Associate's Degree.
For the jobs of tomorrow, a college degree will help provide the ticket of admission – and the governor's new Excelsior Scholarship program will make this attainable for all New Yorkers.
Governor Cuomo has put forward an innovative plan to provide families earning $125,000 or less free college tuition at New York's prized public institutions, CUNY and SUNY. Phased in over three years, the program will significantly expand college access for more than 940,000 families in New York.
To lead in today's hyper-competitive global economy, we must have the best-educated workforce in the world. The life sciences sector in New York is poised for unparalleled growth and with a $650 million investment from the state, we will leverage research and laboratory space to create high-paying jobs, stay ahead of the cancer curve, and develop new technologies and treatments to combat all forms of disease.
The jobs of tomorrow also include a high-skilled workforce capable of building the new New York. Under Governor Cuomo's $100 billion plan to transform our infrastructure, the Second Avenue subway has opened, and work continues on a new airport to replace LaGuardia and an expansion of the Jacob Javits Convention Center. The state is also rebuilding 33 subway stations and will be expanding Metro North Service to four new stations.
Residents of Queens and Long Island will particularly benefit from the work that will soon begin on the expansion of the Long Island Railroad and the new Penn Farley train station. The new JFK will dramatically improve the travel experience, and by expanding service on the AirTrain and eliminating traffic bottlenecks on the Van Wyck Expressway and at the Kew Gardens Interchange, it will be much easier to get to and from the airport.
In the Bronx, the state is allocating funds to transform the Kingsbridge Armory into the Kingsbridge National Ice Center, and to completely rebuild Orchard Beach's historic pavilion at Pelham Bay Park, adding a performance space and concessions. The state will also invest $50 Million to expand affordable healthcare in the Montefiore Health System, a leader in the governor's health care delivery transformation strategy.
In Brooklyn, Governor Cuomo has proposed a series of initiatives to address health and wellness, including increasing access to healthy foods; more nutritional programs; planting new community gardens and creating pop-up parks; and developing a community-based healthcare delivery-system which focuses on ambulatory and primary care. And in a step that will help address the city's housing needs, the state will build up to 3,000 units of new affordable and supportive housing that will incorporate wellness-related features such as exercise rooms, rooftop gardens, and health clinics.
On Staten Island, the governor proposes to make permanent the toll reductions on the Verrazano-Narrows Bridge that the state temporarily enacted in 2014. Governor Cuomo will also take steps to explore transitioning the Institute for Basic Research in Developmental Disabilities, which is operated by a state agency, to CUNY, which should help ensure the long-term viability of that institution.
All in all, New York City will see all of these investments and over $400 million of net funding benefit from the state, dedicated to growing economic opportunity and leveling the playing field on behalf of all New Yorkers. Governor Cuomo's is a budget that will help us build a better tomorrow, and deserves everyone's support.​
***
Winston Fisher is Co-Chair of New York City Regional Economic Development Council & Partner at Fisher Brothers.
***
Have an op-ed idea or submission for Gotham Gazette? Email This email address is being protected from spambots. You need JavaScript enabled to view it.